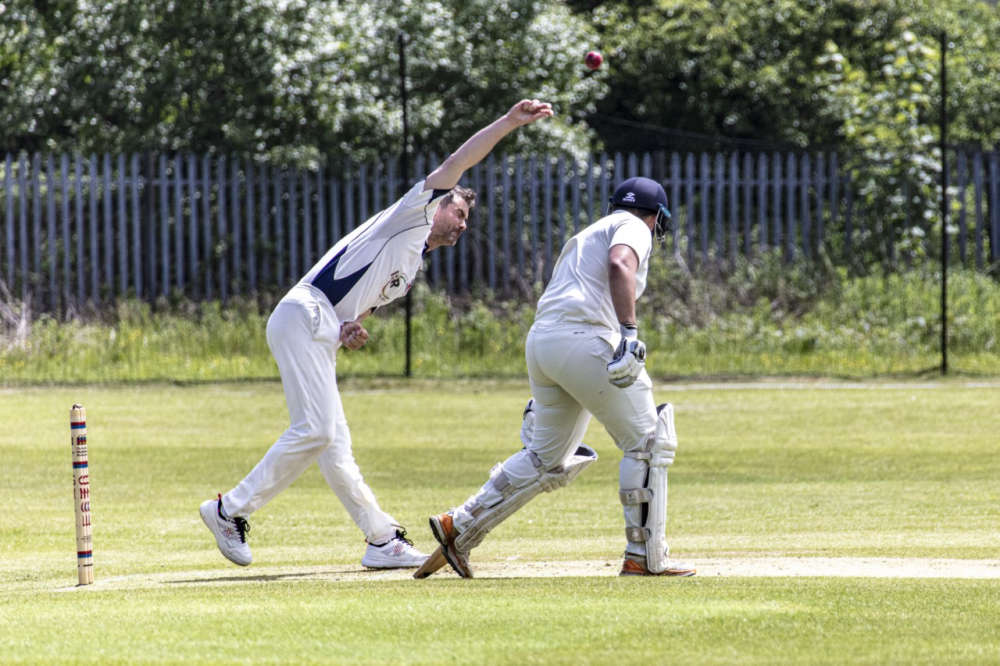 Jubilee weekend saw a full programme and with seven weeks of the season gone it is remarkable that not a single scheduled Premier, Championship or Regional League game has fallen victim to the elements.
Locally Denton West, Hadfield and Ashton top their respective divisions with a third of the campaign now completed.
Premier:
Table toppers Denton West made the short trip across town to Denton SL and maintained their 100% record with a 50-run win over their near neighbours. West batted first and reached 168-3 with 10 overs left thanks to Callum Flynn, (66), Aaqib Uppal, (36) and Rohail Nazir, (51). A sizeable total looked the cards, but they collapsed, losing their remaining seven wickets for 22, as DSL pro Damitha Silva and Mark Selby took four wickets apiece. DSL would have been more than hopeful of the win especially after reaching 54 without loss inside nine overs. Wickets fell regularly from that point as Uppal stepped up. He finished with an impressive 7-41 as only Silva, (31), offered much resistance. DSL finished on 140ao.
The win for West, coupled with a second defeat of the campaign for Woodbank, extended their lead at the top to seven points, with the 2021 runners-up DSL now standing in mid table with four wins from seven games.
Denton SL 140ao Denton West 190ao; Woodbank 83ao Egerton 173-9; Walshaw 112ao Roe Green 1162-2; Astley & Tyldesley 226ao Prestwich 227-4; Edgworth 181ao Heyside 228-9; Clifton 197ao Moorside 201ao
Premier 2:
Flowery Field maintained second spot with a win over visiting Heywood, and with leaders Heaton losing for the first time the gap has been narrowed to two points. Flowery batted first and pro Shreevats Goswami shone again. His 82, backed up by an unbeaten 51 from Bradley Edge was the cornerstone of Flowery's 267-8. Heywood replied well and standing at 182-2 with 12 overs left were probably marginal favourites. Adam Bardsley, (4-45), and Goswami, (3-41), then took control and the visitors added only 24 more, leaving Flowery winners by 61 runs.
Glossop fell to defeat for the third time in four games as they were well beaten at Bradshaw. A four-man Glossop attack struggled against the home team, who finished on 255-9 setting the North Road side just over five an over for the win. In the reply Chris Gill fell to the first ball of the innings, and that set the pattern. They subsided to 73 all out and defeat by 182 runs. The result leaves Glossop in mid-table with three wins and four defeats.
Flixton 241-8 Heaton 237ao; Bury 149-7 Greenfield 146ao; Flowery Field 267-8 Heywood 206ao; Shaw 102ao Glodwick 28ao; Bradshaw 255-9 Glossop 73ao; Brooksbottom 246ao Stand 225ao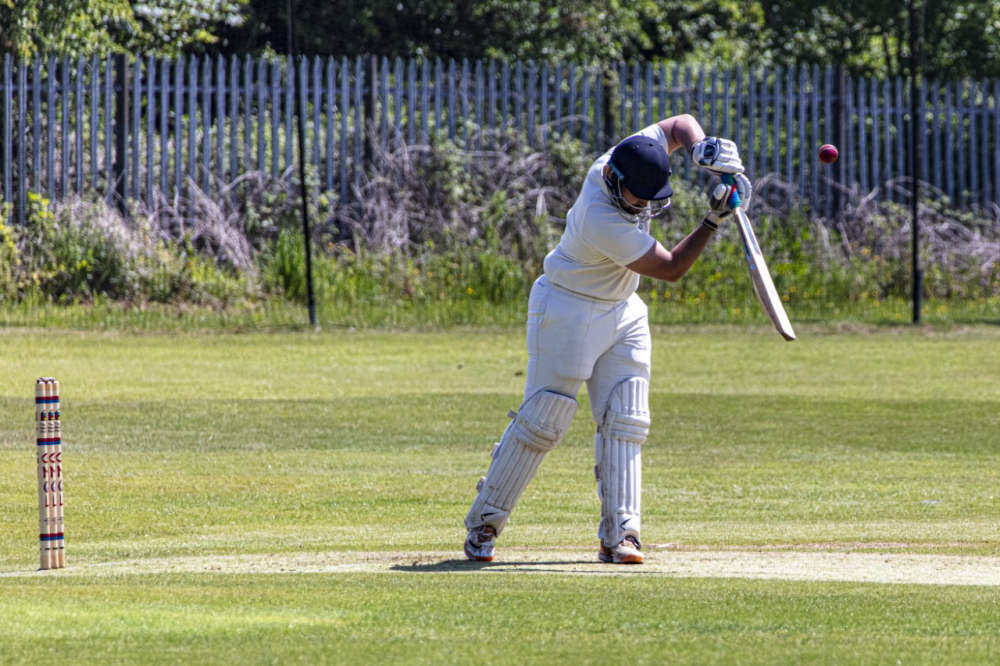 Championship:
A high scoring game at Mottram saw the home side put up a decent display as they chased visiting Elton's 281-7. On his first appearance for Mottram, the Littleborough pro Travis Townsend certainly made an impact. He picked up 5-60 and then in the reply showed the class which has seen him as a prolific scorer at a number of Clubs. He got 116, and with support from Ryan Fitton and Oliver Andrew took Mottram to 186-3 before being dismissed. Despite some late resistance from Jay Riley, (35) Mottram's chase ended 27 short and they now lie a place below Dukinfield in ninth place.
After a decent start to the season Dukinfield are struggling to find form and fell to defeat for the fourth consecutive weekend, as they went down at home to Swinton Moorside. The visitors reached 209-7, and Dukinfield may well have been disappointed with that after reducing them to 97-5. An unbeaten eighth wicket partnership of 68 proved to be the key to the game. Dukinfield had little answer in reply and tumbled to 71-7. Some late resistance from Jonny Gascoigne, (65*), helped them reach 178ao.
Westleigh 209-5 Whalley Range 208-9; Winton 69ao Monton 72-3; Woodhouses 196-8 Royton 162ao; Friarmere 235-5 Stretford 95ao; Dukinfield 178ao Swinton Moorside 209-7; Mottram 254-8 Elton 281-9
Division 1:
Hadfield made it six wins from seven games as they beat Uppermill comprehensively. They gave the visitors a torrid afternoon in the field as Tom Conway led from the front. He finished agonisingly short of three figures, falling on 97. There were half centuries for both Rick Tranter, (65) and Jonny Tranter, (56), and despite former Lancashire bowler Kyle Hogg picking up 5-67 Hadfield finished on 276-7. The visitors had little answer to Louis Van Zyl, (5-26) and folded for 109ao, leaving Hadfield victors by 167 runs.
Droylsden are in superb form and got their fifth win as they defended 178 with ease at Edenfield. Hashan Gunalitha is in prime form and his 69 left Droylsden setting the hosts 179 for the win. Three early wickets put Edenfield on the back foot and with Lewis Jarvis, (5-32), making regular inroads they finished well short on 117ao. The two results left Hadfield top closely followed by Droylsden who are just four points behind.
Stayley won for the fourth time when they visited Austerlands. Batting first Rhys Downend, (40), made the major contribution and with five other batsmen reaching double figures they ended on 183-9. The home side had little answer to Faisal Zeeshan. He ran through them, taking 7-39, leaving Austerlands all out for 131, and a Staley victory by 52 runs.
Austerlands 131ao Stayley 183-9; Hadfield 276-7 Uppermill 109ao; Edenfield 117ao Droylsden 178ao; Saddleworth 173ao SW Manchester 85ao; Roe Green 2nd XI 228-9 Thornham 230-5; Oldham 233ao Golborne 254-9
Division 2A:
United Stars 235ao East Lancs PM 140ao; Heaton 2nd XI 128ao Tottington 266ao; Darcy Lever 169-9 Radcliffe 129ao; Adlington 49-0 Astley & Tyldesley 2nd XI 46ao; Prestwich 2nd XI 95-0 Deane & Derby 94ao; Worsley 111ao Daisy Hill 112-1
Division 2B:
After a disappointing start Micklehurst have picked up and made it four wins in five games as they chased Glodwick's moderate 130ao. It was a tight run affair with the margin of victory being only three wickets. Glodwick slipped to 31-5, but rallied to add another 99, as Rizwan Hussain took 4-52 for Micklehurst. At 56-2 in reply a comfortable win looked on the cards, but the regular fall of wickets left them on 101-7 and the Richmond Hill team were indebted to Kyle Clayton who took them over the line with an unbeaten 33.
Denton fell to a sixth consecutive defeat this time at the hands of neighbours Denton SL, who got their first win of the season. It was a nail gripping end to the game. DSL batted first and posted 177-9 and after falling to 101-7 Kian Clough, (46), and Sam Hood, (36*), rallied things and they ended on 177-9, (three wickets each for Andy Mather and Manzoor Hussain). Ethan Illingworth shone with the ball in Denton's reply. His return of 5-61 left the home team struggling at 110-7, but late resistance saw Denton inch towards the target. It came down to the last ball. Denton needed three for the win but fittingly it was Illingworth who had the last word. He bowled Mather and DSL took the points by the fine margin of two runs.
Denton West lost for the first time this season, and with Werneth beating Oldham the Coppice team head the table.
Wythenshawe 138-9 Milnrow 260ao; Greenfield 2nd XI 120ao Littleborough Lakeside 134ao; Werneth 136-1 Oldham 2nd XI 135ao; Denton 175ao Denton SL 2nd XI 177-9; Glodwick 2nd XI 130ao Micklehurst 132-7; Denton West 2nd XI 153ao Friarmere 2nd XI 158ao
Division 3E:
Ashton remain at the top of the table with seven wins from seven games, but they made hard work of the victory at bottom placed Springhead. Richard Taylor once again shone for the Rayner Lane team. He finished with 142, (his second 'ton' of the campaign), and it was a measure of his display that the next highest scorer was 'extras' on a Springhead pitch which offered very little bounce. Taylor now has 361 runs averaging over 60. The Springhead reply collapsed to 54-6, (Siraj Kadodia 4-41), but then a seventh wicket partnership of 127 put the home side back in the game. It remained in the balance before Ashton captured the last two wickets and won by 11 runs.
Ashton Ladysmith got the better of Dukinfield. They totalled 177ao with a steady performance through the order, seven batsmen reaching double figures, (three wickets each for Trevor Hyde and Mike Graham for Dukinfield). Their reply reached 133-4, (Simon Collins 40), and at that point were favourites, but in the face of Waqar Nisar and Khaliq ur Rehman, (4 wickets each) they fell away, adding only a further 12, leaving Ladysmith the winners by 32 runs.
Glossop 2nd XI 213-9 Werneth 2nd XI 164ao; Springhead 229ao Ashton 240ao; Heyside 2nd XI 95-3 Flowery Field 2nd XI 93ao; Ashton Ladysmith 177ao Dukinfield 2nd XI 145ao; Heywood 2nd XI 130-7 Woodhouses 2nd XI 128ao; Royton 2nd XI 118ao Mottram 2nd XI 119-8
Division 4E:
Failsworth Macedonia 286-9 Springhead 2nd XI 34ao; Newton Heath N/A Shaw 2nd XI; Stayley 2nd XI 133ao Denton 2nd XI 189ao; Milnrow 2nd XI 228-7 Hadfield 2nd XI 107ao; Droylsden 2nd XI 208-9 Saddleworth 2nd XI 165-9; Ashton 2nd XI 162-9 Austerlands 2nd XI 163-8
Local T20 games:
Premier Cup: Glossop 109-5 Hadfield 106-6; Flowery Field 161-7 Denton West 163-8; Mottram 124-7 Denton SL 125-0
Championship Cup: Stayley 163-6 Ashton 194-8
****
THIS WEEKS FIXTURES
Premier: Astley & Tyldesley v Walshaw; Denton West v Edgworth; Heyside v Woodbank; Prestwich v Clifton; Egerton v Roe Green; Moorside v Denton SL
Premier 2: Glossop v Brooksbottom; Heaton v Bury; Glodwick v Bradshaw; Stand v Flixton; Greenfield v Heywood; Shaw v Flowery Field
Championship: Swinton Moorside v Winton; Stretford v Dukinfield; Monton v Mottram; Friarmere v Westleigh; Elton v Woodhouses; Royton v Whalley Range
Division 1: Stayley v Golborne; Droylsden v Austerlands; Thornham v Saddleworth; Uppermill v Edenfield; SW Manchester v Hadfield; Roe Green 2nd XI v Oldham
Division 2A: Tottington v United Stars; Daisy Hill v Heaton 2nd XI; Darcy Lever v Adlington; Radcliffe v Worsley; Deane & Derby v Astley & Tyldesley 2nd XI; East Lancs PM v Prestwich 2nd XI
Division 2B: Denton SL 2nd XI v Glodwick 2nd XI; Oldham 2nd XI v Denton; Littleborough Lakeside v Werneth; Milnrow v Greenfield 2nd XI; Wythenshawe v Denton West 2nd XI; Micklehurst v Friarmere 2nd XI
Division 3E: Heywood 2nd XI v Springhead; Woodhouses 2nd XI v Royton 2nd XI; Mottram 2nd XI v Heyside 2nd XI; Dukinfield 2nd XI v Ashton; Werneth 2nd XI v Ashton Ladysmith; Flowery Field 2nd XI v Glossop 2nd XI
Division 4E: Springhead 2nd XI v Droylsden 2nd XI; Saddleworth 2nd XI v Shaw 2nd XI; Ashton 2nd XI v Failsworth Macedonia; Hadfield 2nd XI v Moorside 2nd XI; Austerlands 2nd XI v Stayley 2nd XI; Denton 2nd XI v Newton Heath
Local T20 games:
Premier Cup: (6pm): Thursday: Denton West v Mottram; Friday: Denton SL v Glossop; Dukinfield v Flowery Field
Championship Cup: Friday: Ashton v Springhead; Micklehurst v Stayley
Pictures by John Parkins