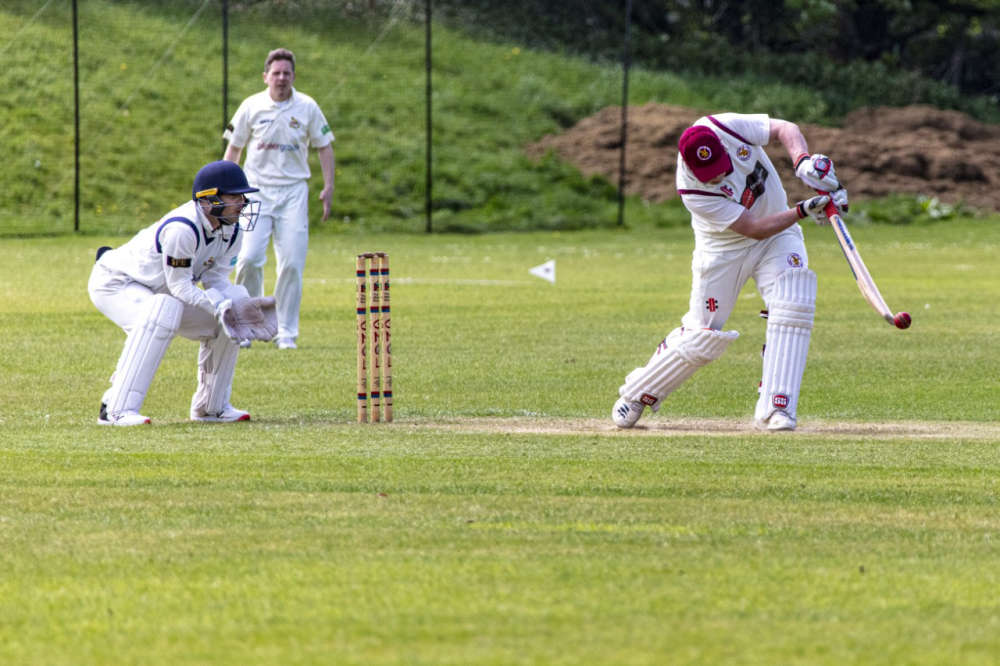 Another fine weekend saw the third round of matches in the 2022 campaign and with 10 wins for the 13 Club 1st XI's in the area it was a successful one as well. 
Denton West, Hadfield and Ashton each maintained their 100% record and there was relief for Mottram and Micklehurst who got their first winning points of 2022.
Premier:
Following promotion last year Denton West have got off to a great start, and Moorside were the latest opponents to fall to them. It turned out to be a tight affair after Moorside, batting first, set a moderate 160 for West to take the points. Siraj Khan played a crucial role, taking 4-24, after Moorside reached 102-2 with 22 overs left. Eight wickets then fell for the addition of only 57. A decent second wicket partnership between Uzzair Shah and Rohail Nazir took West to 81-1 but a flurry of wickets saw them tumble to 113-7. The odds were on the hosts at that point, but John McAllister steadied the ship and with support from the lower order took Wests home by two wickets with 14 balls left.
Coming into the home game with Woodbank, Denton SL had seen two wins but were brought down to earth with a bump. The visitors reached 171ao. DSL pro, Damitha Silva shone with the ball taking 5-29. That size of target would normally be well within the reach of last year's runners up, but they frankly had little answer to the Woodbank attack. By the time 15 overs had gone they had collapsed to 28-6 and there was to be no recovery as they ended up 59ao, and defeat by 112 runs. The win for Woodbank was their third and they stand top of the table with Denton West three points adrift in second place.
Prestwich 192ao Heyside 93ao; Astley & Tyldesley 139ao Egerton 143-3; Moorside 159ao Denton West 160-8; Clifton 102ao Roe Green 153ao; Denton SL 59ao Woodbank 171ao; Walshaw 121-9 Edgworth 125-7
Premier 2:
Flixton, relegated from the Premier Division in 2021, were the visitors to Flowery Field, and reached 158ao, as the wickets were shared around a four-man home attack. Flowery pro Shreevats Goswami arrived during the week and immediately proved his worth. The Indian, who has appeared for four of the franchises in the IPL, came in with Flowery at 38-2, and hitting eight boundaries and four maximums, scored 77 of the further 121 required for the win, which came with five wickets and 13 overs to spare.
A fortnight ago Glossop had overwhelmed Greenfield at North Road, and they repeated this by crushing Stand. The visitors had little answer to James Eyre and Matt Sonczak who reduced them to 35-5. Will Hargreaves then stepped up and his 4-8 left Stand finishing with a paltry 51. This was no problem for the home team as Dale Pennington and Jarrod Holmes took them to a more than comfortable nine wicket win. Heywood and Heaton lead the way with three wins and Glossop lie in third spot.
Flowery Field 159-5 Flixton 158ao; Glodwick 228-8 Heaton 231-4; Shaw 311ao Greenfield 133ao; Bradshaw 148ao Heywood 196-8; Brooksbottom 178ao Bury 140ao; Glossop 52-1 Stand 51ao
Championship:
Dukinfield made it two wins from three and that after posting a moderate 149, which could have been less but for some late resistance from Jonny Gascoigne and Joel Morton after they had fallen to 94-7. It was too many for visitors Whalley Range as Denuwan Rajakaruna, (4-28), with good support from four other bowlers limited them to 95ao. It left Dukinfield victors by 54 runs. They now stand fifth in the Division, six points behind leaders Royton and will visit the Paddock this weekend.
Mottram got off the mark with a 26-run win at Westleigh. Batting first it was an impressive eighth wicket partnership of 88 between Jordan Irons, (76) and Paul Marks, (34*), in only 13 overs which elevated them to 188-8. The Westleigh reply struggled against Oliver Andrew, (4-54), and Jay Riley, (3-32), ending up 26 short.
Dukinfield 149ao Whalley Range 95ao; Swinton Moorside 175ao Monton 178ao; Stretford 201-8 Elton 87ao; Friarmere 125ao Royton 126-4; Winton 63ao Woodhouses 67-2; Westleigh 162ao Mottram 188-8
Division 1:
The game of the day was at Thornham with Droylsden as the visitors. The home team reached 186ao with the wickets shared by a five-man Droylsden attack. The Droylsden reply was underpinned by Mudiyanselage Gunathila, (48) and Jackson Purchase, (35), but with wickets falling skipper Alex Cicchirillo led from the front. A patient 40* took them within sight of the win. It all came down to the last over – four required and the last pair at the wicket. Fittingly it was Cicchirillo with a boundary who got them over the line for a second win of the season.
Hadfield maintained their 100% record after dismissing visiting Austerlands for 125. Cameron Ball has had a great start to the campaign and a really impressive 7-26 made it 18 victims in three games at the miserly average of 4.17. Club stalwart Rick Tranter led the way in reply. His 49, backed up by contributions from the upper order, gave Hadfield a six wicket win with 24 overs to spare. They top the table, equal on points with Uppermill and Saddleworth but with a better net run rate.
Stayley had a second win as they visited Roe Green. They totalled 172-9, the main contributors being Callum Clayton, Chris Tipper and Hussnain Abbas. Inside seven overs the home team's reply had been reduced to 11-3 and there was to be no comeback. Three wickets each for Mike Jones and Dario Seale, together with a brace for both Amir Shahzad and Tipper saw Staley to a comfortable 60 run win.
Thornham 186ao Droylsden 188-9; Saddleworth 88-4 Golborne 87ao; Oldham 39ao Edenfield 42-1; Roe Green 2nd XI 112ao Stayley 172-9; Hadfield SA 129-4 Austerlands 125ao; SW Manchester 103ao Uppermill 107-4
Division 2A:
Daisy Hill 156ao Tottington 158-7; Worsley 82ao Astley & Tyldesley 2nd XI 84-3; Darcy Lever 176-9 Deane & Derby 123ao; Radcliffe 159-9 East Lancs PM 61ao; Heaton 2nd XI 169ao Prestwich 2nd XI 170-6; Adlington 96ao United Stars 53ao
Division 2B:
Micklehurst registered their first win as they travelled to Wythenshawe and the home team had no answer to the Richmond Hill team's bowlers. After three early wickets for Lewis Daniel the pressure was maintained and a final total of 105 was well within Micklehurst's reach. And so it proved as they coasted home by seven wickets with half the available overs not needed. The win will hopefully kick start their season and they will look to build on as Greenfield are the visitors on Saturday.
Denton had a massive win on the opening day but it was a dismal performance on Saturday. They made the short trip to Denton West and would have been hopeful of a win after dismissing the hosts for 172, (Manzoor Hussain 4-21). It was but a fond delusion. The Egerton Street team's reply lasted but 81 balls with not a single batsman reaching double figures. They managed merely 33 as Ben Lowndes, (3-10), and Harry Welsby, (5-22), routed them. The win leaves Denton West 2nd XI top of the Division a point of a resurgent Milnrow who gave Denton SL 2nd XI a torrid afternoon, racking up 361-7.
Littleborough Lakeside 125ao Oldham 2nd XI 46ao Milnrow 361-7 Denton SL 2nd XI 160ao; Wythenshawe 105ao Micklehurst 106-3; Greenfield 2nd XI 152ao Friarmere 2nd XI 185ao; Werneth 211ao Glodwick 2nd XI 139ao; Denton West 2nd XI 172ao Denton 33ao
Division 3E:
Ashton won for the third time, once gain picking up maximum points, as they made a first visit to Royton since the Pennine League days. They went off at a pace as Siraj Kadodia, who is enjoying a good start, made 78. A huge total was on the cards as they stood at 102-1 with over 30 overs left. But a collapse saw seven wickets fall for the addition of only 41. A fine unbroken ninth wicket partnership of 66 between Josh Gee and Ryan Heap rescued things and they finished on 209-8. Tom Rayson was certainly on target in the reply, hitting the stumps four times, ending up with 4-17. The other wickets were shared around five bowlers as Ashton won by 105 runs.
Ashton Ladysmith faced Heyside, and a total of 131 was likely to be under par against the hosts who had scored well in excess of 200 in both their previous games. Three early wickets gave Ladysmith heart, but Heyside triumphed by four wickets with plenty of time to spare. The win saw the hosts in second place, two points behind leaders Ashton and it promises to be a competitive game when the top two meet at Rayner Lane this Saturday. Dukinfield 2nd XI also have a 100% record after overcoming Heywood 2nd XI at Crimble, (Joe O'Connor 6-33)
Mottram 2nd XI 95ao Flowery Field 2nd XI 85ao; Heyside 2nd XI 132-6 Ashton Ladysmith 131ao; Royton 2nd XI 104ao Ashton 209-8; Heywood 2nd XI 133ao Dukinfield 2nd XI 152-7; Woodhouses 2nd XI 65ao Werneth 2nd XI 126ao; Springhead 175ao Glossop 2nd XI 232-5
Division 4E;
Denton 2nd XI 76ao Springhead 2nd XI 82-4; Austerlands 2nd XI 94-1 Hadfield SA 2nd XI 93ao; Stayley 2nd XI 190ao Milnrow 2nd XI 160ao; Failsworth Macedonia 126ao Moorside 2nd XI 130-5; Newton Heath 32ao Saddleworth 2nd XI 34-1; Droylsden 2nd XI 55ao Shaw 2nd XI 234-9
****
THIS WEEK'S FIXTURES
Premier: Egerton v Clifton; Denton West v Prestwich; Moorside v Walshaw; Woodbank v Edgworth; Heyside v Astley & Tyldesley; Roe Green v Denton SL
Premier 2: Greenfield v Bradshaw; Heaton v Shaw; Heywood v Brooksbottom; Bury v Flixton; Stand v Glodwick; Glossop v Flowery Field
Championship: Swinton Moorside v Westleigh; Elton v Friarmere; Whalley Range v Winton; Monton v Stretford; Royton v Dukinfield; Woodhouses v Mottram
Division 1: SW Manchester v Oldham; Uppermill v Thornham; Stayley v Saddleworth; Golborne v Hadfield SA; Droylsden v Roe Green 2nd XI; Austerlands v Edenfield
Division 2A: East Lancs PM v Darcy Lever; Prestwich 2nd XI v United Stars; Daisy Hill v Adlington; Deane & Derby v Worsley; Astley & Tyldesley v Heaton; Tottington v Radcliffe
Division 2B: Denton SL 2nd XI v Wythenshawe; Oldham 2nd XI v Milnrow; Littleborough Lakeside v Denton West 2nd XI; Glodwick 2nd XI v Denton; Friarmere 2nd XI v Werneth; Micklehurst v Greenfield 2nd XI
Division 3E: Werneth 2nd XI v Heywood 2nd XI; Flowery Field 2nd XI v Woodhouses 2nd XI; Ashton v Heyside 2nd XI; Dukinfield 2nd XI v Royton 2nd XI; Mottram 2nd XI v Springhead; Ashton Ladysmith v Glossop 2nd XI
Division 4E: Milnrow 2nd XI v Moorside 2nd XI; Springhead 2nd XI v Austerlands 2nd XI; Hadfield SA 2nd XI v Ashton 2nd XI; Shaw 2nd XI v Stayley 2nd XI; Newton Heath v Droylsden 2nd XI; Saddleworth 2nd XI v Failsworth Macedonia
Local T20 games (6pm start)
Thursday: Hadfield v Dukinfield; Glossop v Flowery Field
Friday: Denton SL v Denton West
Picture by John Parkins