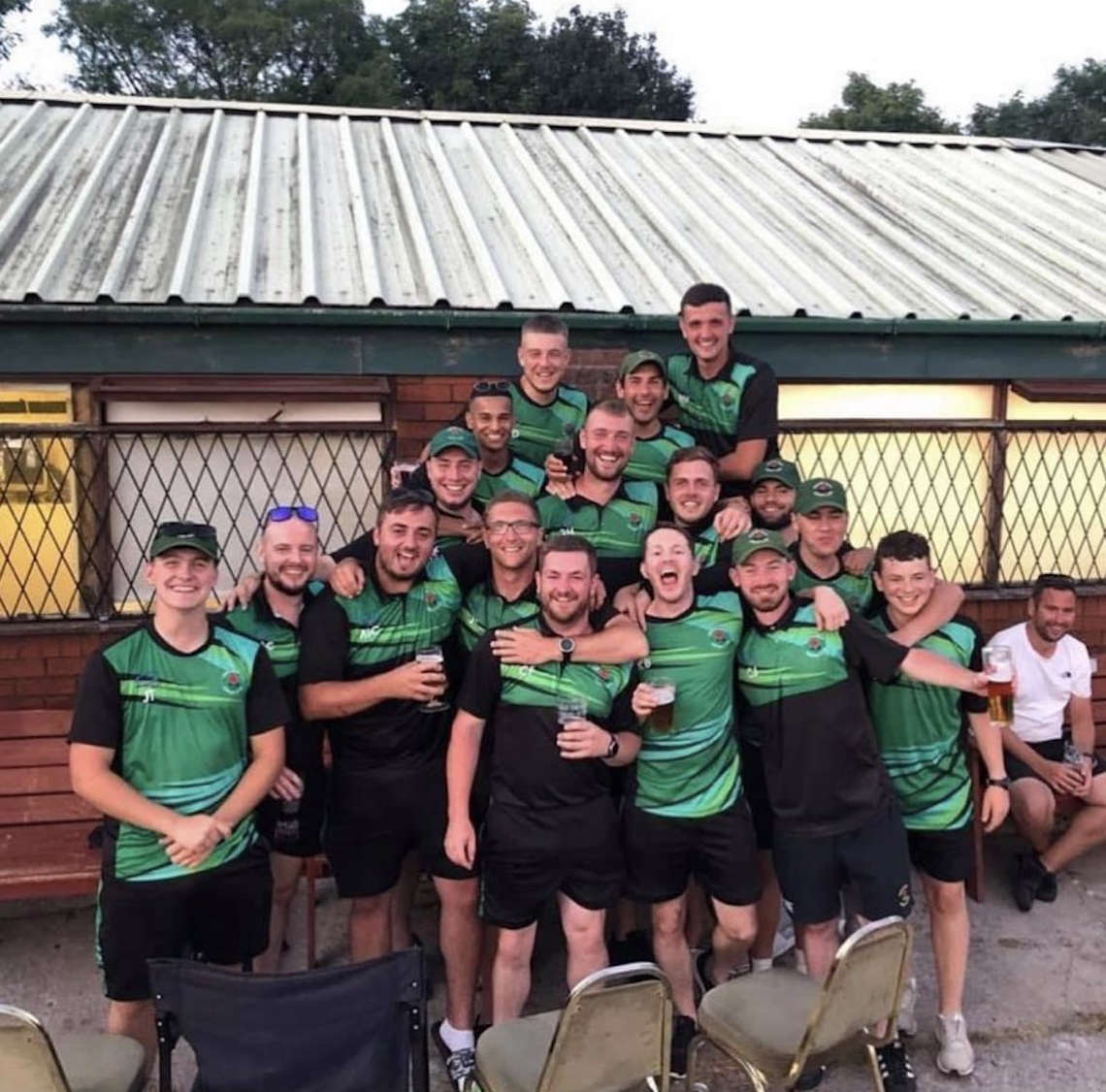 The highlights of the weekend locally were the confirmation of Denton West as Champions of Premier 2, and also Mottram being promoted from Division 1.
With the exception of Division 1 the campaign ends this weekend and there are still issues to be decided. Stayley must fight to retain Championship status, and in Premier 2 both Glossop and Flowery Field, despite wins this weekend, know that they need a repeat to be assued of retaining that placing for 2022.
Premier 1:
Denton SL kept the title race open to the final day with two wins over the weekend. On Saturday Heyside were the visitors to Sycamore Park and pro Chirag Khurana, so prolific in past seasons at Royton, held the innings together with 91. There was no significant support from elsewhere as they fell to 178ao as Matt Sonczak starred with 6-55 for DSL, finishing the innings off with a hat-trick. In reply DSL got off to a flyer reaching 53 inside six overs before the fall of the first wicket. Scott Kirwin and pro Neil Hornbuckle dug in from then and provided the basis for a seven wicket win.
24 hours later Roe Green were the visitors and DSL batted first and a solid display throughout the upper order led to a total of 249, with Mark Dilnutt top scoring with 76. It proved far too many for Roe Green who fell 110 short. Sonczak, (4-56), made it a fine weekend personally, after the initial inroads had been made by Wasim Qasim, (3-28).
It is now a simple equation. DSL can pick up the title with a win at Moorside but must rely on Prestwich losing at Heyside. Elewhere relegation was confirmed for Greenfield, and also Flixton the champions in 2017 and 2018. They will now join Glodwick in Premier 2 in 2022.
Glodwick 153ao Greenfield 154-2: Prestwich 240-8 Egerton 137ao; Denton SL 182-7 Heyside 178ao; Flixton 122ao Moorside 209ao; Roe Green 234-5 Astley & Tyldesley 235-7; Woodbank 227-9 Clifton 311-5; Sunday: Denton SL 249ao Roe Green 139ao
Premier 2:
It has been on the cards for weeks but on Saturday Denton West clinched the title with a win at Woodhouses. The home team set West 209 for the win, after the wickets were shared around the West bowlers. Sub pro James Price certainly gave the Windsor Park team value for money. The Middleton paid man hit an unbeaten 87 as West won by four wickets. Edgworth are also promoted despite two defeats over the weekend, and Walshaw who inflicted one of those reverses are likely to jon them in Premier 1 next year.
Glossop went into the game at Edgworth knowing that a win was vital and the North Road side delivered, after totalling only a moderate 144. Harry Dearden missed out with the bat but made amends with the ball. Taking four of the first five wickets to fall, he reduced Edgworth to 35-5, and eventually finished with 6-59 as the home team fell for 99ao.
Flowery Field ended up victors in a real thriller as they hosted Bradshaw. A patient 59 from Keegan Taylor provided the backbone to the Flowery innings which totalled 180ao. Bradshaw reached 143-4, needing only 38 for the win with 11 overs remaining. This reduced to 11 off the last three overs with four wickets in hand. A couple of wickets from Declan Feakes took it to the last over, and it came down to the last ball. A run out gave Flowery the win by the narrowest of margins – a single run.
The wins for Glossop and Flowery were vital but both go into the last game this weekend knowing that a repeat is equally important. Monton and Royton are already doomed but any one of six clubs are at risk of joining them. A defeat for Woodhouses will send them down, but victory will see any of Stand, Bradshaw, Glossop, Flowery Field or Heywood falling through the trap door.
Heywood 190-7 Monton 111ao; Flowery Field 180ao Bradshaw 179-9; Edgworth 99ao Glossop 144ao; Woodhouses 208-9 Denton West 212-6; Walshaw 193-2 Bury 191ao ; Stand 187-6 Royton 112ao; Sunday: Edgworth 161ao Walshaw 162-8; Bradshaw 85ao Woodhouses 151ao
Championship:
Stayley had a crucial win, and in doing so dragged opponents Friarmere into the relegation struggle. Friarmere posted a challenging 255 with Faisal Hussain taking 6-64. The Stayley reply fell to 78-5 and relegation was looking on the cards. The game was turned around by a simply magnificent unbroken partnership of 178 between Rhys Downend, (106*) and Jake Barlow, (69*), which took Stayley to the win.
They still stand in the relegation places and need a maxmium points win at Swinton Moorside this weekend, and also hope that either Whalley Range or Friarmere lose.
Heaton 100-9 Winton 99ao; Shaw 180-4 Uppermill 176ao; Westleigh 154ao Elton 126ao; Brooksbottom 171ao Edenfield 58ao; Stayley 156-5 Friarmere 255ao; Whalley Range 116-4 Swinton Moorside 115ao
Division 1:
Mottram secured promotion with a win over Denton in a Tameside derby at Egerton Street. The home side were indebted to Usman Malik, (74) as they reached 210ao. For Mottram Will Davis and Daniel Brightmore picked up four wickets apiece. Stefan Fielding made 53 in the Mottram reply, and with useful contributions elsewhere, despite the regular fall of wickets they got home with 2 wickets and a couple of overs to spare. The win leaves Mottram and Dukinfield chasing the title, the latter lead the way but only by a single point, and with two games left there is all to play for.
Hadfield could well play an important role in the destination of the silverware as they face both of the leaders, and they go into those games on the back of a more than decent campaign, and picked up another win as they overcame Droylsden at Newshaw Lane. Batting first the home team posted 204-4, the feature of which was a third wicket partnership of 169 between Cameron Ball, (82), and Jonny Tranter, (90*). Droylsden fell short by 36 runs, after finishing on 168-9, (Alex Cicarillo 45). Ball made it a great all-round day as he led from the front, ending up with 5-58.
Down at the bottom of the table, with two games left, Milnrow, in their first competitive season in the GMCL were relegated. Denton need two wins and results elsewhere going for them to avoid joining the Ladyhouse team, and Droylsden are by no means secure. It promises to be a very interesting fortnight at both the top and bottom of this Division.
Adlington 134ao SW Manchester 135-6; Hadfield SA 204-4 Droylsden 168-9; Thornham 122ao Stretford 132ao; Denton 210ao Mottram 213-8; Golborne 315-6 Milnrow 72ao
Division 2A:
Hindley SP 136ao Roe Green 2nd XI 137-2 (Roe Green champions); Radcliffe 129-5 Deane & Derby 128ao; Elton 2nd XI 63ao Daisy Hill 238-9; Worsley 124-0 Tottington SJ 123ao; East Lancs PM 97-4 Irlam 96ao
Division 2B:
Neither Micklehurst nor Ashton were in action with the previously scheduled games for Saturday now being played on 18th September. With Saddleworth clinching the title, and with it the sole promotion place, on Saturday, after a nervy win over Denton West 2nd XI the interest is at the bottom of the table. Ashton, Whalley Range 2nd XI and Springhead are alrxeady doomed, but the final place, (in a Division which strangely sees only one club promoted but four relegated), will be decided when Wythensahwe and Glossop 2ndXI meet this weekend in a winner takes all encounter.
Micklehurst v Littleborough Lakeside (now 18/9); Springhead 257-8 Whalley Range 2nd XI 186ao; Denton West 2nd XI 152ao Saddleworth 153-7; Glossop 2nd XI 96ao Denton SL 2nd XI 100-2; Werneth 258-5 Wythenshawe 79ao; Sunday: Glodwick 2nd XI 123ao Denton West 2nd XI 307-6
Division 3E:
Dukinfield 2nd XI 207-7 Werneth 2nd XI 183ao; Friarmere 2nd XI 262-8 Oldham 2nd XI 85ao; Moorside 2nd XI 387-8 Hadfield 2nd XI 65ao; Mottram 2nd XI 180-6 Newton Heath 179-9; Greenfield 2nd XI beat Flowery Field 2nd XI; Friends United 322-6 Heywood 2nd XI 198ao; Sunday: Friarmere 2nd XI 286ao Newton Heath 163-9; Mottram 2nd XI 191ao Heywood 2nd XI 253ao
Division 4E:
Ashton Ladysmith maintained second place as Woodhouses 2nd XI were crowned champions, Ladsymsith cantered to a win over Staley 2nd XI after dismissing them for 105ao, (Khaliq Rehman 6-43). Ladysmith wasted no time and got home by nine wickets in 16 overs, (Richard Taylor 65*). Ladysmith know that a win over Ashton 2nd XI on Saturday will give them the promotion spot. However a defeat for them and a win for Austerlands 2nd XI will see them miss out in a Division which is to be determined by average points per game.
Ashton Ladysmith 106-1 Stayley 2nd XI 105ao; Failsworth Macedonia 128ao Ashton 2nd XI 129-7; Blackley 97ao Woodhouses 2nd XI 121ao; Droylsden 2nd XI 214-9 Springhead 2nd XI 125ao; Austerlands 2nd XI 108-2 Denton 2nd XI 107ao
THIS WEEK'S FIXTURES:
Premier 1: Clifton v Roe Green: Astley & Tyldesley v Flixton; Moorside v Denton SL: Heyside v Prestwich; Egerton v Glodwick; Greenfield v Woodbank
Premier 2: Royton v Walshaw; Bury v Woodhouses; Denton West v Edgworth; Glossop v Flowery Field; Bradshaw v Heywood; Monton v Stand
Championship: Swinton Moorside v Stayley; Friarmere v Brooksbottom; Edenfield v Westleigh; Elton v Shaw; Uppermill v Heaton; Winton v Whalley Range
Division 1: SW Manchester v Oldham; Mottram v Hadfield SA; Milnrow v Denton; Austerlands v Adlington; Stretford v Golborne; Dukinfield v Thornham; Droylsden v Prestwich 2nd XI
Division 2A: Irlam v Worsley; Tottington SJ v Elton 2nd XI; Daisy Hill v Radcliffe; Stand 2nd XI v Hindley SP; Roe Green 2nd XI v East Lancs PM
Division 2B: Glodwick 2nd XI v Werneth; Wythenshawe v Glossop 2nd XI; Denton SL 2nd XI v Denton West 2nd XI; Saddleworth v Springhead; Whalley Range 2nd XI v Littleborough Lakeside; Micklehurst v Ashton
Division 3E: Heywood 2nd XI v Greenfield 2nd XI; Flowery Field 2nd XI v Mottram 2nd XI; Newton Heath v Moorside 2nd XI; Hadfield 2nd XI v Friarmere 2nd XI; Oldham 2nd XI v Dukinfield 2nd XI; Werneth 2nd XI v Friends United
Division 4E: Denton 2nd XI v Droylsden 2nd XI; Springhead 2nd XI v Saddleworth 2nd XI; Woodhouses 2ndXI v Failsworth Macedonia; Ashton 2nd XI v Ashton Ladysmith; Stayley 2nd XI v Austerlands 2nd XI