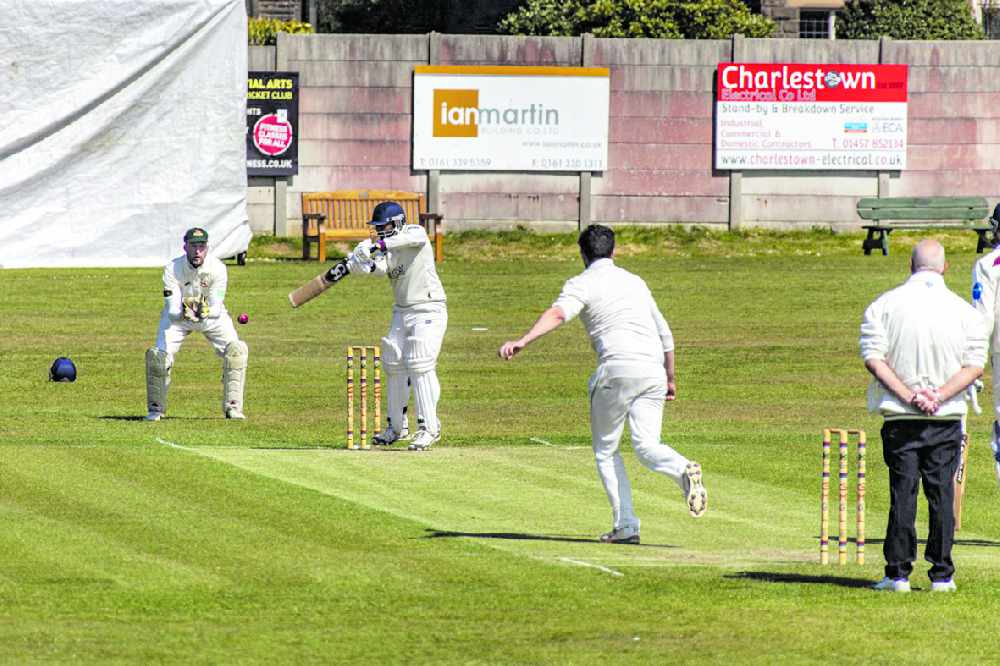 A fortnight ago snow lay on the cricket grounds of Tameside and Glossop, but the fine weather since then has provided the chance for groundsmen to prepare pitches which this weekend proved a haven for batsmen.
There were some huge scores throughout the GMCL and led to some thrilling games.
Premier:
Denton St Lawrence made it two wins from the two games played when they hosted Clifton. The outcome could not have been closer and provided a nail biter right to the last ball of the 100 overs. Clifton batted first and totalled 227-7, which was certainly a competitive target. DSL passed the hundred mark with 30 overs remaining and nine wickets left. They would have been expecting to win reasonably comfortably from there, but the visitors made them fight. DSL were indebted to Scott Kirwin who followed his century seven days previously with a top scoring 71. There were scores of over 40 for Adam Hawley; Neil Hornbuckle and Matt Sonczak. The game went down to the last ball. With the scores tied at that point Sonczak hit a boundary to give DSL the win. They stand 3rd in the table, behind Prestwich and Heyside, equal on points but with a slightly inferior net run rate.
Greenfield 256-9 Heyside 259-7; Egerton 176-7 Woodbank 177-7; Flixton 172ao Roe Green 250-7; Denton SL 231-5 Clifton 227-7; Prestwich 126-5 Astley & Tyldesley 124ao; Glodwick 239-9 Moorside 196ao
Premier 2:
It was a clean sweep for our local teams. Denton West made it two wins out of two as they travelled to Heywood. Batting first they recovered from 103-9 to reach 172ao. It was a patient effort from Ockert Erasmus who batted through nearly 40 overs for an unbeaten 74. His ally in that vital last wicket partnership was Max Cole as they added 69. In the Crimble side's reply Erasmus took the crucial early wicket of Bobby Cross and finished with 3-25 for a fine all-round performance. Jordan Williams, (4-33), and Aaqib Uppal, (3-17), gave West's a comprehensive 94 run win. As with their neighbours DSL, they are kept off the top of the table only in net run rate.
Flowery Field, who had lost to West's the previous week made hay as they took first knock against Bury. Once again Mike Finan led the way with a fine century, finishing with 121, and Keegan Taylor also contributed effectively. His 42, (in a partnership of 113 with Finan), was key in leaving Bury chasing 259 for victory. They made a decent fist of it and with 120 needed off 17 overs and 8 wickets left the game was in the balance. Finan stepped up, and in a Man of the Match display, ran through the middle order, finishing with 5-42, all clean bowled, as Flowery took the honours by 26 runs.
Glossop got off the mark for the season as they visited Monton. A consistent performance throughout the order saw them reach 207ao. Monton had been dismissed for 47 the previous week, and they fared little better this time round, as Oliver Kenyon, (5-57), aided by Will Hargreaves, (3-15), dismissed the hosts for 111, and a Glossop victory by 96 runs.
Monton 111ao Glossop 207ao; Bradshaw 219-9 Stand 119ao; Woodhouses 312-4 Walshaw 210ao; Edgworth 279-6 Royton 181ao; Flowery Field 258ao Bury 232ao; Heywood 78ao Denton West 172ao
Championship:
Stayley had a fine win at Brooksbottom after just missing out at Whalley Range the previous week. The hosts batted first, and Chris Tipper took 4-54 as they reached 205-8. In the reply former Hyde man Tipper led the way from the front. He reached 91, and together with Andrew Gleave, (61*), gave the Oxford Street team what was an impressive and comfortable win with 5 overs to spare. It is clear from the opening couple of game that Tipper will be a key element of Staley's season. He has 124 tuns and 7 wickets so far, and the addition of Jake Fenton, from Dukinfield, has added to the attack. It looks as though it will be a promising campaign for them.
Winton 187ao Elton 191-9; Uppermill 161-2 Whalley Range 160ao; Brooksbottom 205-8 Stayley 209-2; Westleigh 158-2 Swinton Moorside 155ao; Shaw 66ao Friarmere 188ao; Heaton 341-7 Edenfield 202ao
Division 1:
It has certainly been a great start to the season for both Mottram and Hadfield, as they boast 100% records and lead the way. In a Tameside derby Mottram visited Droylsden and made the home side toil in the field. Ryan Fitton, newly returned from Greenfield, opened and made a fine century, (103), and in the latter part of the innings Jordan Irons put the Droylsden attack to the sword. Taking only 24 balls, he hit 10 boundaries and 5 maximums, finishing unbeaten on 82. It left Droylsden needing 286 to win and it was beyond them as they limped to 145ao with the wickets shared around the Mottram attack.
There was an early finish at Hadfield, in a game which lasted less than 40 overs. Visitors SW Manchester were ripped apart by Liam Doyle, (7-47), as they were dismissed for 70. This was no problem for the home team as Jonny and Richard Tranter took them over the line in 17 overs for a 9-wicket win.
Denton visited pastures new as they travelled to Adlington, making their debut season in the GMCL. The Egerton Street team batted first and found it hard work as they inched to 132 off 44 overs. Ryan Bardsley, (45), top scored. The hosts won with some ease, using only 19 overs, as a 5-man Denton attack failed to make any impression.
After failing to chase a moderate target the previous week, Dukinfield certainly stepped up as they visited Ladyhouse, home of Milnrow. The hosts set them a target of 196. Denuwan Dadallage made a big impact on the game. After taking 3-53, he arrived at the crease with the Dukinfield reply showing 39-2. A superb century followed. He ended unbeaten on 105, and together with Will Allan, (66*), featured in an unbroken 3rd wicket partnership of 157 in only 17 overs.
Droylsden 150ao Mottram 285-5; Austerlands 75ao Thornham 216-5; Adlington 135-2 Denton 132ao; Golborne 147-4 Oldham 143ao; Milnrow 195-7 Dukinfield 196-2; Stretford 234ao Prestwich 2nd XI 148ao; Hadfield 71-1 SW Manchester 70ao
Division 2A:
Roe Green 2nd XI 263-4 Deane & Derby 168ao; Stand 2nd XI 71ao East Lancs PM 193ao; Elton 2nd XI 123ao Worsley 125-2; Radcliffe 271-7 Irlam 151ao; Hindley St Peters 187-9 Daisy Hill 189-5
Division 2B:
There is little doubt that the place to go to see plenty of runs in the last couple of years has been Micklehurst, and those who were there on Saturday saw over 620 of them!! In a local derby visitors Saddleworth scored more than 7 an over to reach 357-4. Veteran Peter Skuse, who has moved to Saddleworth from Stayley, rolled back the years and piled up an unbeaten 187, with good support from Asad Ali, (56). It was a mountain to climb for the home team, but they will have taken heart from the fact they scored well over 300 more than once in 2019. It was not to be this time though. Despite 78 from Daniel Clayton and a number of other useful contributions they fell well short, finishing on 266-9.
Ashton went to Whalley Range after snatching defeat from victory the previous week. The home side finished on 219-8, (Brad Phillips 4-52). Siraj Kadodia marked his return to Ashton with a fine 61, and Danny Hawthorne added a half century as well but a couple of quick wickets in the middle order took the impetus out of the chase and the Rayner Lane side fell to a 25-run defeat.
Micklehurst 266-9 Saddleworth 357-4; Whalley Range 2nd XI 219-8 Ashton 194ao; Glossop 2nd XI 173ao Werneth 232ao; Denton West 2nd XI 184ao Glodwick 2nd XI 205-8; Springhead 42ao Wythenshawe 340-7 (dec); Littleborough Lakeside 302-8 Denton SL 2nd XI 306-9
Division 3 East:
Werneth 2nd XI 158ao Hadfield 2nd XI 32ao; Oldham 2nd XI v Friends United (N/A); Mottram 2nd XI 83ao Greenfield 2nd XI 84-2; Moorside 2nd XI 104ao Heywood 2nd XI 105-4; Friarmere 2nd XI 121ao Flowery Field 2nd XI 124-9; Dukinfield 2nd XI 242-8 Newton Heath 241-7
Division 4 East:
In a division of 11 teams, it was Ashton Ladysmith's turn to miss out this week and they will be looking to pick up their first win of the season as they travel to Springhead this coming weekend.
Stayley 2nd XI lost to Woodhouses 2nd XI; Ashton 2nd XI 88ao Austerlands 2nd XI 22ao; Saddleworth 2nd XI 100ao Droylsden 2nd XI 102-2; Denton 2nd XI 252-8 Blackley 255-4; Failsworth Macedonia 313-9 Springhead 2nd XI 124ao
***
This week's fixtures.
Premier 1 – Heyside v Egerton; Moorside v Greenfield; Astley & Tyldesley v Glodwick; Clifton v Prestwich; Roe Green v Denton SL; Woodbank v Flixton
Premier 2: Glossop v Bradshaw; Denton West v Monton; Buryv Heywood; Royton v Flowery Field; Walshaw v Edgworth; Stand v Woodhouses
Championship: Elton v Uppermill; Edenfield v Winton; Friarmere v Heaton; Swinton Moorside v Shaw; Stayley v Westleigh; Whalley Range v Brooksbottom
Division 1: Mottram v Austerlands; Stretford v Droylsden; Prestwich 2nd XI v Milnrow; Oldham v Denton; Thornham v Adlington; Dukinfield v Hadfield; SW Manchester v Golborne
Division 2A: Deane & Derby v Stand 2nd XI; Daisy Hill v Roe Green 2nd XI; Tottington SJ v Hindley St Peters; Worsley v Radcliffe; East Lancs PM v Elton
Division 2B: Saddleworth v Whalley Range 2nd XI; Denton SL 2nd XI v Micklehurst; Wythenshawe v Littleborough Lakeside; Glodwick 2nd XI v Springhead; Werneth v Denton West 2nd XI; Ashton v Glossop 2nd XI
Division 3 East: Hadfield 2nd XI v Oldham 2nd XI; Newton Heath v Werneth 2nd XI; Flowery Field 2nd XI v Dukinfield 2nd XI; Heywood 2nd XI v Friarmere 2nd XI; Greenfield 2nd XI v Moorside 2nd XI; Friends United v Mottram 2nd XI
Division 4 East:
Woodhouses 2nd Xi v Ashton 2nd XI; Springhead 2nd XI v Ashton Ladysmith; Denton 2nd XI v Failsworth Macedonia; Droylsden 2nd XI v Blackley; Austerlands 2nd XI v Saddleworth 2nd XI
Picture by John Parkins (Glossop's 2nd XI hosted Werneth)