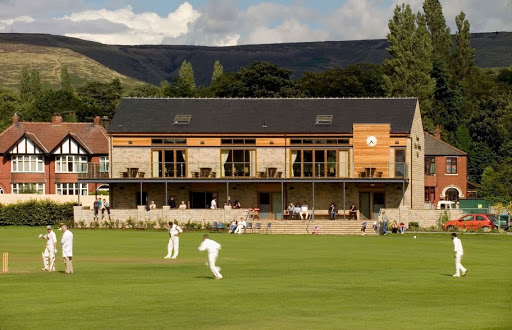 This season has been shortened to a 10 week programme, after the delayed start arising from the Covid lockdown, and the second half of the 'season' started on Saturday. 
There was disruption from the weather, with some games not starting and others falling victim to late afternoon rain, together with a series of cancellations after Covid alerts. In the games that did take place Woodhouses cemented their place at the top of Division A with a 10 wicket win over Denton West. In other games locally, a close game at Sycamore Park saw Denton SL get the upper hand over Denton, and Flowery inflicted another defeat on Glossop. There were wins for Austerlands, (their first of the season), and Saddleworth in Division C, and also for Heyside and Shaw in Division D.
Division A:
Woodhouses missed out on a game the previous week after a Covid alert but a return to action saw a comprehensive victory over Denton West. The visitors to Medlock Road got off to a decent start, reaching 71-1 before Josh Butler took charge. He took 4 wickets without conceding a run and finished with 5-24 as Wests tumbled to 116ao. Woodhouses wasted no time in their reply as Matty Taylor put the West attack to the sword. With 8 boundaries and 6 maximums, he finished on 80*, and an unbeaten opening partnership with Zac Booth took them to a 10-wicket win, inside 18 overs. The winning points left Woodhouses top of the table with a 100% record from the 5 games they have played.
Denton made the sort trip to Sycamore Park to face Denton SL. In the opening game of the season DSL had come out on top, winning the game at Egerton Street with ease. The result was a repeat, but Denton made the opposition fight harder for the win. DSL were limited to 142-7 as Keegan Taylor picked up 4-25. Denton put up a decent show in reply, but the regular fall of wickets left the odds against them, and despite 49 from Shahzaib Mazhar, they fell 14 short. The wickets were shared between a 5-man DSL attack.
Over at Flowery Field the home team had the better of Glossop and thus picked up after a poor display against Denton West 7 days previously. The basis of their total of 169-6 came from Kieran Lawton, (40), and Alex Dolly, (63). Glossop were winless coming into the game and have been short of runs this year, so they faced a stiff target. Other than Joe Moss and Dale Pennington, who both got 30+, there was little contribution from elsewhere as they fell for 138, with Mike Finan, (4-24), leading the Flowery attack.
Denton SL 142-7 Denton 129ao; Woodhouses 119-0 Denton West 116ao; Flowery Field 169-6 Glossop 138ao
Division B:
Droylsden v Dukinfield (Cancelled); Werneth v Mottram (cancelled); Hadfield A-A Ashton
Division C:
Austerlands picked up a first win of the season, in an away game at neighbours Springhead. The hosts struggled from the off as Michael Lockett, (5-19), was key to reducing them to 35-7. They manged to double the total, as Adam Sunderland picked up three wickets at the end, but a target of 74 proved no problem for Austerlands.
Micklehurst travelled a mile down the road to Saddleworth, and for a side that has been full of runs this year struggled against the home attack. Muhammed Shakir starred with the ball for Saddleworth, finishing with 6-5, and together with Mohammed Haroon, (3-11), dismissed Micklehurst for 69. In a rain disrupted second innings Saddleworth reached 41-1, and a victory on a DSL calculation as the elements brought an early finish. After a good start to the season Micklehurst have now lost two in a row, and Saddleworth's win meant they leapfrogged their neighbours into top spot.
At the Pollards, Uppermill reached 161-4 in a curtailed innings restricted to 31 overs. David Roberts, (58), and Mark Lees, (63), scored the bulk of these in an opening partnership of 123. The Oldham reply reached 48-1 off 10 overs when rain brought an early conclusion and the game was abandoned.
Saddleworth 41-1 (won DSL) Micklehurst 69ao; Springhead 73ao Austerlands 77-4; Oldham 48-1 Uppermill 161-4 (abandoned)
Division D:
Shaw inflicted Glodwick's third defeat in a row, and in doing so took revenge for their opening day loss. The game was as good as over when Glodwick tumbled to 25-7 inside 14 overs, with Jack Boyle taking all seven. He finished with 7-19 as Glodwick ended on 61ao. Shaw got home by 6 wickets,
At Moorside an interesting game looked in prospects before rain had the final say. The home side reached 157-6, a reasonable total after falling to 34-3. The Greenfield reply was reasonable well placed at 56-1 with 22 overs left and 101 required when the rain arrived, leaving the game abandoned. Moorside remain at the top of the Division with 5 wins and the abandonment from their 6 games.
Royton won at Greenfield a fortnight ago -their only win of the season before Saturdays game with Heyside. And it remained that way as they fell for 60, with Will Avery, (5-17), and Danny Cashin, (4-18) the chief destroyers. Royton will have been buoyed by dismissing Ben Holt to the first ball of the reply, and after Heyside fell to 31-5, the Paddock team must have thought they were in with a chance. However, Ryan Barnes and James Lord steadied the ship and took Heyside home without further loss
Glodwick 61ao Shaw 63-4; Moorside 157-6 Greenfield 56-1 (abandoned); Royton 60ao Heyside 61-5
Division E:
Friarmere v Prestwich 2nd XI (Cancelled); Thornham 152-8 Milnrow 44ao; Littleborough Lakeside (won on forfeit) v Clifton 2nd XI
Division F:
Bolton Indians 85-3 (won DSL) Radcliffe 95ao; Daisy Hill 35-1 East Lancs PM 34ao: United Stars W-L Deane & Derby
Division G:
Winton A-A Whalley Range; Monton 113-5 (won DSL) Westleigh 118ao; Swinton Moorside 131-6 Stretford 114ao
Division H:
SW Manchester 130-4 Hindley St Peters 125ao; Roe Green 2nd XI v Irlam (result N/A); Wythenshawe 93-5 (won DSL) Worsley 105ao
Division J:
Clifton 206-7 Astley & Tyldesley 85ao; Prestwich 87-2 Stand 96ao; (Roe Green – bye)
Division K:
Walshaw 151-3 (won DSL) Greenmount 167-5; Bradshaw 152-7 Egerton 88-9; Edgworth 70-4 Woodbank 136-9 (abandoned)
Division L:
Heywood v Brooksbottom (result N/A); Bury 149-7 Edenfield 141-7 (won DSL) (Tottington - bye)
Division M:
Failsworth Macedonia had a comprehensive win over Blackley. They totalled 215-8 with consistent scoring throughout the order, capped by 52 from Lewis Wood. He then went onto make it a great all-round day picking up 5-16 as Blackley were routed for 60.
Newton Heath tumbled to a comprehensive defeat at the hands of Friends United after being dismissed for 55, (Sahil Mukhtar 7-8). Despite a couple of early wickets for David Winstanley in the reply, Friends United eased to a 6-wicket win.
Friends Sporting v Ashton Ladysmith (Result N/A); Blackley 60ao Failsworth Macedonia 215-8; Newton Heath 55ao Friends United 56-4
NEXT WEEKS GAMES – Saturday 5th September
Div A: Denton West v Denton; Glossop v Denton SL; Flowery Field v Woodhouses
Div B: Mottram v Dukinfield; Droylsden v Ashton; Hadfield v Werneth
Div C: Oldham v Saddleworth; Uppermill v Springhead
Div D: Shaw v Moorside; Heyside v Greenfield; Glodwick v Royton
Div E: Milnrow v Prestwich 2nd XI; Clifton 2nd XI v Friarmere; Littleborough Lakeside v Thornham
Div F: Deane & Derby v Bolton Indians; East Lancs PM v Radcliffe: United Stars v Daisy Hill
Div G: Winton v Stretford; Westleigh v Whalley Range; Swinton Moorside v Monton
Div H: Worsley v SW Manchester; Irlam v Hindley St Peters; Wythenshawe v Roe Green 2nd XI
Div J: Roe Green v Astley & Tyldesley; Stand v Clifton (Prestwich– bye)
Div K: Edgworth v Bradshaw; Egerton v Greenmount; Woodbank v Walshaw
Div L: Tottington v Bury; Edenfield v Brooksbottom; (Heywood - bye)
Div M: Newton Heath v Blackley; Failsworth Macedonia v Ashton Ladysmith; Friend United v Friends Sporting