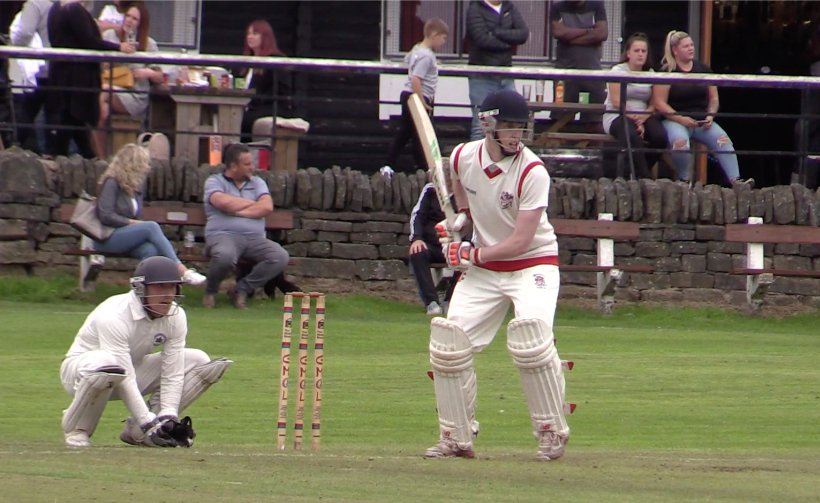 The second round of fixtures in the Greater Manchester Cricket League took place last weekend.
After two weeks of the season only seven of the 27 clubs in the Reporter and Chronicle circulation area have a 100% record – Denton SL; Woodhouses, (courtesy of Flowery Field forfeiting this week's game); Mottram; Micklehurst; Glodwick; Heyside; and Moorside. On the other hand Glossop; Denton West; Droylsden; Austerlands; Greenfield; Royton; Shaw and Failsworth Macedonia are still winless.
Micklehurst got a second win, sensationally defending 49 by bowling Austerlands out for 22, which featured the performance of the day from Barry Whitwam, who took 7-12. The tightest game of the day was at Droylsden where Ashton won by a single wicket with two balls to spare. Mottram cantered to victory at Dukinfield in a game which was over within three hours.
Div A
Denton SL made it two wins from two as they easily overcame Glossop who remain winless. DSL were indebted to a mid innings partnership of 80 between Matt Sonczak and Ryan Waterhouse as they reached 154-8. Glossop were set 159 for the win, after a rain break brought DLS into play. Scott Kerwin led the way for DSL with 4-10 as Glossop fell to 53ao.
In the derby at Egerton Street the hosts overcame neighbours Denton West in a low scoring game. Denton were grateful to Usman Malik, (45), and a late innings flourish from Shahzib Mazhar, (41), as they managed 128, (Jordan Williams 4-9). West fell to 0-2 from the first three balls of their reply, and but for a couple of contributions thereafter they limped to 112ao, and defeat by 16 runs. Wasim Qasim got 5-24 for Denton.
Flowery Field conceded their game at Woodhouses.
Results: Woodhouses v Flowery Field, (Woodhouses won on forfeit); Denton SL 154-8 Glossop 53ao; Denton 128ao Denton West 112ao
Div B
Mottram made it two wins in a row, (and added a T15 victory over DSL on Friday night), as they saw off Dukinfield. The Higher King Street outfit managed only 57, (the innings lasting only 14 overs), with Jordan Swann, (5-21), starring with the ball for Mottram. Despite losing three early wickets Mottram strolled home for a six wicket win.
Werneth got the better of Hadfield after totalling 166-9, thanks to 6 double figure contributions. Liam Doyle, who starred with the ball the previous week at Ashton, got 51 in the Hadfield reply and with 6 wickets left, 65 required and plenty of time Hadfield had the chance for a second win. Doyle's departure saw the last 6 wickets fall for 32, leaving Werneth winners by 32 runs. Liam Brown picked up 4-37 for the Coppice team.
It was a thriller at Droylsden where visitors Ashton won by 1 wicket with 2 balls to spare. Droylsden inched to 126-9, in a rain curtailed game limited to 36 overs a side. Former Ashton man Richard Mooney top scored with 47*, with Ahasan Shahzad, (4-48) continuing his fine form with the ball this season. Ashton slumped to 53-8 in reply, (Kajan Thayalan 5-11), but a magnificent 9th wicket partnership between Danny Hawthorne and Ryan Heap took them to within 19 of victory. Lewis Wilcox joined Hawthorne and the pair took Ashton to their first win of the campaign.
Results: Droylsden 126-9 Ashton 127-9 ; Werneth 166-9 Hadfield 134ao ; Dukinfield 57ao Mottram 60-4
Div C
Micklehurst, after piling up nearly 250 a week ago, struggled to get to 49ao at Austerlands, and must have feared the worst. (Michael Lockett took 4-10 for the home side). But, led by a superb spell from Barry Whitwam, who routed the Austerlands line-up, taking 7-12, Micklehurst ran through the opposition, dismissing them for 22, and in doing so made it two wins in a row.
Uppermill got off the mark with a 47 run DLS victory over Springhead. Pete Roberts got 54 for Uppermill in their total of 150ao, whilst Mohammed Tayab picked up 6-41 for Springhead. There were 4 wickets each for Dave Roberts and Will Potts in the Springhead reply.
Saddleworth took on Oldham at Well-i-Hole and profited from 63 from Sam Holt, plus three other contributions in the 30's as they finished on 183-5 in a 28 over game. That was a stiff target for the Pollards team, and despite 54 from Hamza Hussain, it was Steve Howard, (5-17), who put Saddleworth on the way to a 32 runs win, their first of the season.
Results: Springhead 106ao Uppermill 150ao ; Austerlands 22ao Micklehurst 49ao ; Saddleworth 183-5 Oldham 151-9
Div D
Heyside ran up a very competitve 166ao at Greenfield and once again Ben Holt led the way. He followed his 156 last week with 57 and was aided by a late innings 38 from Will Avery. Karthik Joshi took 4-43 for Greenfield. It was far too many for the home side, with only Joe Aston getting into double figures. They were dismissed for 64, Avery shining with the ball as well as the bat, taking 4-9. Heyside have two wins whilst Greenfield are yet to get off the mark.
Glodwick got their second win and inflicted consectuive defeats on Royton. The Paddock side reached a meagre 61ao, and despite losing a wicket to the second ball of their innings Glodwick strolled home to a 9 wicket win inside 10 overs, thanks to Zac McCannon and Zain Tahir.
Moorside maintained their 100% record, after setting Shaw 168 for the win. In the Moorside innings Joe Lovell, (56), and Imran Khan, (48) were the main contributors as Tharsan Thayalan got 4-17 for Shaw. Steve Whiston, (57), led the Shaw reply but a 6 man Moorside attack limited them to 149-7.
Results: Moorside 167ao Shaw 149-7 ; Royton 61ao Glodwick 62-1 ; Greenfield 64ao Heyside 166ao
Div E
Results: Friarmere v Clifton 2nd XI (cancelled); Prestwich 2nd XI 162-9 Milnrow 141ao ; Thornham 86ao Littleborough Lakeside 65ao
Div F
Results: Bolton Indians 116-4 Deane & Derby 115ao ; Radcliffe 56ao East Lancs PM 87ao ; Daisy Hill 106ao United Stars 190ao
Div G
Results: Monton 207-7 Swinton Moorside 203-5 ; Stretford 115-6 Winton 112ao ; Whalley Range 125ao Westleigh 126-2
Div H
Results: SW Manchester 113ao Worsley 153ao ; Roe Green 2nd XI P-P Wythenshawe; Hindley St Peters 70-7 Irlam 69ao
Div J
Results: Clifton 124-1 Stand 121ao ; Astley & Tyldesley 189-9 Roe Green 191-0 ; Prestwich – no game
Div K
Results: Walshaw 107ao Woodbank 108-2 ; Bradshaw 131-1 Edgworth 130ao ; Greenmount 198-9 Egerton 230-2
Div L
Results: Heywood v Unsworth, (cancelled, Unsworth have withdrawn); Bury 106ao Tottington St Johns 54ao; Brooksbottom 134ao Edenfield 138-6
Div M
Ashton Ladysmith got their first win of the season after posting 140ao against Failsworth Macedonia. Mitesh Patel batted throughout the innings for an unbeaten 65*. Macedonia fell to 3-2 in reply but a partnership between Lee Buckley and Lewis Wood brought them back into the game. However, the departure of Buckley saw the last eight wickets fall for 44 leaving Ladysmith winners by 30 runs. After struggling with the bat last week Newton Heath totalled a challenging 175 against Blackley, thanks in the main to Matt Kelly, (87). Asim Rafiq took 6-44 for the visitors who were never in the case, despite 52 from Fraaz Ahmed. Kelly made it a great day personally as he took 5-19 as Blackley fell 61 short.
Results: Blackley 114ao Newton Heath 175ao ; Friends Sporting 108ao Friends United 63-7; Ashton Ladysmith 140ao Failsworth Macedonia 110ao