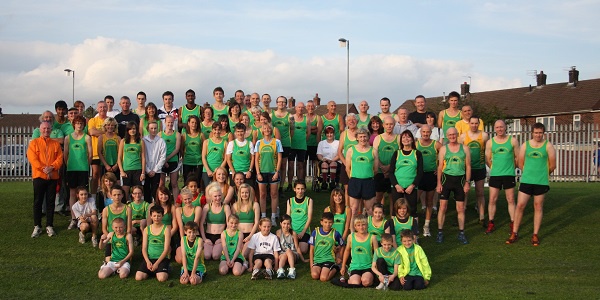 Here are the latest results from East Cheshire Harriers Running Club.
In the second South East Lancs Cross Country League race at Heaton Park, East Chehire Harriers had a large turn out of young athletes.
In the under 11 boys' event the team finished 1st with great runs from Alfie Manser (3rd), Marshall Fleet (4th), Paula Knight (7th), Oliver Walker (9th), Edward Figgins-Barrett (10th), Sam Horner (17th), Joseph Horner (18th), Finn Slattery (20th), Oscar Bundy (23rd), Eashan Mistry (25th), Alfie Price (26th), Max Ormston (29th), Alfie Price (30th), Ryan O'Boye (31st) and Harrison Simpson (33rd).

In the under 11 girls' race the team finished 2nd with excellent performances from Anna Rooke (4th), Jessica Stafford (5th), Isla Herring (8th), Ava Royle (11th), Harriet Byrnes (14th), Amelia Jones (17th), Olivia Kelly (20th), Olivia Jones (21st), Sophia Gush (29th), Imogen McBurnie (31st), Thea Stansfield (34th), Emily Vance (35th), Erin Royle (37th), and Demi Matthews (38th).

There was also a great turn out in the under 13s boys' and girls' event with the boys taking first place. team Bobby Burton lead the team in second place closely followed by Tim Elgar 3rd ,Oliver Bentley 7th, Callum Beswick 10th, Cole Wright 11th, Alfie Buddy 13th, Joe Taylor 16th, Joseph Lutman 18th, Finnan Docherty 22nd and Joe Harney 26th.
The girls' team finished 2nd with Maria Rooke leading in (6th) place, Darcy Slattery (7th), Alice Cunningham (8th), Ava McKenna (9th), Kayla Corbett (12th), Hari-Ann Fleet (14th) and C Shaw-Humphries (16th).

The under 15 girls were 3rd team with Matilda Byrnes running well to finish 2nd followed by Aliesha Smith (11th), Imogen Gush (13th), Ellen Lees-Hill (18th), Leigh's Manser (20th) and C Shaw-Humphries (21st). Lewis Brown was 3rd in the boys under 15.

The under 17 Ladies' race was won by a great individual effort from East Cheshire's Megan Lewis.
In the Senior Ladies' race there were good runs from Hayley Simpson (3rd), Beth McManus (11th), Michelle Vaughan (12th) and 1st L45. Rachel Fawcett was 6th L35, Karen Fleming 4th L45, Emma McQueen 3rd L50, Andrea Edwards 4th L50, Cath Daley 13th L40 and Nicola Richards 11th L45.
In the men's race Callum Brierley was 2nd under 20. The senior men had first team with Joe Hudak leading them home in 3rd position. Gavin Browne was 6th, Scott Matthews 9th, Robin Horner 13th and 3rd V40, Liam Browne 19th and David Figgins-Barrett 108th.
Dave Rankin was 3rd V45, Ian Fraser 6th V50, Derek Hughes 9th V55, Saul Gallagher 16th V50, Tom Clarke 16th V45, Neil Woods 27th V50 and Chris Johnson 4th V70.
Glossopdale had a number of athletes taking part with sisters Caitlin and Josie Swanfinishing 4th and 5th respectively in the under 13 and under 15 girls' race. Kirsty Sharp had a fantastic run to finish 2nd in the ladies race with Nicola Partington 10th L45.
Glossopdale's men took part with Sean Phillips 24th, Steve Crossman 1st V50, Peter Daly 13th V50, Phil Sawn 7th V45, David Christie-Lowe 4th V60, Frank Fielding 3rd V65 and Simon Toole 23rd V50.
Mossley had a number of runners with Amy Shadbolt leading home the ladies in 2nd L40, Helen Gregory 3rd L45, Selina McLean 8th L40 and Gillian Caldwell 1st L65. Mossleys men had Jonathon Charles 110th, Rick Wilson 6th V45, Paul Anderson 8th V45 and Chris Dobson 5th V65.
By Francis Day