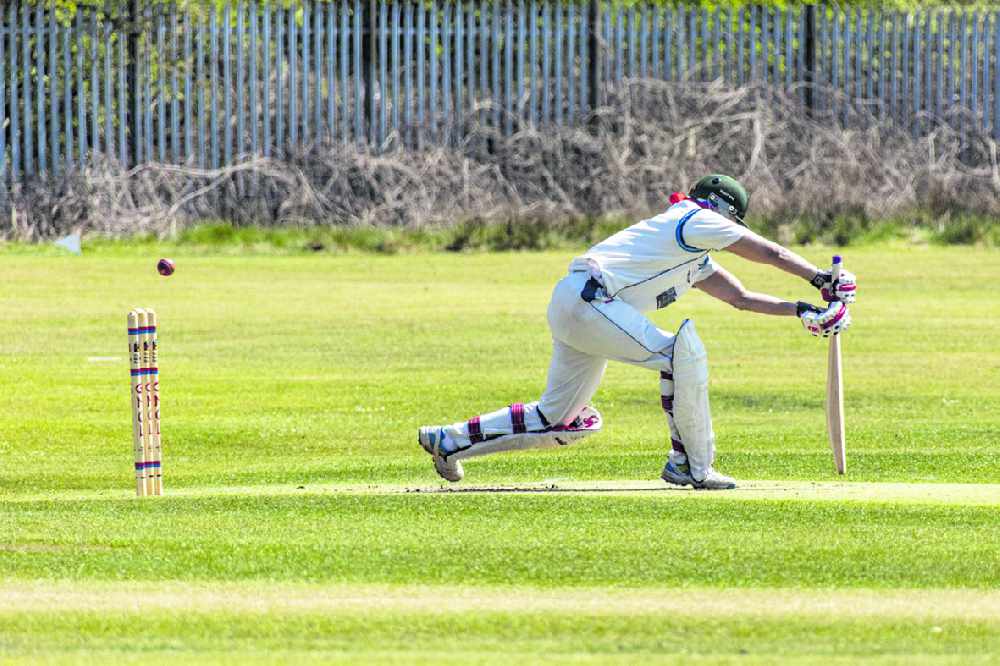 Cricket finally returned to the Glossop Glass and Glazing Derbyshire and Cheshire Cricket League and the late April weather did not disappoint. 
Division 1
Broadbottom v Newton
Newton won the toss and elected to bat at Broadbottom and were bowled out for 141 in 39 overs. Broadbottom took only 32.3 overs to reach the total and win by five wickets
Dinting v Dove Holes
Dinting won the toss and elected to bat reaching a total of 202-8. Dove Holes reached the total for the loss of only four wickets to gain 19 points.
Hayfield v New Mills
Hayfield won the toss and elected to bat first. Openers George Wood and Harry Wyatt made 78 and 37 respectively while Usman Ali took 4-50. New Mills struggled in reply and fell to 150 all out. Callum Firth (38) and Daniel Holmes (35) put up some resistance but Caleb Winfield and James Adamson claimed 3 wickets each to see Hayfield home.
Port Shrigley v Stalybridge
Stalybridge followed the theme of the day and elected to bat first. Richard Wilde scored 30, Adam Harwick 41, Joe Robinson 30 and James Brady 33 as Stalybridge posted 224/9. Rick Clarke took 3/52 for Port Shrigley. Scores of 53 from Sam Cleaver, 54 not out from Ryan Anderson Fitter and 38 from Rick Clarke guided Port Shrigley to victory for the loss of five wickets.
Woodley v Tintwistle
2020's Division 1 champions won the toss and elected to bat on home soil, falling to 120 all out. Charlie Harris was the pick of the bowlers for Tintwistle taking 3-22. Tintwistle fell 20 runs short in the chase. Alex Brown top scored with 30 as Jack Trowsdale posted figures of 4-12 from his 10 overs, and Jamie Kay 3-27.
Division 2
Hazel Grove v Chapel
Hazel Grove won the toss and chose to field, bowling out guests Chapel for 119. Joe Jackson top scored with 39 whilst Dominic Nunn and Mark Clayton claimed 3 wickets each. Hazel Grove wasted no time in the chase, reaching the total from 22.2 overs for the loss of two wickets. Mike Burnard hit 30 whilst Stuart Knott ended 48 not out.
Hollingworth v Buxworth
Hollingworth won the toss and chose to field, seeing guests Buxworth post 177/7 from their 45 overs. Alan Reynolds scored 39 and Chris Reynolds 34 as Mohammed Akram took 3-43. Hollingworth fell to 95 all out in reply as Bradley Meij took 5-29 and Dave Marchington 3-22 to seal an 82 run victory.
Old Glossop v High Lane
High Lane won the toss and elected to field, bowling Old Glossop out for 196. Martin McGrail struck 57 and Rob Adderley 72 whilst Joe Chorlton and Michael McCarthy took four and three wickets respectively. High Lane fell 93 short in the chase. Joe Chorlton put up some resistance with 33 as Rob Adderley took 4-32, Lenny Allsop 3-8 and Paul Littlewood 3-14
Whaley Bridge v Birch Vale and Thornsett
Birch Vale won the toss and elected to bat posting a total of 166/8 from their 45 overs. Jud Leyland scored 34, Anthony Hayward 43 and Rob Barrett 32* with Charlie Holden and Eddie Ford claiming 3 wickets apiece. Whaley Bridge eventually steered home for the loss of 8 wickets and 3.4 overs remaining. Ivan Heathcote was not out on 89 as Mark Eyre took 5-36.
Division 3
Hollingworth v Buxworth
Hollingworth won the toss and elected to bat first reaching 192/6 from their 40 overs. Opener Mike Osborn retired on 35 and Matthew Perriss hit 73. Buxworth were all out for 107 in reply. Christopher Pike scored 40 as K Khan took 4-10.
Chapel v Hazel Grove
Chapel won the toss and elected to field, bowling Hazel Grove out for 129. Openers Luke Bennett and Andy Tomlinson struck 30 and 33 as Paul Jones took 5-22. Chapel reached victory in 30 overs for the loss of 6 wickets. Max Newiss struck 36 and Alex Hall 44 as Jake Bennett took 3-47.
Charlesworth v Hayfield
Hayfield won the toss and elected to field, as their hosts scored 181/8. Stephen Monks scored 31 and Andrew Miller 34. The overs ran out for Hayfield as they fell 16 runs short for the loss of eight wickets. Gareth Faulkner scored 54 and Ted Brooks 49 but they couldn't guide Hayfield to victory.
Dove Holes v Port Shrigley
Port Shrigley won the toss and elected to bat, only making 134/9 from their 40 overs as Cory Flint took 4 wickets. Dove Holes didn't lose a wicket in reply as they cantered to victory. Mick Johnson scored 62* and Mark Turner 64*
Newton v Broadbottom
Broadbottom batted first and finished on 165/6. James Brotherton scored 43, Chris Pratt 44 and Lewis Turner 31. Newton were successful in the chase as Shaun Kent finished 48* and George Ashworth 40*
Stalybridge v Old Glossop
Old Glossop won the toss and elected to field as Stalybridge were bowled out for 158. Stuart Knock scored 42 and Hur Bin Tariq 48 with Darren Acomb and Andy Smith taking 3 wickets each. In a nervy run chase, Old Glossop just clinched victory with one ball and one wicket to spare. Jehrome Sagar top scored with 53 as Ajeet Kaintura and Hur Bin Tariq claimed three wickets apiece.
Picture by John Parkins.