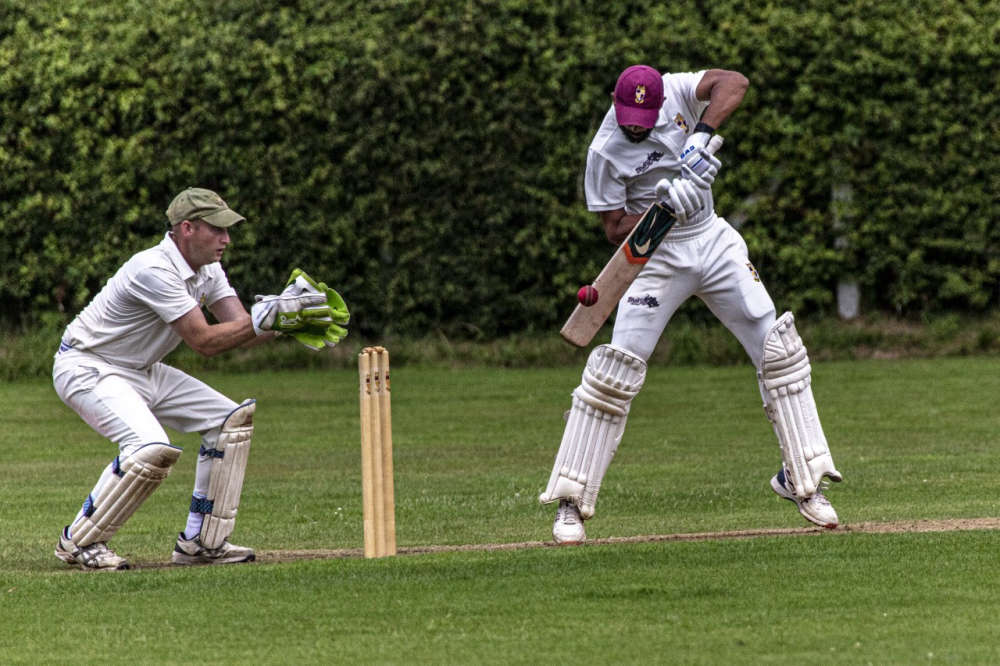 The first silverware of the season was seized on Sunday as Woodley beat Dove Holes in a low scoring game at New Mills in the Kudos Drinks Bissenden Cup final. 
After a two week break for the Offside Trust T20 group rounds, sides in Divisions 1 and 2 returned to league action.
Readers Division One
Dove Holes had a 58 run win over Newton and went top, although with the Woodley result not available at the time of writing this could be a temporary stay.
Dinting are third after defeating Broadbottom by a fine all-round performance from Smit Mehta.
• Dinting 221ao (Smit Mehta 87; Orson Cummings 4-60) Broadbottom 154ao (Mehta 4-45)
• Dove Holes 225ao (Daniel Jones 71) Newton 167ao (James Curtis 56)
• Hazel Grove v Woodley (Result not available)
• New Mills 179-5 (Ash Boardman 49*) Hayfield 174ao (Erich Von Molendorff 45; Sam Kilner 6-36)
Old Glossop 46-4 Tintwistle 45o (Ellis Walsh 4-18)
Division Two
With Pott Shrigley going down at High Lane Whaley Bridge extended their lead at the top after crushing Chapel. They set the hosts 191 for the win, but in the Chapel reply Whaley Bridge ran through them inside 10 overs for a 165 run victory.
Stalybridge are third after a nail-biting win over Buxworth with the last pair getting the 10 needed for the win.
• Chapel 25ao (Henry Holden 5-15; Jake Higginbotham 5-5) Whaley Bridge 190-9 (Lee Jones 81*; Aidan Theyer 4-48)
• Charlesworth 183ao Dove Holes 117ao (John Wardle 5-32)
• High Lane 214-4 (Fred Stewart 45; Kyle Eiselt 48; Josh Noel 60*) Pott Shrigley 174ao (Andy Tatton 52)
• Hollingworth 174-8 Birch Vale 155-8
• Stalybridge 157-9 (Richard Wright 42) Buxworth 155-8 (James Brady 4-42)
Division Three
Newton stayed at the top of the table with a 96 run over third place Hazel Grove and Woodley lie second.
• Broadbottom 75-2 Chapel 71ao (George Roberts 6-20)
• Hayfield 69ao (Stephen Allcock 4-36) Old Glossop 70-8
• Newton 222-9 (Sean Bennett 47; Andrew Grant 57*; George Ashworth 53) Hazel Grove 126ao (Cameron Barnard 4-30)
• Woodley 224-5 (Rami Prince-Navaratnam 75; Alfie Baker 48) Stalybridge 158-9 (Dave Cranmer 61*; Dan Rathburn 4-40)
Division Four
Tintwistle maintained an imposing lead at the top after a six wicket win over Dinting with New Mills, (seven wicket winners at Buxworth), joining them in the promotion places.
• Buxworth 93-9 New Mills 96-3
• Pott Shrigley 63ao (Mohammed Naseer 40-26) Hollingworth 184-8 (Gulam Ahmed 43)
• Tintwistle 111-4 Dinting 109ao
Picture by John Parkins