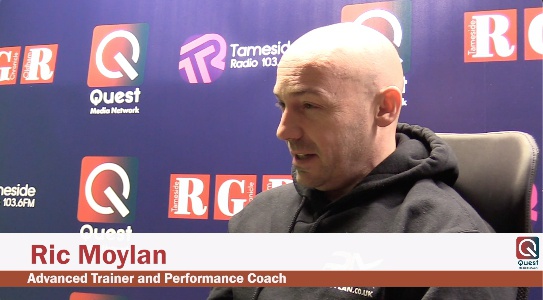 Advanced trainer and performance coach Ric Moylan will be contributing to Quest Media Network on a regular basis.
Ric, who has trained a variety of top level athletes in different sports, ranging from boxing and body-building to tennis and tug of war, has recorded a podcast with our head of sport Mark Philip.
Here's the first segment which includes a bit about his background, who he has trained and what he thinks about the rise in depression and the causes of it.
Ric Moylan

WATCH: Advanced trainer and performance coach Ric Moylan will be contributing to Quest Media Network on a regular basis. Ric, who has trained a variety of top level athletes in different sports, ranging from boxing and body-building to tennis and tug of war, has recorded a podcast with our head of sport Mark Philip. Here's the first segment which includes a bit about his background, who he has trained and what he thinks about the rise in depression and the causes of it.

Posted by Tameside Reporter on Wednesday, January 29, 2020