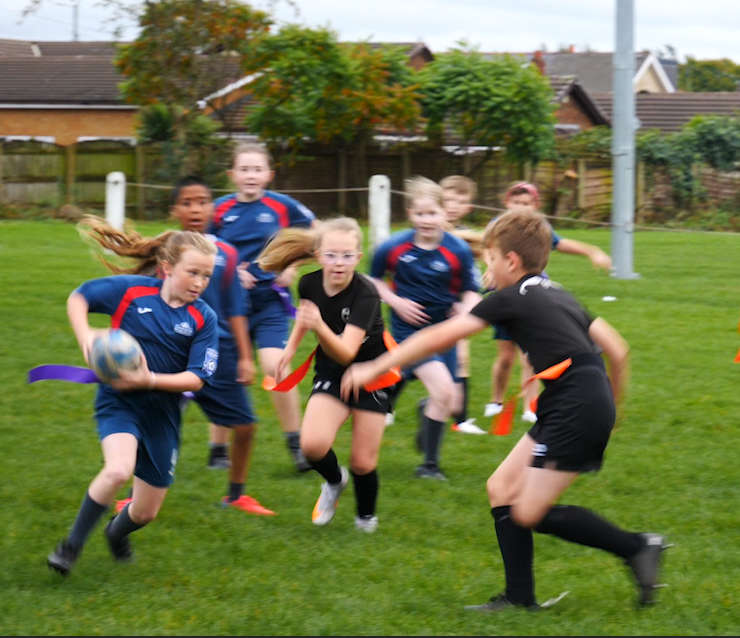 Aldwinians RUFC hosted the Primary School Tag Rugby Finals on Tuesday.
The event, which was organised and coordinated by the Tameside School Sports Partnership, saw 200 pupils battle it out to become the best in the borough.
Russell Scott Primary School, Denton, took first spot, whilst Pinfold Primary School and Our Lady of Mount Carmel came second and third respectively.
We spoke to Emma Toone, Tameside SSP Games Organiser, and Rob Taylor, Aldwinians Under 11s coach, to get their thoughts on a number of topics.
Aldwinians RUFC hosted the Primary School Tag Rugby Finals on Tuesday. The event, which was organised and coordinated by the Tameside School Sports Partnership, saw 200 pupils battle it out to become the best in the borough. Russell Scott Primary School, Denton, took first spot, whilst Official Pinfold Primary School, Hattersley, Hattersley and Our Lady of Mount Carmel R.C. Primary School came second and third respectively. We spoke to Emma Toone, Tameside SSP Games Organiser, and Rob Taylor, Aldwinians Under 11s coach, to get their thoughts on a number of topics.

Posted by Tameside Reporter on Wednesday, October 20, 2021