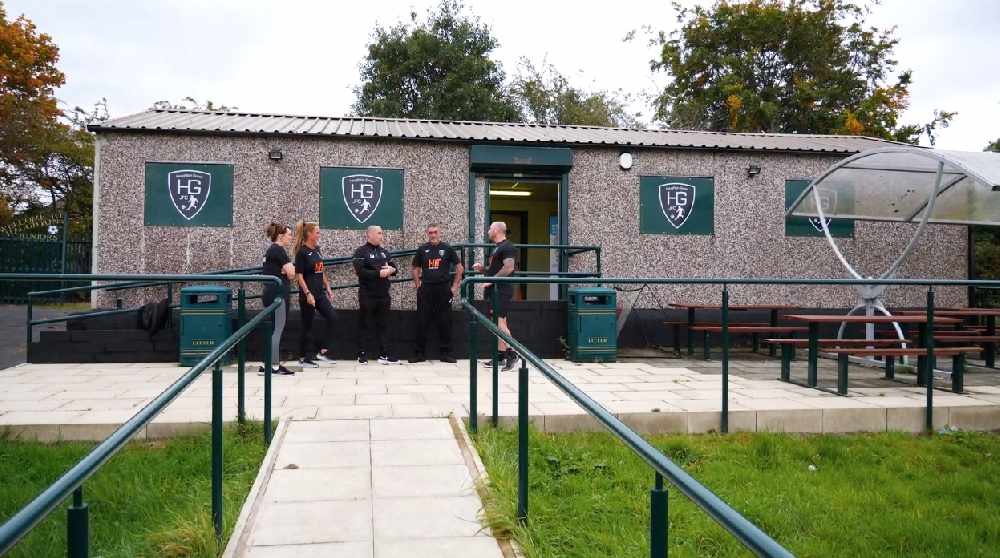 Haughton Green Junior Football Club has received a massive boost thanks to local lad Andy Hughes.
Andy, who owns Team HIIT Man, has sponsored the club for the 2020/21 season. As part of the deal, Andy has already paid to kit out all the players in new training t-shirts, and he will also be raising funds to help with the general upkeep of the club.
And on the 24th October, Andy and other fitness lovers will be completing a 500 mile walking challenge on Haughton Green Playing Fields to raise funds for all the local food banks.
We spoke to Andy about the sponsorship.
We also spoke to club coach Lee Halsall about the club in general.
Club officials have also thanked the Tameside Sport and Physical Activity Network for its assistance during difficult times.
Local boost for Haughton Green Juniors FC

Haughton Green Junior Football Club has received a massive boost thanks to local lad Andy Hughes. Andy, who owns Team HIIT Man, has sponsored the club for the 2020/21 season. As part of the deal, Andy has already paid to kit out all the players in new training t-shirts, and he will also be raising funds to help with the general upkeep of the club. And on the 24th October, Andy and other fitness lovers will be completing a 500 mile walking challenge on Haughton Green Playing Fields to raise funds for all the local food banks. We spoke to Andy about the sponsorship. We also spoke to club coach Lee Halsall about the club in general. Club officials have also thanked the Tameside Sport and Physical Acitvity Network for its assistance during difficult times.

Posted by Tameside Reporter on Thursday, October 8, 2020