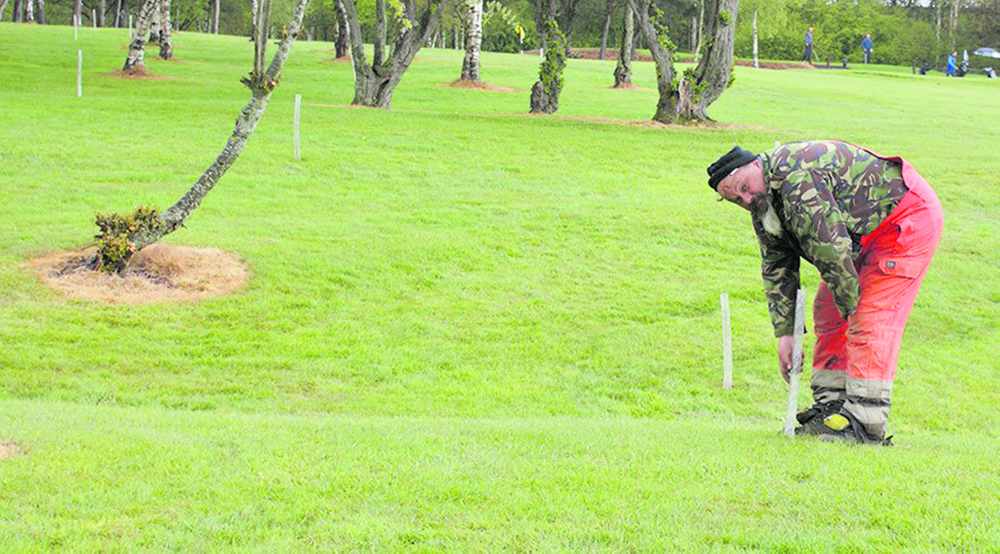 Fairfield Golf Club has always been proud of the attractive and scenic nature of their club on the edge of Debdale reservoirs.
In the past 20 years the club has seen a massive overhaul and redesign of their course, including a fabulous new clubhouse.
At the heart of the course development has been head greenkeeper Eddie Holland and he is delighted with the new initiative of planting more trees in chosen areas of the course
Eddie said: "I joined Fairfield Golf Club in 1983 from Stamford Golf Club and have now been here 38 years.
"The tree planting that we have been doing is from the Woodland Trust and the trees were given free of charge.
"In previous years we have had trees donated by Manchester City, to offset their carbon footprint, and an earlier Woodland Trust donation, along with donations from members to remember a loved one.
"Over 400 items have been donated and range from native species, oak and hazel to hedge species hawthorn, blackthorn and wildlife-supporting species such as rowan, cherry and crab apple.
"It is hoped this will encourage consistency in the local wildlife that is already present and also encourage more donations in the future.
"I would like to thank our club manager Carol Phillips for her work on applying for the trees and of course, the green staff for their hard work and input into the course in maintaining it for the future, and the board for giving us the opportunity to improve the golf course environment for future generations to visit and enjoy."
l Harold Hawkins Day at Saddleworth saw Tony McNamara and Stuart Chamberlain in firm control with 58 from Gary Banks and David Green 62 and Malcolm Stott and Jack Ingham on 63.
A pro's BB Stableford at Saddleworth was won by Neil Bamford and Tony Schofield with 46 points, two more than Ben Pullen and Giacomo Cavallino.
There was a great result for Saddleworth's Men's Foursomes team in the Alliance Club KO as they beat Macclesfield to progress into the last 32.
l Ashton's men played for the Chairman's Prize and top of the three divisions were Ian Morgan 39 points, Graham Hughes 40 and Steve North 40.
It was close at Ashton in a BB Medal for the Commemorative Cup and top of the shop with 61 points were I Rhodes and E O'Donnell, one clear of R Lomas and M Easthope and D Lawton and G Taylor.
The Sunday Stableford at Ashton had division one led in by Joshua Smith after a cpo on 39 with John Northrop. In division two Andrew Lilley led in with 37, one more than John Gilmore and division three winner Adam Sedgwick took 40.
l The eighth Pro's Stableford at Brookdale was led in by Colin Rafferty with 39 points from Mick Scrivens 37 and Nathan Milnes 36.
l A Stableford at Dukinfield was won by Stuart Farquharson with 41 points, one more than Edgar Orford and Paul Whalley.
l The Wednesday medal for the Green Blazer at Fairfield had a nerve jangler in division one as Stewart Proffitt showed his class winning a cpo on 69 from Darren Schofield and Leon Valentine.
In division two Gary Wilkinson was out on his own with 65, two less than Steve Gilliburn and William Haughton.
Fairfield ladies played for the Pat Murphy Trophy and Sandra Qualters was a clear winner on 77 from Sarah Pownell 80.
l Oldham's men played round two of the President's Trophy and Mark Heywood topped division one with 64 one clear of Graham Pendleton.
John Kennedy was the main man in division two with 68 from John Proctor 69.
Oldham ladies pulled off a great result in the MDLGA Bell Cup beating Wilmslow to reach the last 32 and they will now play the winners of the Ashton v Saddleworth tie in the next round in what will be a great local derby.
l Crompton and Royton ladies played a singles Stableford and it was won by Carolyn Williamson with 36 points from Janet Wright 34 and Margaret Hornby and Emily Halstead, both 33.
The 'major' Seven Cup for C and R's men had Stephen Pass as the proud winner with 68, one less than Carl Ringland.
l The Captain's Drive-in BB Stableford at Stamford was led in by the dynamic duo of S Willerton and J Davidson with 47 points.
Hot on their heels with 46 were M Hewitt and P Barlow, S Henshall and Chris Houfe and J Martin and B Cheetham.
A ladies Stableford at Stamford was won by Susan Taylor after a cpo on 33 with Frances Quinn.
l A Mellor Cup qualifier at Werneth saw Adam Temple win division one with a neat 63 from Lee Appleby 65.
In division two it needed a cpo on 63 to see Raymond Bingham home from Elliot Wrigley.
l The first round of the Wednesday Bowl at Denton saw Peter Hulme go clickety click to finish ahead of soccer legend Les Bray 67 and David Urmston 70.
The Denton Exchange Day with Withington had the fab four of Geoff and Gary Boott, Gary Finn and Martin Proffitt lead in with 89 points
The second Sunday Captain's qualifier at Denton was won by Shaun Gregory 67 from Guy Hamer and Josh Skelly, both 69.
Denton ladies played a medal and Angela Ellam led in with 74 from Sharon Murray 77 and Wendy Pollit 78,
The nine-hole Stableford winner was Marie Oetting with 11 points, one more than Rose Thackeray.
l The draws have been made for round one of the final two Inter Club Knock Out Tournaments for the Manchester and District Golf Alliance, the biggest organisation of its kind in the country.
They represent opposite ends of the golfing spectrum with the Men's Seniors KO and the BMW Junior Team KO.
The seniors competition has grown in strength year on year and Manchester Golf Club will again stage finals day. The current holders are Chorlton Golf Club and they will host Blackburn in the last 64 in round one.
Local teams in action in round one are: Manchester v Brookdale, Rochdale v Saddleworth, Ellemere v Werneth Low, Dukinfield v High Legh Park, Werneth v Helsby, Fairfield v Stamford, Denton v Haigh Hall.
The Juniors KO will see the final again held at the traditional venue of Lowes Park and holders Ringway GC visit Bramall Park in round one
Action for local teams sees: Brookdale v Fairfield, Crompton and Royton v Dukinfield, Denton v Ashton.
The only teams with byes into round two are Dunham Forest and Warrington.