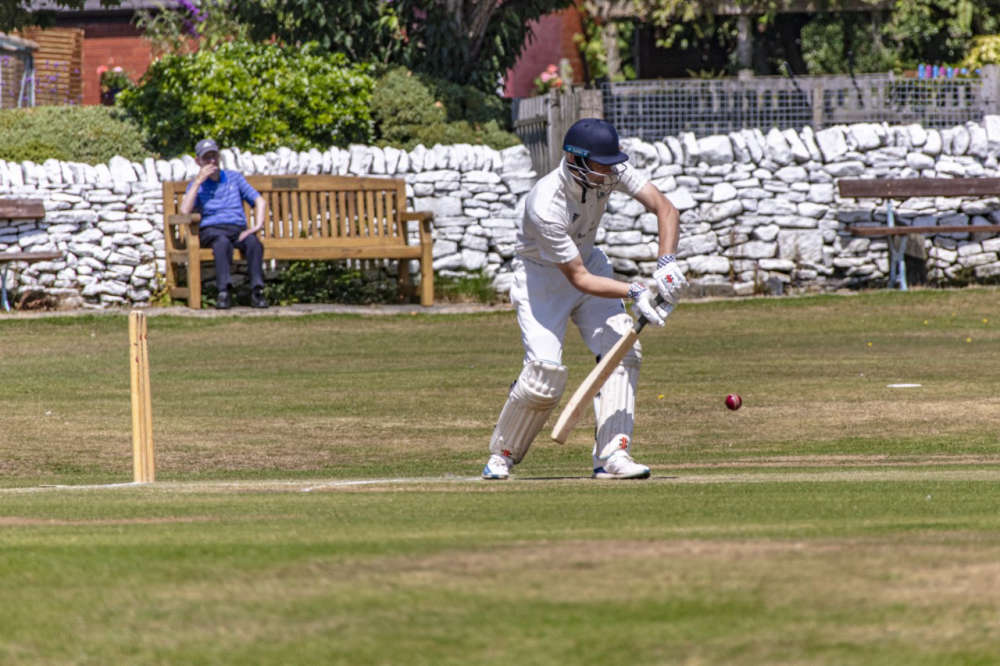 Teams in Divisions One and Two took a break from league action as the Offside Trust T20 competition got underway in the Derbyshire and Cheshire Cricket League.
There are four groups run as a 'round robin' and by next weekend the qualifiers for the Finals Day will be known.
Offside Trust T20 Competition
Pool A
•High Lane 86ao (Jonny Spencer 4-27) Hayfield 136ao (Logan Jeffs 4-14)
•New Mills 108ao (Alistair Stevens 40; Michael Birchenall 32; Andy Tatton 3-38) Pott Shrigley 148ao (Tom Fletcher 50)
Pool B
•Dove Holes 184-5 (Joe Hall 88; Jack Gregory 50 Newton 163ao (Stuart Nugent 45; Joel Ankers 49; James Gemmell 4-33)
•Old Glossop 87-5 (Dale Pennington 43) Stalybridge 86ao (Rob Mallett 41; Lenny Allsop 4-16; Rob Adderley 4-5)
Pool C
•Broadbottom 120-9 (Harrison Webb 33) Dinting 124-3 (Ryan Nixon 50)
•Tintwistle 218-3 (Kieran Davies 68; Tom Pugh 30; Nathan McKeowan 34) Birch Vale 127-8 (D Shore 38*)
Pool D
•Charlesworth 150-7 (Sam Gilham 55; Joe Jackson 3-22; Toby Emmett 3-18) Chapel 139-5 (Iain Betts 78)
•Whaley Bridge 109-6 (Jake Higginbotham 43; Ivan Heathcote 30) Hazel Grove 108-6 (Charlie Higson 37)
•Charlesworth 147-7 Whaley Bridge 208-1 (George Holden 121*; Henry Holden 31; Ivan Heathcote 36*)
•Woodley 69-1 (Conor Cranwell 44*) Hazel Grove 68ao (Dylan Heginbotham 3-17; Danny Millen 3-18)
Upcoming fixtures
Thursday 21st July (tonight)
Pool A: High Lane v New Mills; Pott Shrigley v Hayfield
Pool B: Dove Holes v Old Glossop; Newton v Stalybridge
Pool C: Dinting v Birch Vale; Tintwistle v Broadbottom
Pool D: Chapel v Whaley Bridge; Woodley v Charlesworth
Saturday 23rd July:
Pool A: Hayfield v New Mills; Pott Shrigley v High Lane
Pool B: Newton v Old Glossop; Stalybridge v Dove Holes
Pool C: Birch Vale v Broadbottom; Dinting v Tintwistle
Pool D: Hazel Grove v Chapel; Whaley Bridge v Woodley
Division Three
Newton stayed at the top after a 113-run win over visitors Broadbottom whilst Woodley kept the pressure on them after beating Stalybridge in a relatively low scoring game at Gorse Hall Road.
•Hayfield 161-9 Hazel Grove 193-6 (Geoff Noden 86; Si Lomas 44*)
•Newton 248-5 (George Ashworth 41 Broadbottom 135ao (Joseph Hoctor 4-33)
•Old Glossop 147-3 (Ethan Lumb 53; Andy Dwyer 53*) Chapel 145/8 (Toby Emmett 45*; Stephen Allcock 4-33)
•Stalybridge 98ao (Luca Bray 4-30) Woodley 133ao (Gary Pickin 49; Kevin Dooley 4-33)
Division Four
Tintwistle kept top spot after a thriller at Pott Shrigley, as they managed to defend 126-9, taking the last six wickets for only 13 runs as the home team fell just two runs short.
•
Dinting 159ao (C Lawton 43; Joe Cooper 4-23) Buxworth 162-3 (Ross McCormack 55; Tom Moss 46*)
• Hollingworth N/A Charlesworth
•Pott Shrigley 124ao (Ian Tomenson 43; Sam Bird 5-17) Tintwistle 126-9
Picture by John Parkins (Old Glossop 2nd XI are now fourth in Division Three)