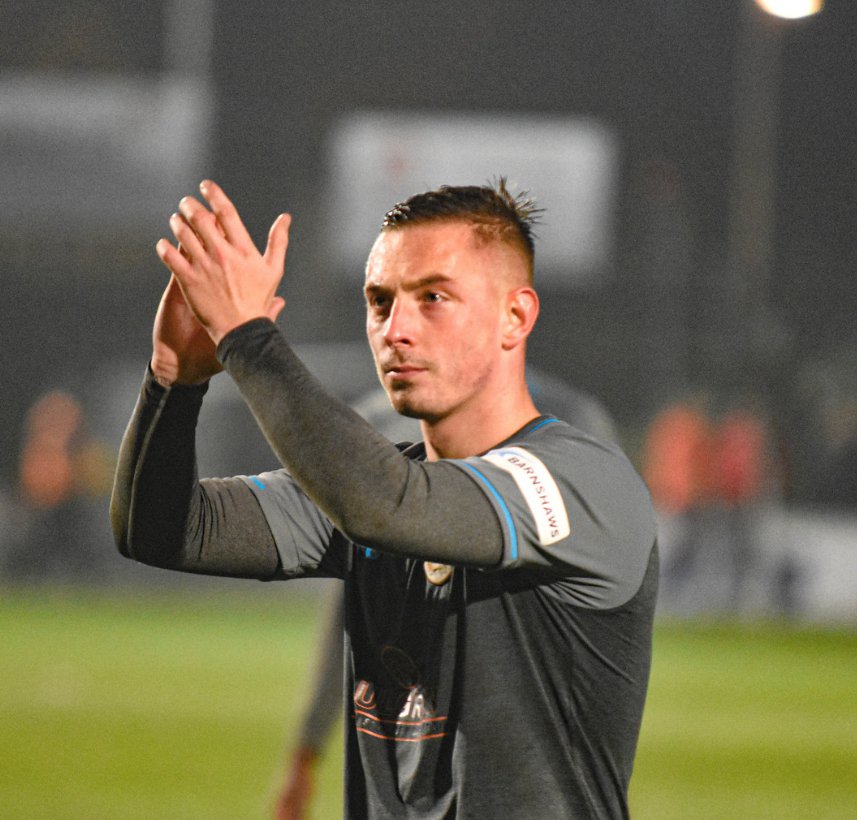 Former Audenshaw School pupil Josh Askew says he's excited for a new challenge after being released by Salford City.
The 22-year-old joined the Ammies ahead of the 2017-18 season and enjoyed his spell at the Peninsula Stadium, winning the National League North in his first season and following it up with promotion to League Two, albeit with loan spells at Stockport County and Ashton United.
Josh has since spent the 2019-20 campaign on a season-long loan at Curzon Ashton, where he battled with mental health issues after losing his grandad just a week before the season started.
He says the experience has made him a stronger person and is now hoping to use that resolve to complete a 500km cycle next month in aid of Willow Wood Hospice.
Josh, who began his career at Blackburn Rovers, will be completing the challenge with his friend Ben Bevan. Speaking to Reporter Sport ahead of the cycle, Josh said: "The idea of the 500km cycle was to keep fit and to challenge myself and my mate, as we previously completed a 30-day 'motivate your mate' challenge to which we pushed each other through Instagram and Facebook with a different workout each day.
"We're looking to raise £500 for Willow Wood, £50 each from myself and Ben, and the rest from donations."
Since lockdown took effect, Josh has been working hard in a bid to maintain his fitness and be in the best shape possible ahead of next season.
However, with no indication as to when the season will begin or which team he will sign for, things are a little confusing.
But he says he's fully focused and is relishing the chance to prove his worth with a different club. "My goal as a professional footballer has always been to strive to the level of my ability" he said.
"You could argue that I didn't get an opportunity to play in the league that I know I'm good enough for (League Two), but the opportunity never arose, and that's football at the end of the day.
"I certainly want to aim for the highest league possible, wherever that may be, and cement myself a regular starter. Given I'm 22 I've experienced a lot more in comparison and I have certainly matured mentally and physically due to playing non-league football, starting with loan spells at Ramsbottom United & Warrington Town.
"I went to Salford as a 19-year-old boy and I'm leaving as a 22-year-old man with a vast amount of lessons learnt and experiences to remember.
"Being released by Salford wasn't a surprise as I've seen this coming for a good 12 months, however it was never something I would have stepped away from voluntarily. The club and its ambitions to progress from league to league inevitably became a dead end for me and my career. I was very fortunate to spend three years at the club as most don't make it past two. However, it is certainly the best time for me to leave the club and kick on with my career elsewhere and I'm embracing the challenge with open arms as I've never been more fit or ready."
Reflecting on his time with Curzon, Josh said he enjoyed his stay at the Tameside Stadium and feels the foundations are in place for the club to progress "As a club we know we could have done much better, and the run of form we had before lockdown hit showed that we could challenge for a higher league position. However, I must say a massive thank you to everyone associated with the club for a successful loan at my local club.
"I feel if the club invested the right areas it could certainly push for the play-offs/promotion in the National League North. The set up and facilities the are better than some clubs, certainly in the National League and even League Two, so it's a great foundation for the club to push on."
Picture by @BiddleOfNowhere