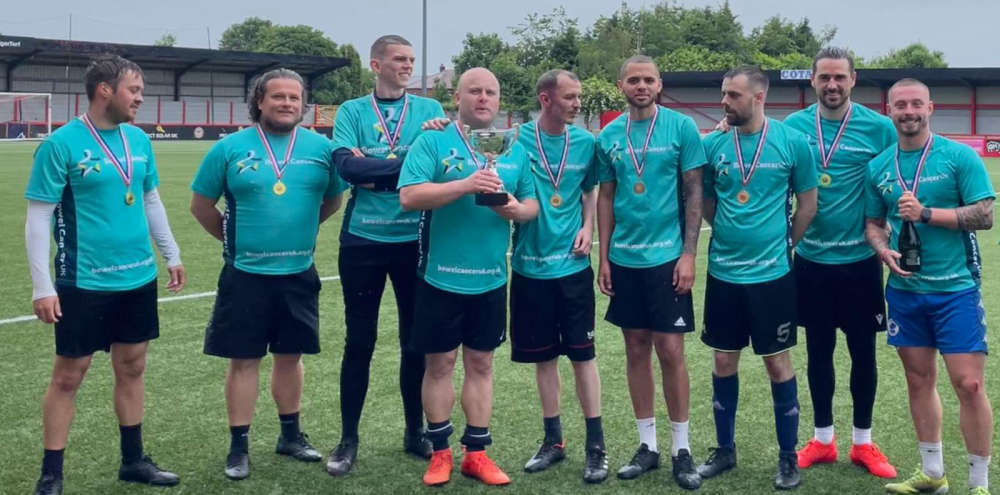 A charity tournament at Ewen Fields has raised thousands of pounds for vital causes.
Organised by charity champion, Josh Askew, the fundraising tournament raised highly appreciated funds for three incredibly important charities.
Following the devastating news that his lifelong friend, Lewis Hardcastle, would have to retire early from his football career in 2021, Josh stepped up and pushed himself to the limit to raise money for the British Heart Foundation.

This included a football charity tournament, and 12 months later he returned with a mission of raising even more funds.
This year, Josh wanted to again fundraise for British Heart Foundation, but also add two more causes to his efforts.
Sadly, losing his nan to bowel and colon cancer recently, Josh knew he needed to strive to support Bowel Cancer UK.
"There was just five days between her diagnosis and her passing away. It was such a sudden loss and it's left us with so many questions.

"She really was my best friend and at times I feel like I've lost my right arm," he said.
So, after completing the Great Manchester Run, Josh decided that he would aim to give back to Bowel Cancer UK again through the charity tournament.
Yet, one more cause would be added to his collection. After speaking with his girlfriend Milly, Josh discovered the story of Ollie Moseley and was desperate to help.
"Ollie was hit by a car near the Etihad Stadium 9 months ago and was in a coma for months. His chance of survival was low, but Ollie has managed to pull through and is now on the road to recovery.
"He is suffering from serious physical and brain injuries and now needs dedicated treatment to help him to recover.
"The cost for his 6 months rehabilitation is £187,200 and so fundraising is needed to help him in his journey."

The story has touched Josh immensely, taking the time to meet with Ollie's dad and learn more on his condition. It was a 'no brainer' to help him and so the charity match was organised to go ahead.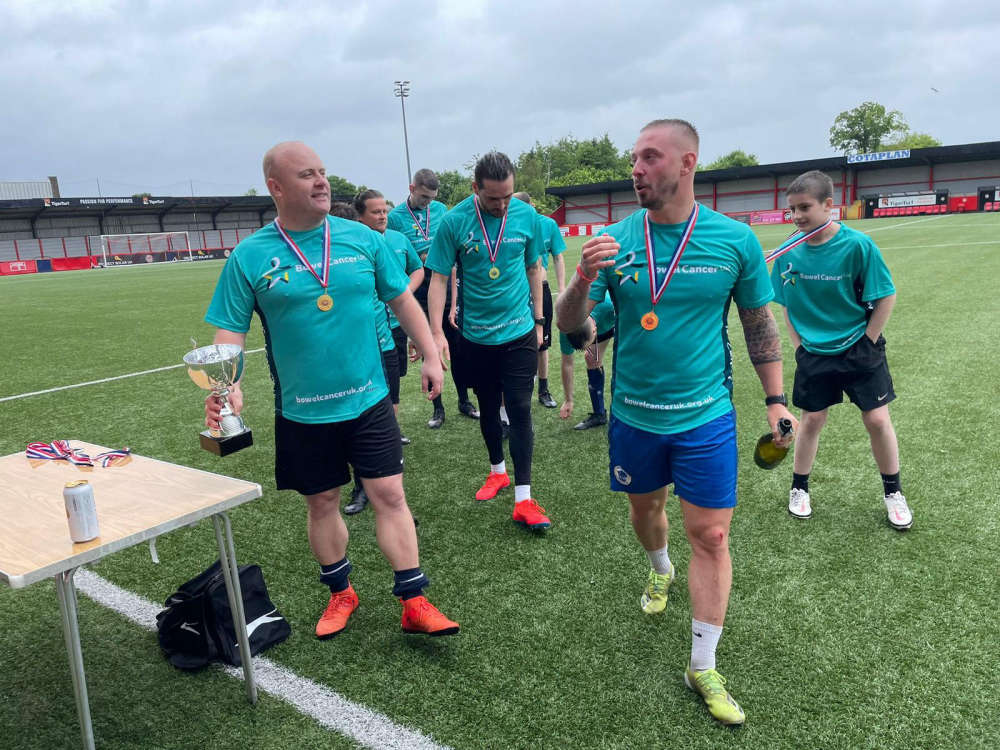 Despite the weather giving its best efforts of negativity on the day, nothing could've brought the morale down on the pitch as 16 teams took to the field. The day was incredibly successful, bringing in floods of money and shining a light on highly important causes.
Every team showed up with the determination to win and remained respectful while doing so. Josh's team managed to win this year's event and will have their team engraved onto the trophy for doing so.
Josh and fellow organiser Kevin Walls plan to host this event annually for the next 18 years, helping as many people as possible along the way.
"We plan to run this tournament for a long time now, maybe there will be different charities that we raise money for next time. Hopefully, we won't need to change those charities as we wish for everyone to stay with us and stay healthy.
"I think we've all learnt that life is cruel, but it's all about how you persevere and get through it. I'm lucky to have so many amazing people around me and so many incredible people who came to the event and it really was such a lovely moment for me and my family," Josh said.
The event was overwhelming all round, raising impressive funds and gathering bringing people together through the world of sport.
You can support Ollie in his journey for treatment here.
Want more local sports stories?
Head to https://www.questmedianetwork.co.uk/news/sport/ to see more of our coverage - from community and non-league football to local and county cricket, boxing, athletics, basketball, Esports and golf.