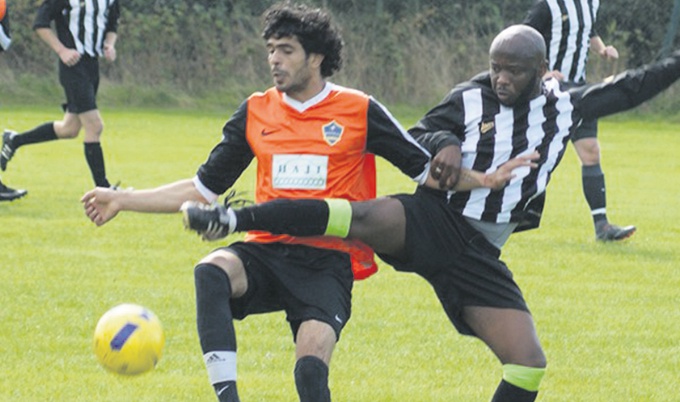 The first round of the Lancashire Amateur Cup saw four teams have impressive victories to move into the next round.
Leading the way were reigning Premier Division champions Rochdalians, who were too hot to handle as they despatched LAL's Old Ashtonians 4-0.
Hooley Bridge Celtic were also impressive as they enjoyed their trip to Ribchester Rovers, pulling off a fine 4-1 victory.
Milton joined their local teams in the mix with a gritty 1-0 win over Blackrod Town.
Bedians played against L and C rivals Aldermere and their new-look team stormed into a 5-1 lead with strikes from Sean Chappell, Mike Sparkes (two), Chris Skivington and Matt Brady.
Aldermere took advantage as Bedes took their foot off the pedal to make it 5-3, before Mike Kelly settled any Bedes' nerves with a penalty to make it 6-3.
Moston Brook travelled to Preston to play Sir Tom Finney FC, but could only fire blanks as they went out 2-0.
Also in Manchester Cup action were AFC Oldham seconds, who lost out 2-0 at Mersey Valley.
Whalley Range are now three points clear at the top of the Premier Division as they were in lethal form, winning 7-0 at Mellor.
There were hat-tricks from Danny Heffernan and Rhys Jones, with Larnell Cole putting Range in seventh heaven with the other strike.
There was a thriller at Waterloo as they took on fellow title contenders Salford Vics and emerged with a breathless 5-4 win.
It was also close at High Lane who beat South Manchester by the odd goal in five for their first win of the season.
The game of the day in division one saw Radclyffe move to the top of the table on goal difference from AFC Oldham after a hard-earned 2-1 win over Irlam Tigers.
Chorltonians moved back into third spot after coming from 2-1 behind to beat Manchester Polonia 4-3.
Aaron Rodger bagged a hat-trick for Chorlts with James Dixon adding the vital fourth goal.
The other games in the division were also close contests with Newton beating Old Stretfordians 3-1 Urmston Town won 2-1 at Signol Old Boys, a scoreline matched by Swinton against Bury Ams.
South Manchester reserves moved to the top of division two with an exciting 7-3 win hosting Rochdalians seconds. Josh Harper was the South hotshot with four goals and also netting were Nathan Cox, Alex Robbins and an own goal.
Stoconians enjoyed their first game of the new campaign winning 4-2 at Barr Hill, but the other two games ended in 2-2 deadlocks between Hadfield Athletic and Mellor reserves and Santos and Dukinfield Athletic with Santos battling hard for a point after being reduced to ten men.
Village Manchester are flying high at the top of Division A as they preserved their 100 per cent record with a 4-2 win over Elton Lib Hargreaves.
Abacus Media seconds are in second spot after a gritty 1-1 draw at Chadderton Park and another close contest saw Denton Town reserves win by the odd goal in three hosting Chadderton Cott.
Salford Vics seconds took a 2-1 win at Stoconians reserves and Signol Athletic scored the only goal of their game at Spurley Hey.
In Division A, AFC Stockport won 3-0 at Waterloo reserves to keep their unblemished record.
Three teams are level on six points behind them with Trafford United seconds beating Rochdale Galaxy 1-0 via an early penalty.
Old Strets seconds join them and non-playing Wythenshawe Wanderers with a hard-earned 2-1 win over Mellor thirds. Deans picked up their first win of the season with a 5-2 win at Dukinfield Athletic reserves.
Flixton Juniors have begun well in Division B and they moved to the top of the table with a 3-1 victory over Spurley Hey seconds.
Moston Brook thirds were on fire as they demolished Hillgate 9-2 and there were also plenty of goals at Bury Ams reserves who beat Chadderton Cott seconds 5-3.
The other games all ended with honours even as AFC Oldham thirds drew 3-3 with Parrs Wood Celtic, Stoconians thirds drew 1-1 in their local derby with Heaton Mersey and Chorltonians Athletic had Phil Woodbridge and Dan McKeever netting in a 2-2 scoreline with Old Strets thirds.
There were goals galore in Division C with the highlight being a 6-5 win for Whalley Range reserves hosting Stoconians fourths.
Range roared into a 5-0 interval lead with strikes from Bradley McDonagh (three), Ryan Lyall and Thomas Wood, but then the wheels fell off and it needed a second from Thomas Wood to secure three points for Range.
New boys Altrincham Hale found Chadderton Park seconds too hot to handle going down 8-1 and Salford Storm seconds grabbed a 7-1 victory at Moston Brook fourths.
Irlam Tigers Rangers took a 4-0 win over Govan Athletic and Staly Lions won 5-2 hosting Chorltonians Albion. The other game in the division saw Bury Ams A and Oldham Vics Reserves end at 1-1.
by Geoff Garnett