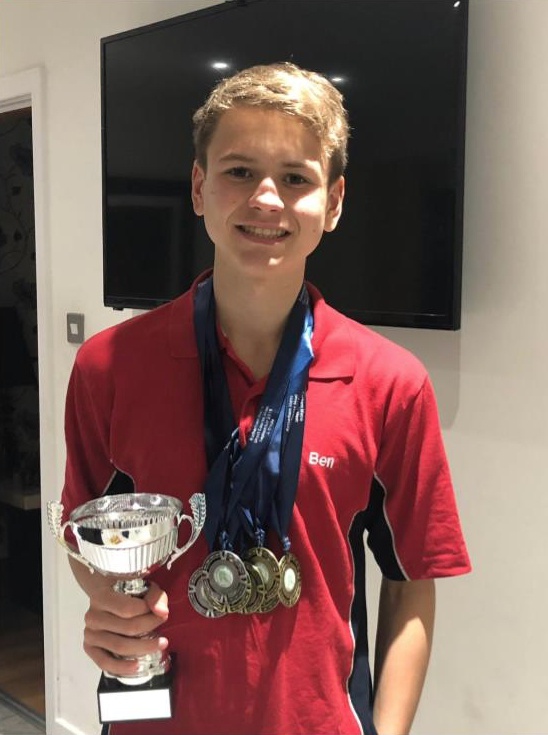 Rotherham hosted their A and B Swim Meet on Saturday at Ponds Forge, Sheffield and Ashton had 16 swimmers who went along for the challenge.
The swimmers did a total of 103 swims and managed 54 personal best times (52%). They also brought home 27 class A medals (13 gold, 9 silver and 5 bronze) and a major trophy.
Major success came in the 'Best Boy' category. Ben Haughton (pictured) was joint winner of the trophy that is awarded for the swimmer accruing the most points in all the events throughout the meet. Ben was awarded this on the strength of his performances in all strokes and distances. His three PBs helped him to a personal haul of six gold and two silver medals.
Ben was one of four gold medalists on the day. Alisdair Stout swam an amazing eight PBs and won three gold, four silver and a bronze. Ryan Coulthard managed two PBs and a gold and a bronze; though, one of the swims of the day was from Danniel Wild who smashed his personal best in the 100m Freestyle; his four PBs and three gold medals providing a handsome return for his efforts.
Other medallists were: Lyra Holmes (three silver and 1PB), Jake Wood who won a bronze in the 100m breaststroke and swam five PBs on the day, Lily Smith with a bronze and four PBs and Joe McCue who also won a bronze and swam three PBs.
There were some excellent improvements shown by our other swimmers, most notably Lois Davies who succeeded in a 100% record of personal best swims (six out of six). Ashton had a group of swimmers with four personal bests. These were: Aimee Dean, Adam Boukhchem and Josh Barton. Their other improvers were Kian Tevlin (three PBs) Sophie Kershaw (two PBs) and Tegan Shaw (one PB). A mention should also go to Mia Grayson who worked hard all day and showed she was on the way to a strong recovery after a recent injury.
The squad was managed by the mother and daughter team of Barbra and Sophie Quigley who did a great job. They were helped by contributions from the older swimmers; sharing their experience and helping guide their younger teammates onto better performances.
By Colin Holmes