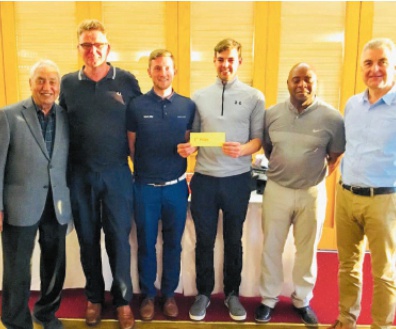 Denton Golf Club will again be hosting the hugely popular Samaritans Charity Open on Monday, June 15, subject to the Coronavirus outbreak and Government guidelines.
It is a Texas Scramble for Four person teams in any combination of ladies and men.
The event founder and patron is Denton legend Garry Singh and over the past ten years it has raised thousands of pounds for the charity.
Tee times are available from 9am to 4.30pm at a cost of £70 per team.
Garry Bennell is the organiser this year and to enter or to get more details contact Garry on gaz_bennell@hotmail.co.uk. The other contacts are Philip Forshaw on Philip.forshaw@talk21.com or Garry Singh on garry.singh@tiscali.co.uk
l It was tight in a BB Stableford at Denton with a cpo on 40 points seeing Mike Pollit and K Halliwell first across the line from M Hart and M Riding and Dave Watts and Ian McIllvaney.
A Modified Texas Scramble at Denton was led in by D Sibanda, A Nair and S Gaugher with 51.6 from C Moriarty, G Overend and D Murray 51.7 and Mike Proffitt, S Gregory and Geoff Boott 52.2.
l A BB Stableford at Ashton was won by T Smith and Ian Morgan with 48 points and also scoring well were D Mooney and G Mason 47, R Wood and A Clegg 46 and M Garton and P Hibbert who led in eight pairs locked on 45 points.
The Sunday Stableford at Ashton had the divisions topped by Graham Johnson 42, Bradley Allison 41 and Nicholas Clayton 36.
l Brookdale's men had their dancing shoes on in a Three Man Waltzer and catching the eyes of judge Karen were M Owen, M Hampson and P Cain with 88 points, one more than M Mulcahy, P Wynne and P Jamieson and M Scrivens, P McQuilliam and P McConnell.
l Winter League action at Fairfield saw Nathaniel Yates on top with 37 points from John Bell, Steven Tune and Wayne Holland, all 34.
l A pro's Stableford at Crompton and Royton needed a cpo in both divisions with P Davies winning division one after a cpo on 34 points from S Blainey and R Ashworth beat B Lees after a cpo on 35 in division two.
l The 18th Winter League Stableford at Stamford needed a cpo on 45 points to see David Rawlinson first past the post from Paul Murray ahead of Steve Clough 43 and Steve Moores 42.
l With the vast majority of courses in the region either totally or partly closed due to more heavy rain, Vale Royal Abbey beat the odds to provide a great course for a full Alliance field, glad to be in golfing action at a very historic venue.
The star of the day was Lymm assistant pro Graham Cox who led in the individual pro section with 39 points, closely followed by Alliance legend Craig Corrigan 38 and Order of Merit leader Phil Archer (Poulton Park) 37.
Graham then found an excellent playing partner in club colleague Sean Haskins to amass 43 points and top the pro am section for a great double.
Hot on their heels were Phil Archer and Stuart Smith (Dunham Forest) 42 and Tim Maxwell (Knutsford) and Mobi Rawthore (Sale) 41.
Tim also won the nearest the pin prize.
Worsley Marriott and Ellesmere players dominated the am am section in a tight contest with John Kilner (Marriott) and Terry O'Mara (Ellesmere) winning a cpo on 40 points from Stephen Hindle (Marriott) and his dad Brian (Ellesmere) who carried his son into the prize list, one more than Norman Haslam (Stand) and Steve Grimley (Walmersley).
Geoff Garnett