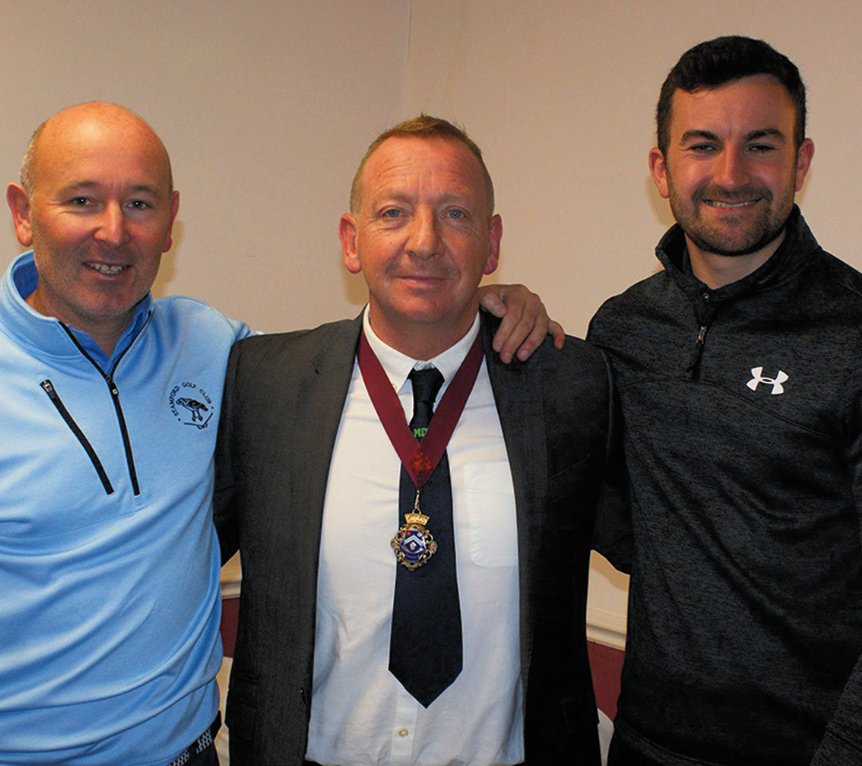 The latest Manchester and District Golf Alliance fixture suffered a late postponement at Styal Golf Club due to a waterlogged course.
The day was saved as Bolton Old Links Golf Club and Don Milligan of DJM Dairies stepped in to move a full field of players to Bolton Old Links for a great day's golf.
It proved to be a great move as the Old Links course received praise from the players for its excellent condition, particularly the greens, and the quality was shown with some big scores.
Runway Order of Merit leader Phil Archer (Poulton Park) kept on target and extended his lead with a round containing ten birdies for a winning individual pro score of 43 points.
He was closely followed by Ashton-under-Lyne assistant pro Matty Kay with 42 and in-form Scott Howarth (Davenport) 40.
It was a close contest in the pro am section with three pairs tied on 46 points and getting the nod in the cpo was Glossop Golf Club's new professional Gary Brown and his Mottram Hall partner Richard Blackwell.
Next in were Phil Archer and Anton Johnson (Warrington) from Ashton-on-Mersey duo Ollie Pantoja and Josh Corrigan.
The long wait for Alliance success was at last realised in the am am section with Stamford Golf Club's Will Fox finally finding an ideal partner in club colleague Carlton Weldon to post a winning 47 points to lead in from home duo Alan Schofield and Roland Dootson 46 and Stamford's Paul Traynor and Richard Margrave 45.
l Crompton and Royton's men played round one of their Winter League and the results were: first A Bottomley, M Barrett, S Hopkinson, C Wood 81 points (-13); second N Martin, JP Booth, D Harrison, S Blainey 79; third A Bottomley (again), R Riley, D Riley, J Jones 79 points CPO; fourth L Griffin, W Hurst, R Ashworth, D Capper 79 Points CPO; fifth G Lamont, J Walton, J Rigby, G Maznyczenko.
l The Witches Three Ball Alliance at Saddleworth saw Maxine Parfitt, Jean Dervan and Truda Dexter put a spell on their rivals as they posted a winning 58 to finish well clear of Kaye Orme, Anne Head and Tracey Rowbotham 64.
A Pro's singles Stableford at Saddleworth was won by Joe Ridley with 37 points, one more than Les Thompson and Peter Gill.
The Village Shield at Saddleworth had the overall winner as Gary Chadderton with 43 points.
The winning team representing Scouthead, Springhead and Lees was David Swallow 40, Richard Hughes 39, Lee Blainey 37 and Denis Lamb 36 with the Yellow Ball winners being Gary Simpson, Giacchino Cavallino, all with 40 points.
l A singles Stableford for Ashton's men had the three divisions led in by Simon Craig with 33 points, two more than Fraser Sidebottom, Terry Pooley 31 from Harry
Johnston 30 and Dunvan Eastham with 32 from Paul James, Andrew Dawson and Ian Morgan, all 30.
The Yellow Tee Stableford was won by Tony Millar with 34 points ahead of David Bailey 33 and Mick Howard 31.
The Sunday Stableford at Ashton had the three divisions led in by Glynn Taylor 38, Michael McCarthy 38 and Jordan Cavanagh with a massive 42.
l The latest Winter League for Fairfield's men saw their stars shining, led by Rob Pownell after a cpo on 34 points with Paul Latham and just a point back were Stuart Garforth and Brian BeTony Gillespie.
l The Men's Winter League at Stamford kicked off with some terrific scoring led by Chris Waine with 46 points from Craig Leech and Will Fox. Both 43 and Ian Godfrey and Brian Thomas, both 42.
l Oldham Gems played the eighth and final round for the coveted Brian Radcliffe Trophy and Brian Best lived up to his surname as he won a cpo on 17 points from John Waterhouse, two more than Trevor Cash.
Brian made it a double as he led in Allan Frost and Mike Dunkerley to 40 points and take the team prize for a great double success.
l The Wednesday Stableford at Denton was won by C Sutton with 33 points from R Hobson 31 and M Threlfall 30.
A BB Stableford at Denton was a close contest with three pairs locked on 37 points with the nod in the cpo going in favour of Ian Lakin and A McGuire from M Hart and M Riding and Steve Glenwright and A Naismith.
A Sunday Two from Three Team Stableford was won with 65 points by Dave Jones, Graham Pollit and A Earnshaw from Steve Glenwright, A Naismith and B Fairbrother.
A Denton ladies Stableford saw Sheila McDonald out on her won with 20 points, four more than Norma McIlvanney.
By Geoff Garnett