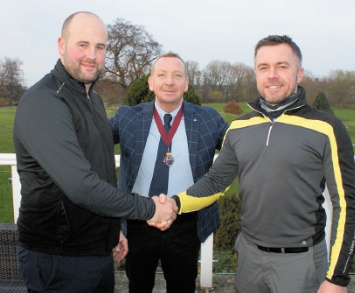 Chorlton Golf Club's assistant professional Alastair Waddell won the Manchester Alliance match-play title for the second time in recent years, beating Davyhulme Park professional Martyn Hamer in the 2019 final staged at Ashton-on-Mersey.
Ashton will again host this year's finals day on April 5 and Alastair will be aiming to make it a hat-trick.
He has a bye into round two when he plays the winner of the round one match between Dave Smith (Swinton Park) and Alex Pritchard (Poulton Park).
The other round one matches sees a real bragging rights contest between Stamford Golf Club pro Mark Smith and his former assistant Andrew Earlam, now the professional at Saddleworth Golf Club, with the winner going on to meet Jamie Howarth (Davenport) who is the current holder of the Assistant Pro's title.
Stamford Golf Club is gearing itself up for the 'Grudge Match' between Mark and Andrew which will have a large number of followers on the day of the match, with Stamford stalwart and Manchester Alliance Captain Steve Finan keeping a keen eye on the game.
Andrew Earlam said: "I have been playing well in this season, but this is a one-off game derby match so anything could happen.
"I have also noticed Mark has lost a few yards as he's getting a bit older so I'm not sure if he could keep up with me these days!"
The rest of the draw in round one is Charlie Ward (Davyhulme Park) v Mark Hancock (Stand) with the winner facing Alliance Order of Merit leader Phil Archer (Poulton Park); Gary Brown (Glossop) v Matty Kay (Ashton-under-Lyne), the winner playing Graham Cox (Lymm) in round two; another local derby between Chris Bibby (Whitefield) and Mark Pearson (Prestwich), the winner playing Charles le Sueur (Alderley Edge); a local derby between Gary Norcott (Stockport) and Craig Daggiit (Bramall Park), the winner playing Ollie Smith (Ashton-on-Mersey); Ollie Pantoja (Ashton-on-Mersey) v Nick Holmes (Bury), the winner playing Martyn Hamer and finally Pete O'Neill (Swinton Park) v Tim Maxwell (Knutsford), with the winner playing Andy Palmer (Chorley).
n Back at Saddleworth there was plenty of Winter League action and in the Saturday League a Texas Scramble was won in superb style by pro Andy Earlam and Lancashire and England legend Alan Squires with 58.8 in a round that saw them have 12 birdies and six pars to win a cpo from Gary Simpson and Dave Pullen, who also posted two eagles.
Nick Marner and Stewart Potts and Nick Kerin and Simon Taylor were also in the mix and the ever-generous Andy Earlam kindly donated his prize winnings to the league's prize fund.
The Sunday Winter League was a BB medal with again a cpo on 58 needed to give Jack Bradbury and Ashley Dearden top spot from Eddie Hall and Stephen Castle, with Steve Asquith and Joe Ridley next in with 59.
The Tuesday Winter League was won by new member Paul Frank Brammer with 43 points and Carl Davidson took over top spot in the league by two points from Richard Hughes.
n The latest Winter League at Crompton and Royton was won by the fab four of O Wild, P Bostock, C King and K Ward with 74 points from P Harrison, D Cannon, Chris Gleave and C Roberts 71.
n Wednesday action at Denton had Graham Pollit on top with 34 points, well clear of Terry Pottage 30 and N Brookes 29.
There were again clear winners in a Saturday BB Stableford at Denton with C Large and P Skelly posting 42 points, five more than A Earnshaw and G Burke and J Curran and M Rogers.
A Sunday Stableford was won by M Alexander with 30 points from G Boott 29 and Steve Glenwright 27.
A Mixed Stableford was won by Laraine Gordon and Doug McCallum.
A Greensome Foursome at Ashton was won by P James and S Smith with 42 points from C Qualters and J Davidson and J Davidson 40 and J and B Kennedy and A Kiami and S Smyth, both 39.
There was some hot scoring in a Sunday Stableford at Ashton with division one led in by Colin Quinlan with 43 points from Paul Cooper 42.
In division two, Mike Mannall posted 41 points to lead in from Philip Treanor 39 and Mike Cooke 38 and in division three Chris McKown had the round of the day with an astonishing 47 points seeing him seven clear of Steven Hart.
It was tight at Brookdale in the Ninth Race to the Start Stableford with four players locked on 39 points.
Getting the nod in the cpo was James Linehan from Thomas Barlow, Peter Lloyd and Peter Bennion, one more than DB Taylor
The Lancashire Union of Golf Clubs has announced the nomination for the new county President, to be elected at the Union's AGM in March 2020.
Harry Tunnicliffe has been the Chairman of the Southport and District Golf Association since 2003 and will celebrate 50 years as a member of the West Lancashire Golf Club in 2020, having been captain of the club in 2000.
Harry was born in Southport in 1946, moving to Blundellsands / Crosby in 1970 and more recently locating to Formby. He attended King George V Grammar School in Southport and represented the school at cricket and rugby. He married Liz in 1970 and has three children – Chris, Helen and Caroline and three grandchildren.
On leaving school, Harry joined Mersey Docks and Harbour Company. He moved into the computer department in 1969 and remained in the IT industry for over 40 years. He is a Bachelor of Engineering, Member of the British Computer Society (MBCS), and a Member of the Chartered Institute of Transport (MCIT).
He continued his IT career with a number of local companies before setting up his own consultancy business in 1979. He ran a successful IT services company for nearly 20 years until in 1996 he was asked to run the European subsidiary of a US organisation, where he stayed for five years, spending time in the US and travelling extensively in Europe. Harry has lectured all over the world on a number of IT related subjects.
He joined the West Lancashire Golf Club in 1970. His lowest handicap has been three which has slowly moved up to 10, as age and health have caught up with him. He joined the executive of the Southport and District Golf Association where he set up and ran the Junior Section League for nine years and since 2003 has been Chairman of the Association.
As well as golf, Harry is a keen gardener, spending many hours in his greenhouse.