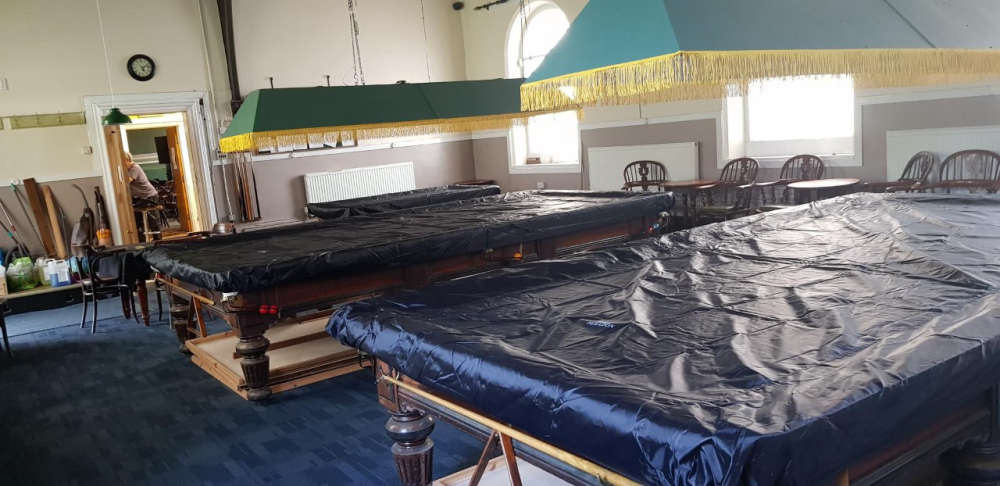 After several weeks of organisation the Stalybridge Snooker League reopened on 30th September, after a one year layoff due to Covid-19.
All the necessary actions having been taken and the six teams approved at the last AGM in September 2020 will start this new season, Mossley A having withdrawn for the time being.
League secretary Ian Hopton provided the latest updates surrounding the league and results:
The league started with the traditional George Fletcher and Gordon Clay Memorial Trophy matches on the table and at whist. We would normally have the league and cup winners in whist and snooker playing each other, but this year it will be league winners v league runner ups, as we had to close the season early and never got the chance to play the cup matches.
The George Fletcher Trophy, snooker, was between Hyde CC, now called Staly Vegas, since the Hyde Conservative Club closed its doors and St Peters. It was over four frames of snooker and billiards, with the fifth being snooker doubles. The first frame was very close and a clearance of blue, pink and black gave St Peters the early lead. The next frame was billiards and St Peters took an early advantage which they maintained to take the second frame and extend their lead. The third frame was again billiards and it was a repeat of the second frame making the score 3-0 for St Peters. There was some consolation for Hyde who took the final snooker singles and doubles matches. The final score was 3-2 for St Peters, who took the trophy.
The Gordon Clay, whist, was between Mossley B and Denton CC. Both matches were played on 30th September at a neutral venue, The Hyde Club. The early hands of the whist trophy were shared with the teams on 65 points each at the half way mark. The next eight hands were crucial as Mossley B finished strongly, because Denton took the last two hands to make the final score 136 -124 in favour of Mossley B, making them the whist trophy winners. Congratulations to St Peters and Mossley B.
The full league programme starts on 7th October, and will run until around March 2022 when the knockout competitions will start and run for a further three months. The league will finish with its Presentation Night and AGM.
It is very good to be back again and it has been welcomed by all the clubs involved. The league is competitive, whilst giving the players the opportunity to socialise every Thursday. The league has a lot of long serving members and some new players have joined this year, but we are always looking for new players to join.
We play snooker, billiards and whist every Thursday evening and if you would like to join us, you can contact the league secretary on 07736678303 or contact him by email at ian.stalybridgesnooker@outlook.com. The league website is www.staybridgesnooker.co.uk