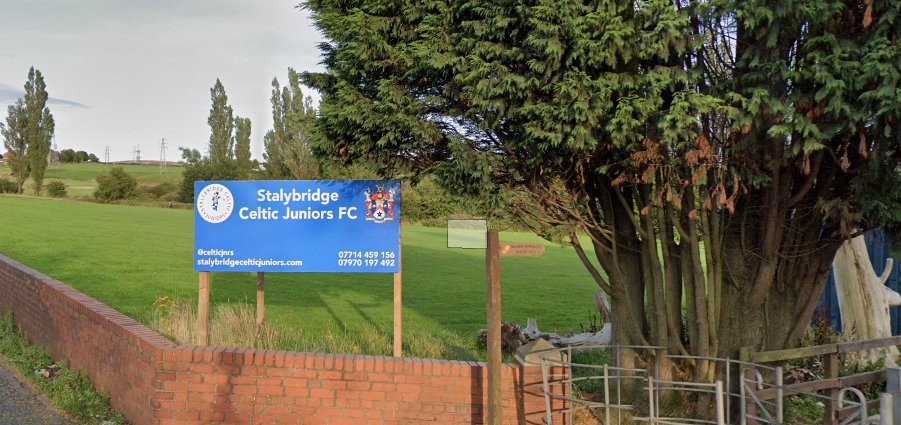 The home of Stalybridge Celtic Juniors FC.
Stalybridge Celtic Juniors have decided to invest money they have recently raised towards a defibrillator for the club.
After the world was taken aback by the shocking emergency that arose during Denmark's Euro 2020 opening match against Finland, the importance of having the correct facilities available at football grounds has become more apparent than ever.
When Christian Eriksen collapsed shortly before half time, the 29-year-old received CPR on the pitch while teammates rallied around to create a shield around the Inter Milan player. Causing distress to both sides, the incident sparked the conversation around the importance of defibrillators at every club.
Stalybridge Celtic Juniors are committed to ensuring the ultimate safety of everyone involved at the club and have chosen to install a defibrillator at the ground.
Earlier this year Victoria and George Hayworth, who have been involved with Stalybridge Celtic for eight years, decided to cycle from Manchester to Blackpool, raising funds for the club after restrictions prohibited them from carrying out their usual events.
This challenge was highly appreciated by local people and they managed to raise £465.
Setting themselves this challenge, the pair chose to donate a portion of the money to Manchester-based charity The Christie as well as using some of the funds to purchase new kits and fees for competitions.
However, recent events have changed their mind on this and the portion of the money for the club will now go towards purchasing a defibrillator for the teams.
Club coach Liam Whitehead is also striding out and completing a 56 mile ultra marathon to raise funds for the junior club's defibrillator fund. The fitness enthusiast, who has been coaching at the club for over 10 years, will be running the Bullock Smithy race, a 56 mile ultra marathon starting at midday on Saturday 4 September. The race is a circular route starting and finishing in Hazel Grove which takes in some of the Peak District's most stunning landscapes including Edale, Castleton, Milller's Dale and Macclesfield Forrest. Liam's fundraiser, which you can donate to here, has so far raised £510 towards a £1,200 target.
Commenting on their efforts, Victoria said: "Our games are currently played on a council owned pitch with no defibrillator available in the immediate vicinity.
"Our defibrillator will be available for the use of three teams, the opposition and spectators."
Statistics show that if a cardiac arrest occurs, without a defibrillator the chance of survival is just 7%, however if a defibrillator is on the patient within 3 minutes, then the chance of survival is increased to over 70%.
Basic life-saving skills such as CPR are incredibly important and are the first line of defence in the case of an emergency.
North West Ambulance Service have released information on how you can help someone who may be in a life threatening situation.
A cardiac arrest can happen to anyone, at any age, anytime, anywhere.
Knowing some simple skills and taking action fast can save a life. Would you know what to do? 💔
Our simple, quick step poster shows you how ⬇️ https://t.co/z7bQkMHVr1 pic.twitter.com/asl5AjQbPg

— North West Ambulance Service (@NWAmbulance) June 14, 2021
St John Ambulance have also shared the latest advice on giving CPR during Covid-19 times.
You don't have to be a football fan to have been affected by the events at last night's Finland vs Denmark match.

Ask us how #CPRSavesLives and why it's first aid everyone should know. Read the full advice on our website: https://t.co/XUVDgxZYVr #AskMe pic.twitter.com/dwRyEFlSkB

— St John Ambulance (@stjohnambulance) June 13, 2021
Read more from the Tameside Reporter
Click here for more of the latest news
Click here to read the latest edition of the paper online
Click here to find out where you can pick up a copy of the paper