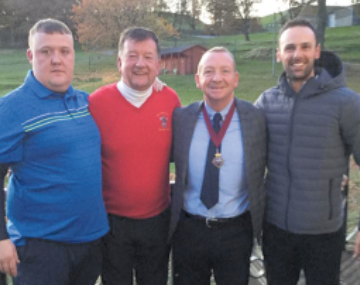 Ashton-under-Lyne Golf Club were again superb hosts for golf society organisers from across the region.
The guests were given top hospitality, a course in immaculate condition and a very friendly and appreciative welcome by the club officials and members.
Ashton secretary Steve Martin said: "It was an excellent day enjoyed by all and blessed with great weather. The club feels that the day is an appropriate way to thanks our visiting society organisers for the business they bring to the club.
"The winner on the day was Andy Shaw with 37 points from Tony Lambert and Tony Ray, both 35 and all of the organisers thanked us for hosting such a pleasant experience and we look forward to hosting the event in 2020."
A Tuesday Stableford at Ashton had division one topped by Frank Kennedy with 42 points from Paul Eddlestone 4o and Neil Pragnall 39.
Amin Kiami was a convincing winner of division two with 44 points from Barrie Peters 41 and Peter Knott 40 and the Yellow Tee star was Gordon Nelson with 40.
A Four Man Am Am at Ashton had the fab four of S Carroll, M Barlow, S Whitley and C Harper on top with 81 points from M Walker, P James, S Smith and M Byrne 80.
Wednesday Stableford play at Denton saw A O'Brien in charge with 34 points from Graham Pollit 31 and J Taylor 30.
Division one in the Saturday Stableford at Denton had D McIlroy in charge with 34 points, two more than M Hart and C Large.
In division two B Waterfall led in with 32 points, one more than P Skelly and R Cropper.
It needed a cpo on 34 points in the Sunday Stableford at Denton to see Paul Griffin win from D Watson, one more than M Alexander.
A 10-hole Stableford for Denton ladies was won by Trish Ferguson with 28 points from Sue Thompson 14.
Father and son team Gary and Ben Simpson topped up their wine cellar as they won a Bottle Stableford with 48 points from Mark Orme and Simon Taylor who won a cpo on 46 from David Newman and Allan Entwistle.
The latest Winter League BB medal at Saddleworth was won by Paul Baddely and Kevin Bradbury with 57 from Giacomo Cavalllino and league leader Phil Ramsker 59 and M Orme and Lee Blainey 62.
The Tuesday Winter League at Saddleworth by Alan Brogan with a great haul of 46 points taking him home from Carl Davidson 45 and Richard Hughes 41.
The latest Winter League results at Crompton and Royton saw a close contest with three teams locked on 81 points.
Getting the nod in the cpo were D Harrison, N Martin, JP Booth, R O'Leary A Frizzell, P Finigan, JP Booth, J Norbury with S Sharrock, R Flynn, M Sinfield and J Thomson next in with 80.
A Turkey Shoot at Brookdale saw A McQuaid and S Armstrong pick off the biggest bird with a rich haul of 48 points taking them two clear of P Jamieson and J Loughman and W Hilton and S Stephenson.
The latest Race to the Start at Brookdale was won by James Linehan with 43 points leaving him well clear of Steve Price 39 and Alan McQuaid, Alan Punchard, Peter Bennion, DB Taylor and Paul Tunstall, all 38.
Winter League action at Fairfield had Jason Ballinger first past the post with 35 points from Scott Clayton 35 and club legend Tim Walker 33..
Warrington Golf Club lived up to its well deserved reputation as one of Cheshire's top golf clubs both on and off the course on a day thoroughly enjoyed by another full Alliance field.
The quality of their excellent course, in terrific conditions, was reflected in a string of top scores led by pro am winners Ollie Pantoja and Josh Corrigan (Ashton-on-Mersey) with a massive haul of 48 points with Josh playing a huge role in their final total.
It left them three points clear of local duo Graham Cox, (Lymm) and his Warrington partner Anton Johnson, the competition sponsor, with Haigh Hall's Alan Crompton and Carl Robinson next in with 43.
It was tight in the individual pro section with Order of Merit leader Phil Archer (Poulton Park) level on 40 points with Graham Cox and Scott Howarth (Davenport).
There was some good scoring also in the Am Am section led by the old firm of Charles Herbert (Styal) and Ross Birch (Stockport) with 46 points.
Hot on their heels with 45 were Stamford's Craig Peat and Will Corless with Wigan's Ian Melling and Danny Richie completing the prize list with 43 points.
By Geoff Garnett