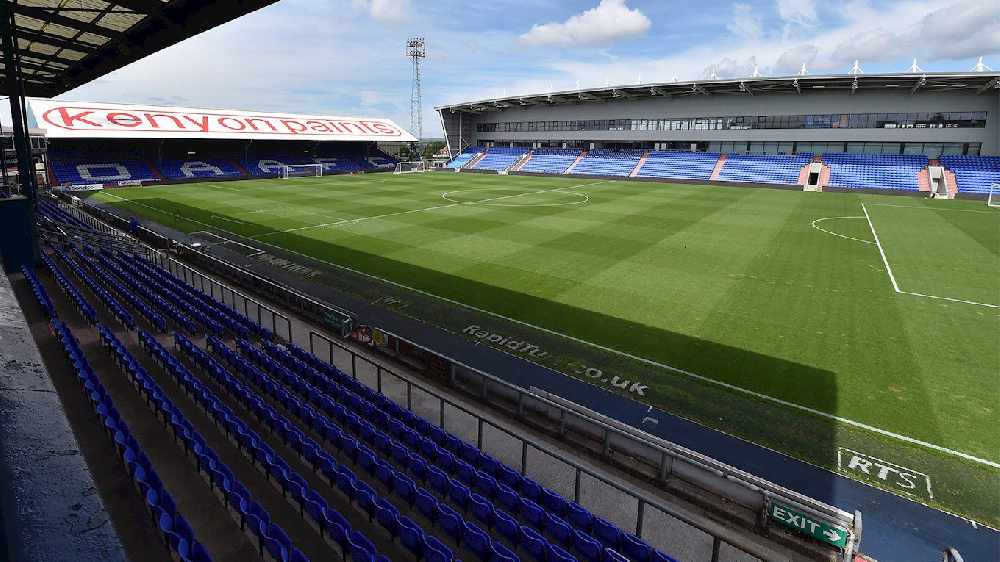 Back in January 2018 Oldham Athletic were in League One and had just been taken over by a new exciting owner that was promising big things for the Latics.  
The Moroccan football agent agreed to a deal with majority shareholder Simon Corney, which ended his 14-year association with the Latics.
"This is a new challenge for me," Lemsagam said.
"I'm not a billionaire, I'm taking it step by step, I'm here to work hard for the club, with the coach and everyone."
Oldham's statement said: "Mr Corney believes that in Mr Lemsagam he has found the right man to take the club forward and one who has the resources, skills and contacts to do so."
Fast forward 19 months and things aren't as rosy at Boundary Park with the club occupying 21st place in League Two. During Lemsagam's reign the former Premier League club has gone through six managers and they have just appointed their seventh in the form of Tunisian coach Dino Maarmria.
So what has gone wrong for these managers and why is Boundary Park rapidly becoming a poisoned chalice? We will be going through each manager and looking at what went wrong.
Richie Wellens
The longest-serving manager during Lemsagam's takeover after managing 40 games, Richie Wellens was well thought of by the Oldham Faithful. Under Wellens Oldham suffered relegation from League One on the final day of the season however some would argue that the playing squad he had at his disposal wasn't up to scratch. Despite his early good form in charge of the club, Oldham suffered a poor end to the season, winning just once in their last 12 games.
The Latics went into the final day of the season knowing a win against Northampton Town would keep them in the third tier. However, a 2-2 draw coupled with Rochdale's win against Charlton Athletic ensured their relegation to League Two. Subsequently, Wellens was sacked by Oldham with the club saying the following, "While he was unable to guide us to safety after being appointed, it certainly wasn't due to a lack of professionalism and dedication on his part."
Frankie Bunn
Former Oldham striker Frankie Bunn was the man selected to take over at Oldham and lead the charge back up League Two. Upon Bunn's appointment, Lemsagam said, "He knows the club very well from his playing time here and he has a wealth of experience working with young talent, which has impressed me.
"I believe he can take the club forward and give Boundary Park something to cheer about."
Bunn had a steady start at Oldham but was sacked after a boxing day drumming away at Carlisle with the Latics losing 6-0. There was widespread sympathy for Bunn after the announcement, with some fans saying it was a 'knee jerk' reaction to the heavy defeat, having managed to solidify them in mid-table in League 2 on a limited budget.
For many fans the doubt was starting to creep in around the ownership at the club and who oversaw the playing squad.
Pete Wild (First Stint)
Pete Wild was introduced as the caretaker manager at the club following the dismissal of Frankie Bunn. Before this Wild was a long-serving coach at Oldham which was the club that he supported throughout his life. Wild had a good record in his first stint winning most games in the league and masterminding Oldham's FA Cup run which saw them beat Premier League side Fulham 2-1 at Craven Cottage. His stint as the caretaker manager had come to an end but he remained at Oldham.
Paul Scholes
Arguably the most notorious managerial stint at Oldham during the last few years was Manchester United legend Paul Scholes' reign. The lifelong Oldham fan had been linked with the job whenever it became available and he made no secret of his desire to take the role. He took the job on the basis that he would have control over his team. Upon his appointment, Lemsagam stated, "It's no secret how much he has wanted this job in the past and how much he loves this club, so I'm very happy to bring him into our family at Oldham Athletic. Paul will have my backing 100% and hopefully, we can work together to bring success back to this club."
Scholes' reign lasted just 31 days however after a mixed start with results varying. It was Paul himself who resigned from the club and he announced it to the world as he stated, "It unfortunately became clear that I would not be able to operate as I intended and was led to believe prior to taking on the role."
"I hoped to, at the very least, see out my initial term of 18 months as the manager of a club I've supported all my life," he said.
"The fans, players, my friends and family all knew how proud and excited I was to take this role."
He later explained in a talk with BT Sport, "I didn't need the hassle of that. I really like the players, really respected them and would have done anything for them. But once I get told 'don't play him', that's when it is time for me to go…
"That only happened once, but that was the end of it. There were subtle hints along the way, but that was the end of it."
Scholes' stint at the club highlighted to many that the club isn't being run in the way that the fans would expect.
Pete Wild (Second Stint)
Pete Wild was drafted back to take the reigns as manager once more to close out the 2018/19 season. Wild again excelled with an average squad gaining four wins from his eight games and taking the Latics close to the play-off spots. Upon the end of the season, Wild left the club due to "Personal Circumstances" although many believe that the man that loved Oldham so much couldn't work under the current regime. On the departure, Owner Abdallah Lemsagam said: "Pete worked extremely hard for this club of which I am grateful for, but he came to me today saying he wants to spend some time away from football.
"He's a great guy, I'm sad to see him go and would've liked him to stay with the club but I respect his decision and wish him well for the future."
Laurent Banide
The Latics chose former Monaco manager Laurent Banide to manage the team for the 2019/20 season. Banide was relatively unheard of in England after a lengthy spell in the Middle East following his Monaco tenure. His managerial return was a record of 13 clubs in the space of 14 years, hardly a record to get the Oldham Faithful excited. Many fans were sceptical as the Frenchman spoke very limited English and had no experience in the English footballing pyramid. Banide accrued seven points from a possible 27 during his short time in Lancashire. Assistant Bouziane Benaraibi also left the club.
"The club would like to thank the head coach and his assistant for their efforts whilst at Boundary Park over the summer and wish them well for the future," a statement read.
Dino Maamria
And here we are. Oldham's seventh manager in well under two years with former Stevenage manager Dino Maamria being announced just fifteen minutes after Banide's sacking. Maamria at least has experience in the league and of English football. Dino managed Nuneaton in 2017 and led the club from bottom of the National league North to just five points from the play-offs.
"I'm hugely excited to join such an historical football club. The vision and ambition of the chairman was a big factor and the first priority is to stabilise and unite this great football club," he said to Athletic's website.
"I'm here to win football matches as well as improve, give confidence and belief to an already talented squad."
It's been an erratic time at Boundary Park during Lemsagam's reign and it shows no sign of slowing down. Questions remain over the club's finances and their ability to use the new stand in their ground. Attendances have fallen this season and many fans have become disillusioned with the club that they have supported for years. The future is there for Oldham but the vision is blurry for many.