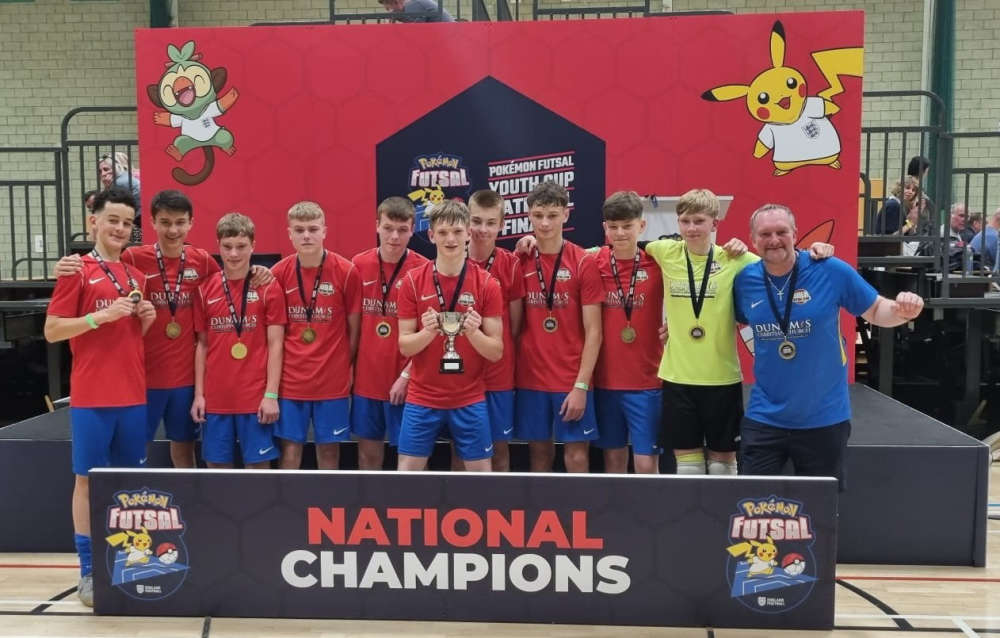 Sala Futsal Club under 16s boys  have been crowned Champions in the FA Youth futsal cup national finals .
The team, which trains at Wright Robinson College in Gorton, with four players from Tameside and three from Oldham, claimed the title after winning local and regional finals to reach the national finals at Wolverhampton University last weekend.
At the finals day the top four teams from England's four regions battled it out to become national champions.
Sala Futsal Club were representing Manchester FA, and first had to win their semi-final against Braintree Futsal from Essex.
They won the semi final 3-2 to tee up a grand final against St Peter's Church of England School from Exeter . After an end-to-end game the score was 3-3.
With three penalties each, Sala managed to win 3-2 to be crowned national champions.
Sala Head Coach Neil Lucas commented;: "It's an amazing achievement for these boys who are mostly under 15s to win. I've been coaching these boys for the past five or six years and to see them improve over the years is amazing."
Sala Futsal Club had two other success stories in the same competition last weekend at different age groups, with the under 12s girls becoming runners-up and their u14s girls claiming third place.
Sala Futsal Club run coaching sessions and teams for boys and girls aged 6-16.
To find out more about Sala Futsal Club please visit their website www.salasoccerschools.com
Or call them on 07790779007