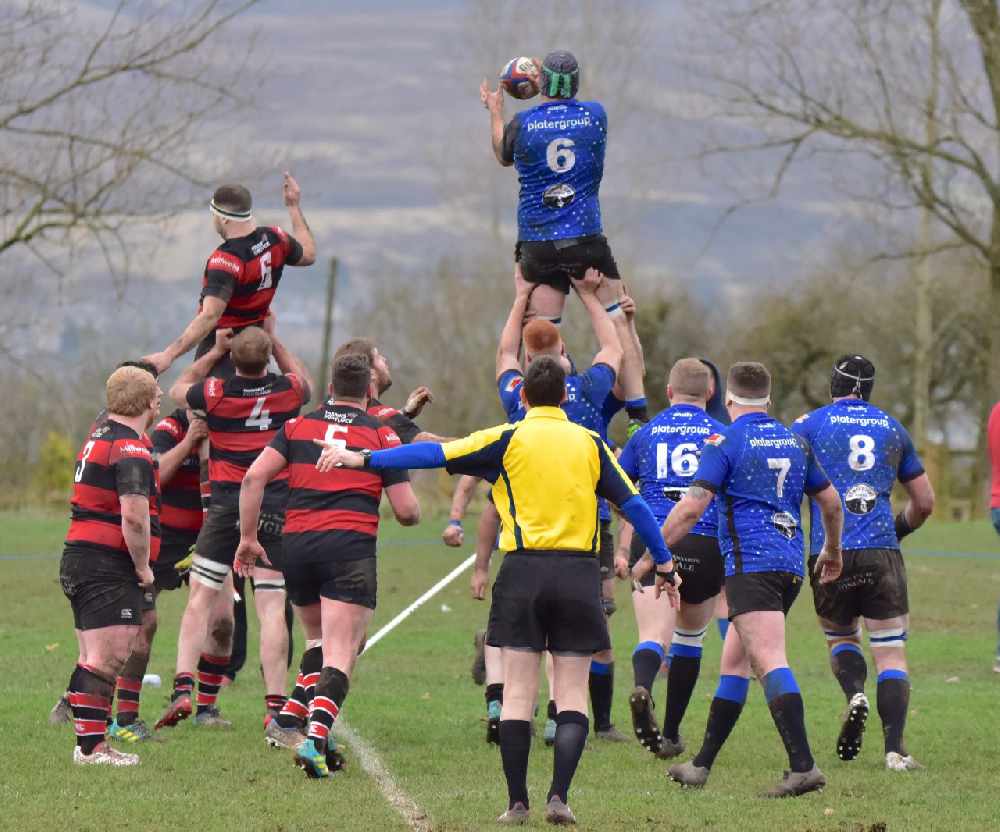 North Two West: Glossop 17-13 Aspatria
Following last weeks cup quarter final success, it was back to league action on Saturday as Glossop welcomed Aspatria to Hargate Hill.
Glossop were firm favourites going into the fixture but the visitors put in a performance which defied their league position just above the drop zone.
The early exchanges were fairly even and the first fifteen minutes went without any scoring opportunities for either team.
However, as Glossop began to dominate possession, they were able to win a number of penalties and take play into the Aspatria '22, which culminated with a try for back rower Damien Chabas.
Kicking into a strong wind, Matt Sonczak was off target with the conversion.
Five minutes later and Aspatria reduced the deficit with a well struck penalty by Jack Clegg for 5-3.
On 33 minutes, Glossop launched another attack deep in Aspatria territory and Jonny Tennant took advantage of some sloppy Cumbrian defence to add to his impressive recent try tally with an unconverted score.
The 'Black Reds' has an opportunity to reduce the deficit yet again with a long range penalty, but Clegg's effort came up short, and the teams went into the interval with Glossop leading 10-3.
With the wind at their backs, Glossop began the second half brightly and put the visiting defence to the test. Initially, Aspatria frustrated The Hillmen, until a well worked training ground move from a line out saw number 8 Dave Stanley cross for a deserved try, with Sonczak converting from wide out to make it 17-3 with half an hour to play.
From here, it looked as though Glossop were home and dry but the resolute visitors had other ideas. A melee in back play seemed to spur the Cumbrians into life. Glossop found themselves under the cosh with a wave of attacks saw Aspatria captain, Atkinson score a well-constructed try out wide for 17-8. Glossop looked to regroup but before they had got their breath back Aspatria had scored again, when fly half Watson sidestepped through the tiring home defence before setting up centre Ryan Scott to score and bring them within touching distance at 17-13.
The Hillmen responded well and went in search of an important fourth try. With Aspatria under pressure, the game took a sour turn when an Aspatria player was seen to stamp on a Glossop player, which lead to a fracas involving several players. The incident saw the visiting flanker red carded for the stamp, so Glossop would benefit from playing the final five minutes with an extra man.
To their credit, Aspatria defenced manfully as Glossop hammered away at their try line, before eventually the ball was knocked on and the visitors were able to see out the game, leaving Hargate Hill with a valuable bonus point to boost their survival hopes.
Next week Glossop face a tough trip to the Wirral to take on fifth placed Anselmians.
Report by H Ellis.