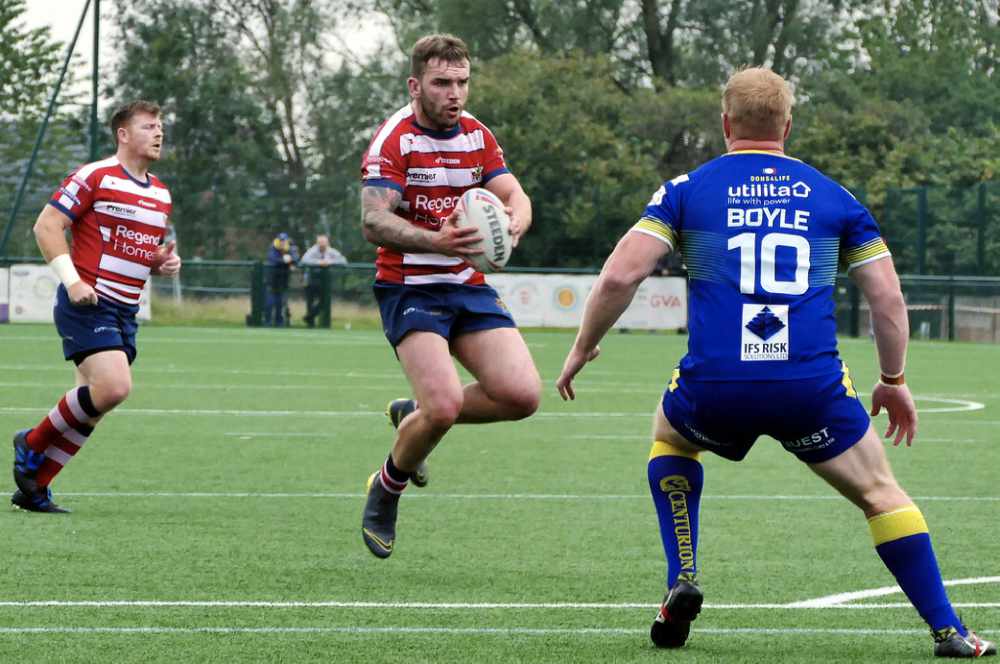 BetFred League One Play-Off Semi-Final: Oldham 22-12 Doncaster
An inspirational team performance, in which scrum-half David Hewitt ran the show, carried revved-up Roughyeds to within 80 minutes of promotion to the Betfred Championship.
Hewitt, or 'Chewy' as he is known, has had his critics in the past but coach Scott Naylor always had faith in the former St Helens youngster, who has played a big part in the Roughyeds' run of ten wins out of their last 11 games.
That's promotion form by any standards, but Naylor's men still have one more game to win if they are to fulfil the boss's dream of seeing his boys up into the Championship before he rides off into the sunset after seven years in charge.
They had to beat Doncaster to claim their place in the final which will also take place at the Vestacare Stadium on Sunday week, October 6 when they go head to head with either Doncaster -- again -- or Newcastle Thunder.
Victory was never in doubt. Although they led only 8-6 at half-time they had dominated most of the first half and the longer the game went on the more dominant they became thanks to a superb, all-round team performance.
It wasn't particularly pretty, but it was solid, clinically efficient and overflowing with pride and passion.
Much was said pre-game about the potential threat of Doncaster half-backs Matty Beharrell and the celebrated Rangi Chase, but Hewitt and Paul Crook took them on at their own game and came out on top.
Hewitt, particularly, made a massive impact on his side's performance -- and on their triumph.
He ducked and dodged his way past three wrong-footed defenders to score the first Oldham try; did an encore to create the second for Emmerson Whittel; put in the grubber kick that directly led to the third by Crook; and produced a display of tactical kicking par excellence that kept the Dons pinned in their own half for most of the game.
Second-row forward Danny Bridge, who won the club's official man-of-the-match award, also had a blinder, as did full-back Ritchie Hawkyard, prop Phil Joy and loose-forward Liam Bent.
Oldham put the game to bed in a match-clinching 15-minute spell early in the second half.
Fourteen unanswered points carried them out to 22-6 with veteran Crook, who doubles-up as a member of the coaching panel, claiming a try and three goals to add to his early penalty goal and his conversion of Hewitt's try.
It would have been totally in keeping with Oldham's domination had the Yorkshiremen been 'nilled' in the second half.
With less than a minute left, however, the visitors added a late consolation try when Kyle Kesik went under the posts from a break by Brandon Wilkinson.
Scorers: Oldham -- goals, Crook 5/5; tries, Hewitt, Whittel, Crook; Doncaster - goals, Beharrell 2/2; tries, Beharrell, Kesik
OLDHAM: Hawyard; Kay, McComb, Leeming, Johnson; Crook, Hewitt; Joy, Owen, Law, Bridge, Langtree, Bent. Subs: Spencer, Wilkinson, Whittel, Beckett.
DONCASTER: Howden; Doherty, Bower, Tali, Halliday; Chase, Beharrell; Nzoungou, Kesik, Spiers, Mariano, Washbrook, Wilkinson. Subs, Boas, Boyle, Brown, Hedges.
Referee: Liam Moore; Att: 529.
By Roger Halstead
Picture: Jack Spencer drives forward