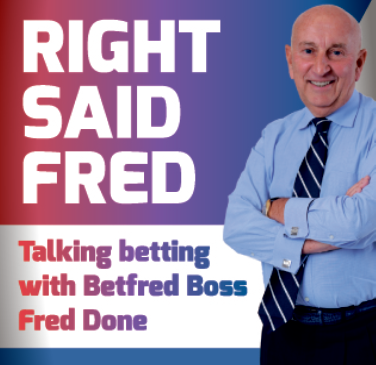 In our latest weekly column, BetFred owner Fred Done gives us his thoughts on which teams will secure a top-four finish in the Premier League, the three teams who are odds-on to get relegated, and why he wants Super League to return as soon as possible.
What a relief that the coronavirus pandemic has eased to such an extent that Premier League football is back, albeit behind closed doors.
And my team, Manchester United, have a heaven-sent opportunity of once again being back where we belong playing in the Champions League next season.
I'm not on about whether City escape a ban from Europe either, for I'm convinced the Reds will finish the season in the top-four.
The reason is that we, like most Premier League clubs, are now free from injury, and the player we've got back is arguably the most valuable English player in the land – Marcus Rashford.
We Reds did think he was likely to be out for the rest of the season but now, because of the virus that brought a temporary end to all sport, he'll be back to help us secure Champions League football.
It's obviously going to be Liverpool that end up champions, with City runners-up. In fact, my top-four prediction is: Liverpool, the Blues, Leicester and then us.
Betfred have Leicester and Chelsea odds-on to make the top-four – but I reckon United are a sound bet at 7/4.
Leicester weren't in the greatest form before the break, and Chelsea have shown they need to strengthen by going into the transfer market early.
But I'm confident that United, with Rashford back, Bruno Fernandes in superb form and Paul Pogba hopefully out to prove himself, can topple Tottenham when we face off a week on Friday.
United go into that game slight 6/4 favourites to pick up the three points – while Spurs are 17/10.
Rashford figures highly at 12/1 with Betfred in the race for the Golden Boot – behind Jamie Vardy at 13/8, Sergio Aguero and Pierre-Emerick Aubameyang both 7/2, and Mo Salah 5/1.
Rashford can make a real difference for United in the run-in and prove to everyone that he really is our most valuable – well ahead of Pogba who has only shown his true quality in a handful of games this season.
Meanwhile, City are odds-on, as you would expect, to beat Arsenal next Wednesday.
It may be Liverpool's title – remember I've already paid out on them at Christmas – but I have a few of advice for my friends over on Merseyside.
Don't celebrate too much – for I do expect City to come back very strongly and snatch the Premier League title back next season, especially if it turns out they are not playing in Europe.
At the bottom of the table, Betfred's odds indicate it will be Norwich, Villa and Bournemouth who will be relegated.
They are all odds-on to drop into the Championship, but West Ham at 2/1 and Watford (9/4) are not out of the mire.
Although we're all obviously looking forward to back-to-back matches on various TV channels as of next Wednesday, you keep getting reminded that the virus that has had such a dire affect on our cherished way of life.
United were due to play a friendly against Stoke on Tuesday, but that was mysteriously called off even though the visiting players had arrived at Carrington in individual cars ready for the match.
It later emerged that Stoke boss Michael O'Neill has tested positive for COVID-19, so no doubt that was the reason.
The EFL League One and Two have, as expected, voted to curtail their season with just matches to determine the promotion places to take place.
That's an entirely sensible decision, as lower tier clubs rely so much on turnstile revenue.
It means that Rochdale, Oldham and Salford City preserve their status, but Bolton are relegated to the fourth tier for the first time in more than 30 years.
Finally, I'm hoping the Betfred Super League authorities are keeping a very close eye on how the Premier League are doing things to keep professional sport going.
Indications are that Super League could be back in August. Let's hope so, for the season was just starting to gear up nicely, with more shock results than usual, before all was suspended.