Wednesday, April 27th, 2022 10:21am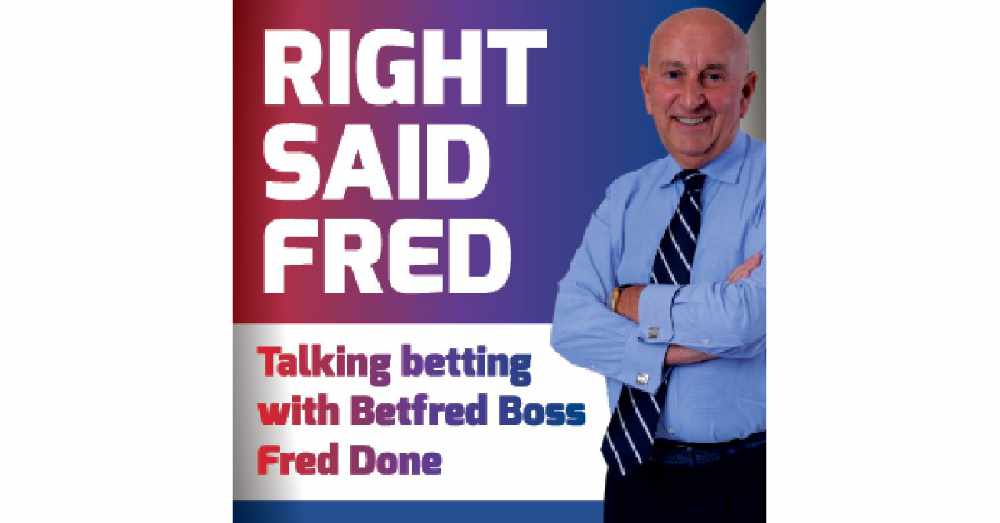 We've had to cut the odds after a surge of bets on both Manchester City and Liverpool to win their remaining five games in this fascinating finale to the Premier League season.
Betfred were 14/1 but are now 11/1 that this happens – and of course that would mean City retaining the title and a huge relief to me having shelled out £750,000 on them doing so before Christmas.
City are 4/9 to be champions with Liverpool at 7/4, while in the battle for a top four finish United, after yet another bitterly disappointing defeat at Arsenal, have drifted out to 50/1.
There was no surprise last weekend when the Blues convincingly beat Watford at home and Liverpool picked up all three points in the Merseyside derby.
I reckon it'll be the same again this weekend, with Liverpool at Newcastle and City at Leeds.
It is the time of the year when star names are left out of teams with nothing to play for either because they are being sold or already on the beach.
Also City and Liverpool are bang in form - and are the best by a long way not only in this country but probably in the world.
The big story at the moment concerns Everton, who are now our 10/11 third-favourites to be relegated ahead of Norwich and Watford who are long odds-on to face the drop.
It doesn't get much easier for Toffees boss Frank Lampard, whose team put up a better-than-expected performance against Liverpool, as they entertain third-place Chelsea this weekend – while Burnley are at Watford.
I noticed Tyson Fury has been trimmed into 14/1 with us to become BBC Sports Personality of the Year after his stunning knockout of Dillian Whyte in front of a record crowd at Wembley Stadium on Saturday night.
He doesn't seem to get on too well with the BBC, but that hasn't previously taken him out of the running.
JOSH Thewlis is 12/1 at Betfred to continue his purple patch and score first for Warrington in what is sure to be a humdinger of a Betfred Super League game against Wigan at the Halliwell Jones Stadium on Friday.
The young centre scored a sparkling hat-trick as the Wire continued their upsurge in form with a 32-10 demolition job over high-riding Huddersfield.
Thewlis, who crossed twice in the first half and again in the second to topple the Giants, won the praise of coach Daryl Powell who said the 19-year-old has a "real eye and instinct for the game".
Warrington, who have been cut into 9/1 for Betfred Super League Grand Final glory after a fine Easter campaign, go into Friday's game the same price as the Warriors at 10/11. That's a reflection of home advantage and the Wolves' changing fortune.
Wigan, despite the brilliance of marquee Aussie Jai Field, toiled to a narrow victory over a plucky Salford. However, Matt Peet's side are joint-top of Betfred Super League alongside St Helens, who had seven debutants starting at Castleford where they suffered their second defeat of the season.
Field is our favourite at 8/1 to score the first try on Friday against the Wire, ahead of Josh Charnley who is a 10/1 shot.
Meanwhile chef Patrick Aguilar is all smiles – and not just because he's a Liverpool supporter!
The 45-year-old Betfred regular cooked up an extraordinary Lucky 15 bet in just five minutes while having his Saturday morning coffee.
He wagered £4.50 that Leandro Trossard would score first for Brighton at Spurs and Jan Bednarek would open the scoring for Southampton against Arsenal in the Premier League – while he also picked out Liverpool's Ibrahima Konate to net first in the FA Cup semi-final tie against Manchester City at Wembley.
Individiually, the odds on those outcomes were 12/1, 22/1 and 50/1, winning him a total of £5,241.
He got it wrong on his fourth and final selection, thinking that Paul Pogba would score first for Manchester United at home to Norwich – and if that had come in, his windfall would have been £72,000.
Patrick, a proud father of seven from Southampton, said: "I always bet within my limits but like to have a dabble every day, which I've been doing for 10 years at Betfred.
"I was looking at the games when I was having my morning coffee on Saturday and thought Konate would score first because he's been in good form – and then I thought of Trossard.
"I decided to go for a Lucky 15 and couldn't make my mind up between Ronaldo or Pogba to score for United… I got that one wrong!
"I often choose defenders rather than strikers, which is why I also went for Bednarek.
"It is all very exciting, except for what I'm going to do with my winnings! As a freelance chef I do my own tax returns, and I owe the tax man £4,000 so that's where that'll be going.
"I have, however, been able to give the kids and the missus a treat during the Easter holidays."
Jubilant Patrick is now predicting at least a treble for his beloved Liverpool, believing that if they don't achieve a clean sweep it'll be the Premier League that Manchester City will pip them to.
As a lifelong United supporter who is still very bruised about Tuesday night's mauling at Anfield, I've got to force myself to say congratulations Patrick.
He's served himself up a big win here, that's for sure – and what a pity most of his windfall is going to the tax man.
It's a remarkable wager, very much proving that you can win big from a small stake at Betfred.