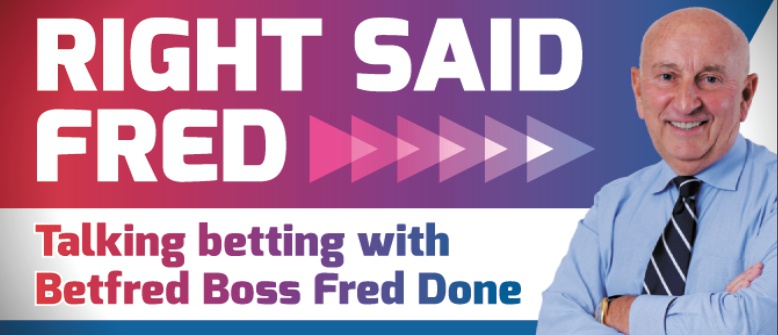 The new Betfred Super League season is only days away – and I for one can hardly wait.
I'm convinced we're set for a brilliant season that might well be even more exciting than last year, when my home town team Salford Red Devils beat the odds to get themselves into the Grand Final.
All eyes from the off will be on newcomers Toronto Wolfpack.
They've certainly grabbed plenty of the headlines pre-season with the signing of Sonny Bill Williams, the most recognisable rugby player from either code on the planet.
He missed out when the Canadians put their marker down at the weekend by beating Castleford Tigers at the Jungle.
The club are no doubt saving him for their eagerly-awaited opening fixture back at Cas on February 2, although there has been talk he might be off to New Zealand for the birth of his fourth child.
Either way, the signing of SBW is yet another significant milestone for our sport.
Toronto are a tempting 20/1 at Betfred to win the Grand Final at Old Trafford on October 10.
Holders St Helens are 9/4 favourites, with Wigan – boosted by the signing of 2019 Man Of Steel Jackson Hastings – at 3/1, ahead of Warrington who are on their heels at 4/1.
Salford meanwhile have drifted to 33/1.
For Saints, the big change is at the top, with the popular Justin Holbrook replaced by Tonga supremo Kristian Woolf as head coach.
He's made it clear he'll be looking to tweak rather than transform the Saints' side, which comes as no big surprise considering they have dominated affairs for the last two years.
For Salford, it will be interesting to see how they cope with new signing Kevin Brown from Warrington calling the shots now Hastings has gone to the Warriors.
The Wire, who have pledged to be the great entertainers this campaign, have paired Gareth Widdop with last season's marquee signing Blake Austin – and I'm reckoning this could be an important season for the ambitious Wolves.
Wigan, who host Warrington in the new season opener on January 30, have George Burgess taking the number 10 shirt, and with Hastings, could well be even stronger.
Meanwhile, I've just clambered from behind the sofa having watched that embarrassing United performance at Anfield… a game we could easily have lost by six, never mind two.
I can't believe some United fans think we did alright, because we were well behind in all areas of the pitch, and I don't think any United player is better than his opposite number amongst Jurgen Klopp's men.
We have suffered through injury, and it hasn't got any better on that front with Marcus Rashford now expected to be out for up to three months with his back injury.
That's a huge blow, not just to United but potentially for England too, especially as Harry Kane is unlikely to be firing on all cylinders in the European Championships this summer.
The FA Cup 4th Round takes centre stage this weekend, with City favourites to win the famous trophy.
They're 9/4, with Premier League champions-elect Liverpool at 9/2 ahead of Tottenham and Chelsea at 9/1, Leicester 10/1 and both United and Arsenal 11/1.
City were below par against bogey team Palace at the weekend, and I know I'm not alone in thinking that Pep Guardiola's priority must be the Champions League.
That's the holy grail as far as the Abu Dhabi owners are concerned – and the Blues, who visit the Bernabeu in a month's time to take on Real Madrid in the last 16, are 4/1 favourites to make club history and win it.
Liverpool are 9/2 to make it back-to-back Champions League triumphs, with Spurs 25/1 and Chelsea 40/1 – while Barcelona (5/1), Bayern Munich (15/2), PSG (15/2) and Juventus (10/1) figure prominently in the betting.
For once it was an open and shut case for a lawyer who won almost £10,000 at Betfred by predicting the result of NINE football matches in England, Wales, Germany and Spain.
The 30-year-old from Greater Manchester plans to use the winnings from his £10 acca to pay for escalating hotel costs in Spain for him and his pals during the European Championships in the summer. He went for Preston North End to beat Charlton, Bristol City to triumph against Barnsley, Millwall to topple Reading, Swansea to get the better of Wigan, Lincoln to win against Bolton, Rotherham to beat Bristol Rovers and Port Vale to pick up three points against Leyton Orient – as well as Real to overcome Sevilla in La Liga.
Those were all home wins – with the only away win coming as Dortmund beat Augsburg in the Bundesliga.
The Betfred regular, watching the results come in at his home on Saturday, was sweating on the game at Bristol City which was a stalemate until the 87th minute when the Swede Niclas Eliasson came to his rescue and clinched victory to keep his bet alive.
The jubilant United fan said: "I've had a few big winners over the years doing accumulators. I generally go for the home team or teams in form.
"It was interesting that Erling Haaland, that we all know was heavily linked with United, went and scored a hat-trick on his debut for Dortmund.
"I'm alright at predicting games in the Premier League and Championship, but I do tend to struggle lower down the leagues.
"I'm going to use the money to go to Budapest, a place I've always fancied visiting, and then I'm off to the Euros with some mates.
"We've got tickets for games in Spain, Italy and Dublin. The prices in Bilbao have gone through the roof, so I'll be helping out with the costs of hotel accommodation.
"When the results were coming in I noticed Bristol were letting me down, and so when they scored I was jumping for joy because I knew all my selections were coming in.
"It was agonising waiting for all the injury time to be complete. I text a few friends afterwards and put it this way… I spent £200 on a few rounds in the pub.
"I've been with Betfred for about ten years, mostly because of their Double Delight and Hat-trick Heaven promotion on the bigger football matches."
It's great to be paying out to a fellow Red. The difference between us two though is he's got something to smile about after that humbling by Liverpool at Anfield!