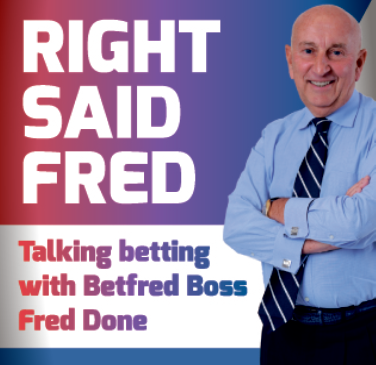 Salford remain 8/1 outsiders with us for the Challenge Cup – despite beating Saturday's semi-final opponents Warrington in the Betfred Super League on Tuesday.
The 20-18 midweek wasn't the only good news for the Red Devils and their likeable coach Ian Watson as Dan Sarginson has been cleared on appeal for a high tackle on Hull's Jamie Shaul that earned him a two-match ban.
Coach Watson described getting Sarginson back as "massive"- and he'll be key if Salford are to triumph in the double header at Saints' Totally Wicked Stadium.
The Wire are 1/4 at Betfred to overcome Salford. Wigan are odds-on to beat Leeds Rhinos in the earlier semi-final on a day that should be a brilliant advert for our sport.
The matches are now coming thick and fast, as we head into the business end of the season, with fixtures doubling up, this putting great demand on the players and also coaching staff.
Squads are already being tested to the limit with injuries and fatigue, with still plenty of action ahead. This will most certainly force coaches to rotate their squads, allowing playing opportunities to those who at the start of the 2020 Betfred Super League thought wouldn't be coming so soon.
As we saw in Tuesday's fixtures youth will be given the chance. With both Warrington and Wigan virtually unrecognisable, and Saints and Salford both containing some future stars of our game, which was fantastic to see.
Great to see young half back Lewis Dodd finally make his debut in the red V, as the Saints put on a clinical display to down derby rivals Wigan by 42-nil. It's was a professional performance by Kristian Woolf's team against a very young and inexperienced Warriors side, with usual story, skipper James Roby leading from the front with a man of the match display.
Times are tough for everyone at the moment, but certainly in RL, and don't look to get any easier anytime soon with the Prime Minister's announcement that live crowds may not return until March 2021. This was a major body blow to all concerned, however, in the finest tradition of our great game we'll continue to plough on and show the resolve and resilience that we always have.
Meanwhile the spotlight last weekend was on the high number of penalty decisions in the Premier League… and the interpretation that refs are having to make on the rules.
What I will say about this is that two years ago, when all the talk was about VAR and whether or not it should be in traduced, I did warn: be careful what you wish for.
The bottom line is that technology is causing more problems and debate than ever before. My message is this: let the refs and their assistants get on with it, and just have goal-line technology. I'm sick to the back teeth of debating whether or not such a challenge was a penalty or not.
If you put three or four football people in a room, they are never going to agree. No one saw that Manchester City defeat at one to Leicester coming – except for one of our regular punters from the Wirral.
Amazingly, she had the Foxes to beat City 5-2 at 400/1 – but sadly for her she had just FIFTY PENCE on! That amazing result, during one of the most unpredictable round of games I can remember, has had a dramatic effect on the Premier League title odds. Liverpool, for the first time in three months, are 11/10 favourites at Betfred to retain their crown, ahead of City who are no longer odds-on. Pep Guardiola's lacklustre team, who have quickly signed Ruben Diaz from Benfica to bolster their defence, have drifted to 5/4 after that heavy defeat to Leicester.
Chelsea, who surprisingly drew 3-3 against West Brom, are 20/1 – and Arsenal 25/1.
The mighty Manchester United, who remember were 9/1 at the start of the season, keep drifting and are now 28/1 for the title.
The big movers are Leicester, who keep being rallied by the fantastic Jamie Vardy who scored another hat-trick at the Etihad on Sunday, and Everton.
The Foxes are now 40/1 to win the title at Betfred after three wins on the bounce – while the Toffees, who have matched that record, are as short as 50/1 from 200/1 pre-season.
The Premier League, just like the Betfred Super League and live sport in general, is proving a real tonic during these tough times as we all look after ourselves and try to get a grip of coronavirus, which just doesn't seem to go away.
Finally my congratulations to a winning couple who have a different sort of hedge fund on their mind after their once-in-a-lifetime win at Betfred.
They won nearly £43,000 from just a £17 stake on four horses at Kempton and Goodwood.
But it's no luxury holiday or posh new car for this lucky couple, for all they want from their windfall is a privet hedge!
The pair, who are both in their 60s and live in Norwich, alternate between who picks the horses and who puts on the bet.
This time it was the husband's pick, who went for jockeys Sophie Osbourne, on Pettochside at Goodwood, and Martin Dwyer, who had three winners at Kempton.
He said: "I probably spent about half-an-hour making my selections, and then my wife who was already out buying a birthday present for one of our relatives put the bet on.
"The most important thing for us is family. As long as they're all happy, then so are we.
"We don't have many holidays because my wife doesn't like the sun, and I'm not a big fan either as I spend a lot of my time outdoors.
"We're old-fashioned people with big family values.
"We celebrated the win with a cup of tea and coffee, and then we couldn't sleep – not because of how much money we had come into but because of the caffeine.
"I don't drink, reckoning I can make myself look an idiot without a drink!
"My wife bought some Ligustrum Jonandrum privet hedges for £60 from the garden centre – and that's all she wants."
The couple, who are regulars at one of our shops in Norwich, had two bets – a Lucky 15 and an accumulator involving the same four horses Mini Milk, Island Nation, Lorna Cole and Pettochside.
Because of Betfred's Best Odds Guaranteed promotion, their winnings were boosted significantly by Lorna Cole going off 22/1 after he had backed it at 16/1.
I've heard of hedge funds of course but not as much as this green-fingered pair do about privets!