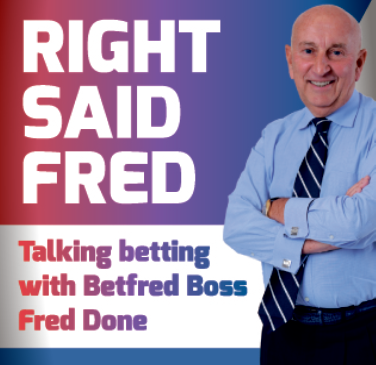 Fasten your seatbelts it's showdown time at the top and bottom of the Premier League.
It all comes to a head in what will be one of the busiest afternoons for football betting of the year at Betfred on Sunday.
At the top of the Premier League the undoubted match of the day is United's trip to Leicester with a top four place the prize.
Chelsea in third are odds on to finish behind champions Liverpool and City.
As for the golden boot, Leicester's Jamie Vardy is now 1/7 with Arsenal's Pierre-Emerick Aubameyang 12/1. Next up at Betfred is Southampton hotshot Danny Ings at 10/1 - and Liverpool's Mo Salah who has drifted to 16/1.
Meanwhile at the bottom Villa, who are at West Ham on Super Sunday for their last match of the campaign, are no longer odds on at Betfred for the drop.
Following Tuesday's unexpected win against Arsenal and City's four-nil hammering of Watford, Villa are 2/1 to be relegated to the Championship.
Bournemouth, who are at mid-table Everton in their last game which all kick off at 4pm, are new 1/33 favourites to go down along with already doomed Norwich.
Managerless Watford - they are at Arsenal on Sunday – are 2/7 to be the third team relegated.
Who could possibly have thought it is going to be an all-London FA Cup final rather than an historic Manchester affair at Wembley on August 1?
I certainly didn't with City outright favourites to beat Arsenal in the first weekend semi final and United just favourites to beat Chelsea.
What happened is more proof that anything can happen in sport...and particularly in a two horse race!
Here is an eye-opening stat that will give Pep Guardiola food for thought: City had 71 per cent possession but managed just one shot on goal against the Gunners.
Arsenal knew exactly what to expect with Guardiola's lieutenant Mikel Arteta at the helm. For example the tendency to leave gaps at the back and insistence on playing out from defence rather than vary their tactics.
I do fear that City despite their undoubted ability to maintain possession will have to be much better if they are to win the club's Holy Grail, the Champions League for the first time in their history.
Betfred still have them 3/1 favourites especially as they are 2-1 up against Real Madrid in their last 16 two leg tie.
But there is substantial backing at Betfred for PSG who are now 9/2 shots as they are in the easier half of the draw.
I picked out at City stat well how about this one to ponder: Before the weekend United had not let in three goals in an FA Cup game for 22 years.
The big question for Reds like me is whether long term David de Gea can remain our keeper. Our defence is floundering and his poor form in such that he's not able to boost confidence at the back.
So Solskjaer and Guardiola have the same problem...bolstering their defences. Should be an interesting summer on the transfer front that's for sure!
Betfred meanwhile have Chelsea 8/13 to win the FA Cup with Arsenal 5/4.
A security officer's has told how his prayers were answered by us when he won £25,000 from a FIFTY PENCE stake.
It only took father of three Osakye Igiehon from Norwich ninety seconds to choose five random numbers for the lotto 49's game.
All of his five numbers 8,25, 37, 40 and 45 were drawn landing the jubilant Jamaica-born shift worker the jackpot.
"I don't believe in luck and in fact it took me about 90 seconds to my selections, " said Osakye.
"I don't drink so have not had any big celebration of what is the biggest win of my life. I am a Christian and religious so maybe I have won so much because of the grace of God."
Osakye, aged 52 who put his tiny bet on at the Betfred shop near his home at St Augestines Gate, Aylsham Road, Norwich, has not been able to see his children aged 14,18 and 22 for five months because of the lockdown restrictions.
He explained: "I had to move to Norwich from Dublin because of work and with all the Coronavirus restrictions have not seen my family since March. I will be getting to see them now and will give them some money and also pay off some of my mortgage. I can't really believe I have won so much for less than the price of a newspaper. My biggest win previously was £200."
Huge congratulations to this Betfred regular who clearly knows where to go to win big from a tiny stake!