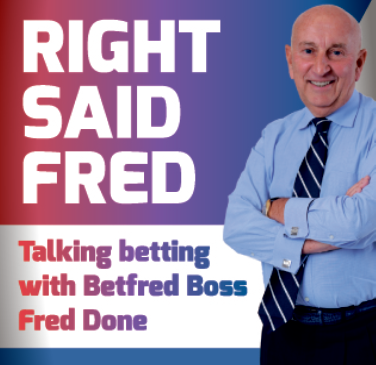 Now that the Premier League is back up and running, the spotlight switches to the FA Cup and my beloved Manchester United this weekend.
The Reds are 7/1 to win the famous old trophy - and I can't see them having any trouble at all overcoming Norwich on Saturday in the first of the quarter-finals.
Norwich, who look doomed to relegation from the Premier League after that poor performance at home to Southampton, are the big outsiders at Betfred amongst the last eight in the competition.
The Canaries are 33/1 - with Newcastle, who face holders City on Sunday, at 28/1.
I'm thinking that both Manchester teams will go through - and Betfred are 9/1 they both win both halves at Norwich and Newcastle.
Of all the clubs I have seen since the greatest league in the world's resumption, City have impressed me the most with that victory over hapless Arsenal – and it is no big surprise that Pep Guardiola's men are outright favourites to win the FA Cup at 8/11.
Kevin De Bruyne has certainly hit the ground running and is already top of the table when it comes to assists.
Apart from the number of games where there have been no goals in the first half, the other significant factor upon football's return has been the effect of the post-virus rule that turnstiles stay shut to fans.
I can't help feeling that Liverpool may well have raised their game to beat Everton in the Merseyside Derby at Goodison on Sunday if they had been fired up by a packed house.
City, whose players are technically adept, don't seem to be suffering in anything like the same way and are treating games like training routines.
Betfred have already been taking bets on who will win the Premier League NEXT season – and City are favourites at EVS.
The tremendous victory over Burnley was fully expected – and I bet champions-elect Liverpool are relieved that they have built up such an insurmountable lead.
City are clearly the inform team since lockdown was lifted. Their squad is so good even the injury to Sergio Aguero is unlikely to have much impact except if their talisman fails to be fit for the eagerly awaited Champions League tie with Real Madrid.
If the Blues lose their appeal and remain banned from the Champions League, it will be the Prem that gets their utmost attention, which only enhances their position as favourites.
Meanwhile, Betfred regular Mike Thomas has won big on the record-breaking Nando Parrado at Royal Ascot – and celebrated with a pint of Guinness and a cigar!
Mike, a 60-year-old father of ten with five grandchildren, has given credit for his 150/1 triumph to Betfred TV presenter Paul Rickerby.
The lucky punter revealed he was in the Betfred shop on Erskine Street in Hulme, Manchester, pondering his selections for the Coventry Stakes on Saturday when he overheard Paul previewing the race.
Mike said: "I was going to go on something else, but then I heard this fella on the TV saying how last time out Nando Parrado had been boxed in, and that it was overpriced at 150/1.
"So, I changed my mind and went £10 each-way on the eventual winner.
That decision meant Mike (pictured), from Chorlton, bagged a tasty £1,820.
"I'm over the moon," he continued. "It's the biggest win I've ever had. Once the money is in the bank, I'll be treating myself to a cigar and a pint of Guinness.
"During lockdown, when I couldn't come to the shop where the staff are fantastic, I've been reading my bible a lot – so maybe there has been some divine intervention.
"I tell you what, I said a little prayer Saturday night."
Paul said: "It was just far too big a price and I knew that. It's nice to be right for once, and congratulations to Mike for listening!
"If you throw enough darts, one of them is bound to stick."
Nando Parrado – named after a Uruguayan TV presenter who survived the Andes plane crash in 1972 – was the biggest-priced winner in Royal Ascot's illustrious history.
Talking of winners there were plenty of crafty City fans who used their small change on City to beat the Clarets 5-0 with Foden amongst the scorers which was available at 80/1 at Betfred including one supporter who picked up £3,240 from his £40 bet. You do wonder what more Foden needs to do to be considered amongst the first on the team sheet. He is a fantastic talent and a credit to the club's academy who have done so well to nurture his undoubted talent.