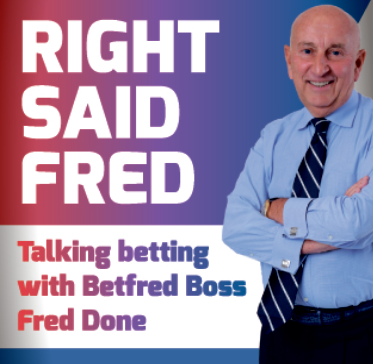 England will never get a better chance to win a major international tournament for the first time since 1966.
Gareth Southgate has proved himself not just a very good general, but also a very lucky one too.
To avoid most of the big guns, including Cristiano Ronaldo's Portugal who find themselves in the 'Group of Death' alongside France and Germany, gives the Three Lions a huge boost ahead of next summer's European Championships.
Betfred now make England 9/2 favourites having drawn Czech Republic, Croatia as usual and, depending how the play-offs unfold, one of Scotland, Israel, Norway and Serbia.
Second favourites to win the competition, which culminates with the final at Wembley on July 2020, are Belgium, who have drawn Denmark, Finland and Russia, at 5/1 – while France, despite their unbelievably tough group, are 6/1 third favourites.
After that it's Netherlands 13/2, Germany and Spain both 8/1, Italy 10/1, Portugal 16/1 and 28/1 bar.
We now have the six finalists declared for BBC Sports Personality of the Year – and it is clearly Ben Stokes' honour to lose.
The World Cup and Ashes' hero, who is continuing his excellent form on tour with England at the moment, is 1/5 favourite at Betfred.
World champion sprinter Dina Asher-Smith is next up as 8/1 second favourite, followed by Raheem Sterling, who should never be discounted given he's ripping up trees for Manchester City and has bravely taken a stance by publicly condemning racism in all its forms, at 16/1.
Welsh rugby captain Alun Wyn Jones can be backed at 20/1, just ahead of serial Grand Prix winner Lewis Hamilton and Liverpool's heptathlon hero Katarina Johnson-Thompson at 25/1 and 50/1 respectively.
It remains a big puzzle for me as to why Lewis Hamilton, who made it 11 Grand Prix wins for the season at Abu Dhabi this weekend, shouldn't be right up there challenging Stokes.
The supreme Formula One driver, who will be looking to match the great Michael Schumacher's record of seven World Championships next season, clearly divides opinion – and I guess the fact he lives in Monaco doesn't help.
All eyes will be on the Etihad on Saturday when City host United in the Manchester Derby that is so important to both Pep Guardiola and Ole Gunnar Solskjaer for vastly different reasons.
Solskjaer couldn't have a bigger fixture to really get United's season kick-started, even at this late stage, and get us back firmly in contention for a top-four finish.
Whereas for Guardiola he must know by now it's going to be a huge task to overcome Liverpool's lead at the top of the Premier League.
Nevertheless, local pride is at stake and to the fans of the blue persuasion, a little bit of early Christmas cheer would, I'm sure, be very welcomed.
Finally, VAR was – unsurprisingly – at the forefront again this weekend when Leicester almost had their last-gasp winner against Everton ruled out.
When it comes to technology in the sport, I firmly believe the football authorities should follow the lead of Betfred Super League.
The rugby authorities just quietly get on with subtle changes to the rules which always seem to work – the latest being the introduction of stricter time limits for drop-outs and scrums, keeping the pressure on players to keep the action flowing.
Football should follow suit and insist on that for ALL VAR decisions, which seem to take forever and leave players, fans and, not least the betting public, undecided on whether to jump for joy or hold their emotions in check while waiting until the most complex of issues are resolved.
Meanwhile congratulations to four workmates who have won a staggering £160,000 from just £8 after 20 football teams all scored at least one goal.
The pals, who all work for the same haulage company, took just 30 seconds to select the fixtures in England, Scotland and Spain on Betfred's Goals Galore No Draw coupon.
That meant both teams had to score at least one goal in each of the ten fixtures, and it didn't matter who won as long as it was not a draw for the bet win.
I rang the beaming workmates at our shop in Kirkham to congratulate them personally. Frankly I'm absolutely gobsmacked.
We only introduced this coupon a couple of years ago and never did I imagine anyone would win as much as this from such a small stake.
What can you buy for £2? Which is what each of these fellas put in to make up an £8 stake.
Betfred have transformed the lives of these guys, and good luck to them.
It's brilliant news and just the right timing for them to have brilliant Christmases with their families.
Stephen Lesser, Jason Wardley, Stephen Baker and Bruce Lawrenson all work at the James Hall wholesalers in Preston… Bruce as a warehouse supervisor while Jason and the two Stephens are transport supervisors.
Usually football fans spend hours poring over the Goals Galore No Draw coupon working out which teams are most likely to score – but not these guys, for it took them just 30 seconds which each picking the match numbers based around family anniversaries and the ages of their loved ones.