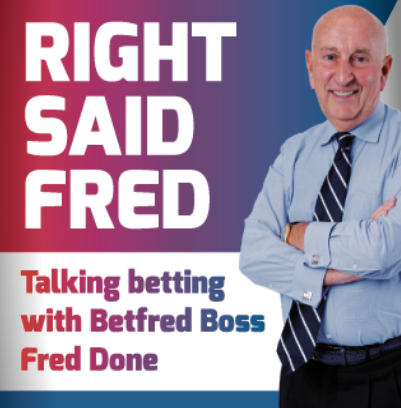 I'm confidently expecting England will win by over ten points in Saturday's World Cup final… and that will be great for the game.
Eddie Jones' understated team have won the hearts and minds of lovers of free-flowing, attacking rugby and I just can't see them slipping up against South Africa in Yokohama.
There is no doubt whatsoever England are the number one entertainers - and it would be marvellous if we can win by over ten, which is proving popular at Betfred at 2/1.
For the first try it has to be Jonny May, who is 6/1 in the final which will feature our popular Double Delight promotion.
New Zealand were heavily-backed, not just at the beginning when they were 5/4 favourites but when they were taking on England in last Saturday's pulsating semi-final.
We had at least a dozen £2,000 bets at 1/3, but England of course went on to beat the odds and now go into the final with South Africa as stark 4/9 favourites.
Back in August we had some substantial wagers of over £2,000 on Eddie's boys, when they were third favourites at 9/2.
Meanwhile Leicester weren't the only history makers last Friday, when the nation's most in-form team beat Southampton NINE-nil.
For Betfred regular Paul Adlam was the only punter in the land to have money on what is the joint biggest win in Premier League history.
Paul, a 41-year-old carpet fitter from Bournemouth, was watching the humiliation, for the team many in his home town love to hate, unfold.
Before kick-off, the odds on Brendan Rodgers' high-flyers achieving a record-breaking 9-0 scoreline was 500/1 at Betfred. Paul, once the score was 3-0 after just 20 minutes and the Saints were reduced to ten men, checked online for odds that the final result would be exactly that.
He quickly slapped on £10 at 150/1 and settled back to watch the goals go in – with Jamie Vardy and Ayoze Perez running riot at St Mary's.
Paul said: "My wife Louise wondered what was going on, as you would. I told her I had won £1,500 from just a tenner and so we had a few drinks to celebrate.
"It's incredible that you can win so much from such a small stake. We're going to pay off some of the mortgage and then we'll plan our best ever family Christmas.
"Southampton just didn't turn up for that game and Leicester were brilliant. I just wish I'd put a bit more than a tenner on – but it is a nice little win."
In over 50 years as a bookie I've seen some amazing wins, and this is right up there. I never imagined there would be anyone anywhere who would think that scoreline would be 9-0.
Paul might wish he'd put more on, but I'm mighty relieved he didn't and he's only picked my pocket for £1,500.
Leicester do still give me nightmares for it wasn't so long ago I was paying out thousands to scores of Betfred customers after they won the Premier League from at one stage odds of 5000/1.
The Foxes are the leaders of the pack chasing Liverpool and City at the top of the Premier League.
And they are consequently 50/1 for the title behind City who are evens - and Liverpool who remain 5/6 favourites after that hard fought win against Spurs at Anfield. It was after this game that I heard one of my United heroes from yesteryear Roy Keane utter a sentence I never ever thought I'd ever hear: Liverpool are playing like champions.
Thing is, he's got a point!