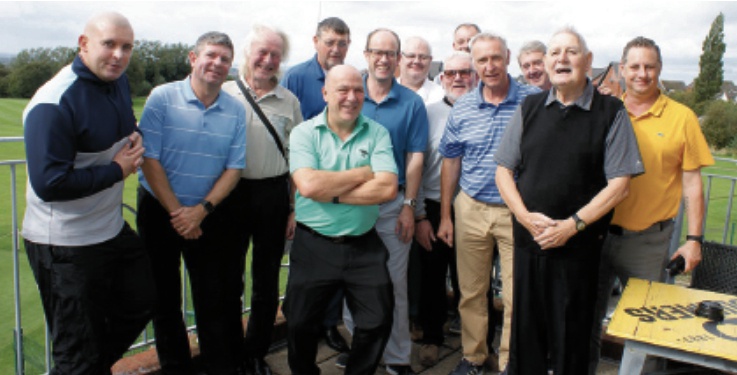 The Oldham and District Rabbits League enjoyed an inaugural double-header with their Yorkshire counterparts from the Huddersfield and Halifax Rabbits League which featured pairs from their member clubs.
The first match was hosted by HHDRGA at Crosland Heath with Oldham emerging with a fine 4-2 win to take into the second leg which they hosted at Dukinfield Golf Club.
This was played in difficult weather conditions but well hosted by Dukinfield and enjoyed by both teams.
Oldham made it a Red Rose double with a win by 4.5-1.5 and they will collect a trophy which is being prepared for what will now be an annual event. The match consisted of 12 players from each league making up six four balls, playing pairs match play over two days.
Both leagues have agreed that this will now be a yearly event with each of the league's clubs taking it in turns to host the home and away matches. The leagues have made history and started what will hopefully become part of the Rabbits' yearly fixtures.
Oldham and District Steve Hyde and HHDRGA David Stubbings were responsible for making it happen.
l A closing medal at New Mills had division one led in by Trevor Jones with 66 from Mark Brooks, Tony Jennison, Jack Marshall and Nigel Garside, all 68.
In division two, Michael Deaville won a cpo on 67 from Mike White, one less than Gavin Shields.
New Mills ladies played the MCT final and Iris Tolputt was the winner with 72 from Helen Harrison and Jackie Piper, both 74 and Ann Brown and Margaret Palmer, both 75
l A Wednesday medal at Denton was won by M Cole with 38 points from G Abbas 36 and M Ali 35.
A medal at Denton had division one led in by M Hart with 69 from D McDermott 70 and A McGuire 71.
It needed a cpo on 72 to take G Johnson to the top of division two from N Coburn, two less than D Smith.
In a Sunday BB Stableford at Denton, Paul Griffin and M Threlfall led in with 44 points from M Shore and S Barlow 43 and Steve O'Shaugnessy and R Livingstone 42.
A Stableford for Denton ladies was won by Phyllis Carnie with 12 points, one more than Barbara Stansfield.
The Sleigh Cup at Denton was won by J Simpson with 69 ahead of D Garner 71 and Dave Rowles 72.
l Saddleworth ladies played an EWGA medal and Cheryl Eastwood led in with 74 from Denise Brown 77.
In the subsidiary nine-hole Stableford, Kathy Scott was top of the pile with 14 points.
A Lady Captain's Stableford at Saddleworth had Kath Oldham first past the post with 35 points, one more than Sheila Cooper.
Saddleworth's men played round one of the 'major' Mountain Ash medal and it was close with Mark Orme winning a cpo on 66 from Paul Baddeley and Nick Marner followed by Nigel Rhodes 69 and Martin Orme 70.
A Pro's BB Stableford at Saddleworth saw Mike Norbury and James Owen with 48 points, four more than Jonny Fancy and Gary Torr.
l A pro's Stableford at Crompton and Royton had division one topped by J Barnes with 36 points from K Scholes 34 and in division two A Moran won a cpo on 29 from M Whelan.
l The latest pro's Stableford at Brookdale saw Paul Tunstall with 41 points from Michael Murray 37 and Peter McQuilliam 36.
l A singles Stableford for Ashton's men had the divisions led in by Mike Barlow on 39 points, Dan Rice 40 and Mark Nelson 40 with the yellow tee winner being Paul Duffy 34.
Topping the divisions in Ashton's Sunday Stableford were James Naylor 39, Jake Caudwell 38 and Nicholas Clayton 35.
l Fairfield's men kicked off their Winter League and club legend Tim Walker showed his enduring skills as he led in with 41 points from Steve Johnson 39.
l Stamford's men were in singles Stableford action and in division one club legend Danny Fox led in with 43 points from Richard Irving 41. John Healey topped division two with 40 from David McManus 39 and top of division three was Eric Nield with an outstanding 44 points, two more than David Ormerod.
A ladies Stableford at Stamford was won by Jacqueline Froggatt with 25 points, one more than Judith Whitehead.
l Sale Golf Club provided a great course for their annual staging of the Hancock Trophy for mixed pairs.
It went to the wire of a cpo on 40 points to decide the winners of the trophy between home pair Mobi and Cath Rawthore and Alderley Edge professional Charles le Sueur and Jo McGregor.
The Sale pair comprising Mobi, a top senior with Cheshire and his wife England Senior Lady star Cath got the verdict to put their name on the trophy again. It was presented to them by Alliance President Ian Brooks after being welcomed by Captain Terry Crewe and Lady Captain Jenny Page.
The winners topped the am am section by a point from Michael Smith and Sophie Garretty (Blackley) who won a cpo from Ashton-under-Lyne duo John and Jacqui Dawber.
There was another double for Alliance Order of Merit leader Phil Archer as he was top individual pro with 40 points ahead of Tim Maxwell (Knutsford) 37 and Gary Brown (Glossop) and Martyn Hamer (Davyhulme Park), both 35.
By Geoff Garnett