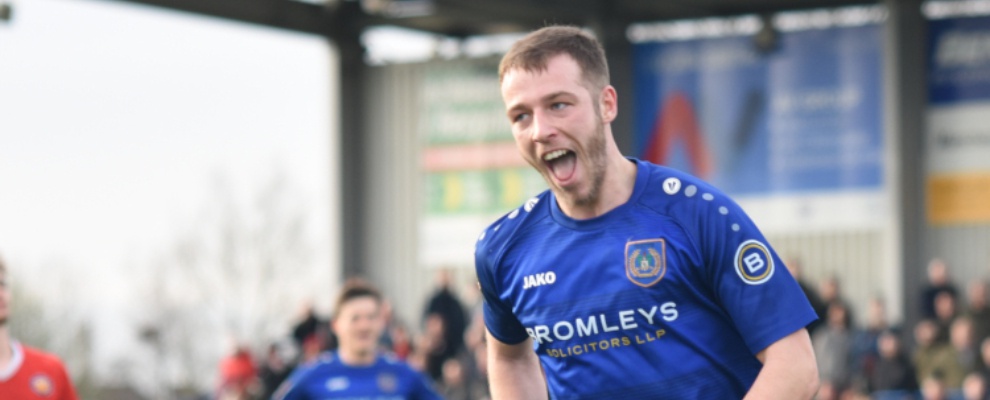 Sean Miller of Curzon Ashton.
Curzon Ashton will look to build on Saturday's draw against Gloucester City as they travel to the North-East to face Gateshead.
Curzon Ashton halted a run of six straight league defeats as they drew 2-2 against Gloucester City at the Jubilee Stadium.
Sean Miller, on his return from injury put the Nash ahead after just five minutes before Spencer Hamilton equalised just nine minutes later.
Curzon Ashton re-took the lead with Gloucester goal-scorer Hamilton involved again, this time putting the ball into the wrong net as the Nash went into the break ahead.
10 minutes after the restart and Gloucester drew level for a second time, Marlon Jackson the goal-scorer, in what was the final goal of the game.
Nash Manager Mark Bradshaw told the club after the game that the team needed to take the positives from the game but felt they could have won it: "If you look at the goals we conceded, it's very disappointing but we've got to take the positives out of it.
"We've been on this run where we haven't picked any points up where we maybe deserved some at some point.
"Today, we can look at it and say we maybe should have won the game. I'm desperately disappointed with their goals and how we conceded them.
"We have to take the positives out of today, we were a lot stronger, it was great to get Sean (Miller) back onto the pitch with his aggressive running and his desire. That rubs off onto people.
"We were desperately unlucky to not get a penalty. When you turn and run into someone who's chested the ball for me that's a foul, whether you know he's there or not. We'll take the point and prepare for Tuesday."
Bradshaw was pleased to see a much fitter side out there and is starting to get some of his injured first-team back into the fold.
"Overall, I thought fitness wise we looked good. We lasted a good strong 90 minutes", he said.
"We have Robbie Evans back in training now which is a massive plus for us. Lewis Reilly picked up a knock at Crewe, we are hoping he will be back for Tuesday or Saturday. He'll be desperate to do well and come back here proving that he can score goals at this level.
"All of a sudden you've got a lot of competition for places."
The Nash will look to carry forward the positive result when they travel to the Gateshead International Stadium on Tuesday.
Gateshead have won three out of their last five games but lost 3-2 against Guiseley last Saturday.
They have only lost two out of their eight home games and currently sit seven places and 10 points higher than Curzon Ashton.
Gateshead are currently managed by former Newcastle United defender Mike Williamson. His Assistant Manager Ian Watson told the clubs media team that Tuesday's game was massive: "The next game is the most important in your life. Tuesday is massive.
"We need to get a win now, obviously dropping points today we need to react to it and we definitely will do that."
Picture by Curzon Ashton.