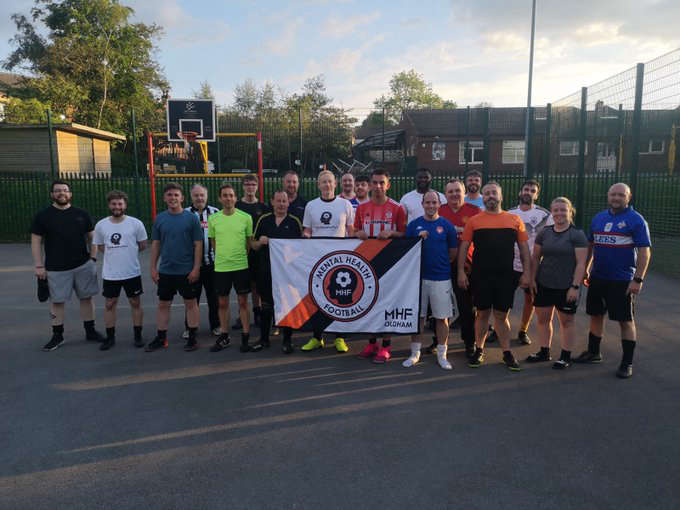 Football fun for Mental Health Football.
The Manchester Football Association has granted an Oldham football group with one of their prestigious Grassroots Awards.
The winner of this year's 'Grassroots Project of the Year' award goes to none other than Mental Health Football.
Founded by Andy Steel and Ross Elliott, the sporting initiative encourages anyone over the age of 18 to get involved in a friendly game of football, or just come on down to watch.
This project has been a saving grace amidst the various lockdowns, offering the opportunity to connect with others at a time when we couldn't be further apart.
In recognition for all of their efforts, the team have been given this fantastic award, an award which came as a huge surprise for Ross and Andy.
"We set up MHF to provide a means of support for those who could be dealing with mental health issues, we never expected to receive the support we have.
"It's an amazing feeling and confirmation that we're doing something that matters," Andy says.
The pair come with a wealth of football history, managing teams at AFC Oldham and knowing just how important that sport can be for mental wellbeing.
"I wanted to start this project because before I got back into football, my mind was in a dangerous place and the sport provided me with a place to belong," Andy added.
🏆| #GrassrootsHeroes

Throughout August & September, we are announcing the winners of our local Grassroots Awards 2021.

🥁The winner of this years 'Grassroots Project of the year' award is...@MHF_Oldham 🥳

Congratulations! 🎉#MCRGrassrootsHeroes pic.twitter.com/xgdjhm8VSe

— Manchester Football Association (@Manchester_FA) August 13, 2021
The team are aware that competitive football can be daunting and there are very few places that offer the game without the pressure of being a part of the winning side.
However, Mental Health Football is designed to take that away, offering a non-competitive game based solely on having fun.
With funding coming from the team's partners as well as Andy and Ross themselves, the players can enjoy a free game of football.
"The mood is always jolly, the attendees laugh and joke together for an hour, and it offers a space away from their problems.
"Physical activity is huge for our mental health, I'm hoping that this award helps to spread awareness into out groups and give us the chance to reach out and help others," Andy says.
Speaking on his feelings surrounding the award, Ross says that the recognition should go to their wonderful players.
"I'm absolutely delighted for our attendees as they show each other such amazing support. Without them, we wouldn't have achieved anything and this award is as much theirs as it is ours.
"We are extremely grateful to Manchester FA for selecting us too," he says.
Having set up the group away from competitiveness, the pair never imagined to have won an award, but increasing the profile of mental health support is more vital than ever.
Mental Health Football meet every Friday from 7-8pm at Broadfield Primary School 3G pitch, OL8 1LH. Join them and reap the benefits of a friendly game of football.
Want more local sport stories?
Head to https://www.questmedianetwork.co.uk/news/sport/ to see more of our coverage - from community and non-league football to local and county cricket, boxing, athletics, basketball, Esports and golf.