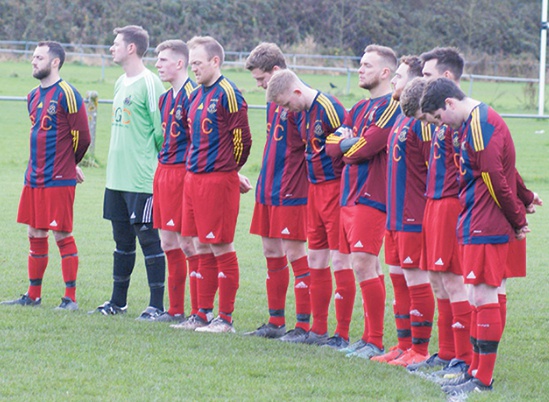 Following the tragic death of Gary Wyatt last week during the Chorltonians Athletic match against Heaton Mersey, all of the teams playing in this week's matches paid tribute to the sad event with a minute's silence, superbly observed, before their own games began.
There was plenty of action on the pitch with Irlam Tigers enjoying a smooth passage into the next round of the Manchester Amateur Cup with an emphatic 3-0 win at Boothstown Reserves.
In the Premier division Whalley Range are beginning to look unstoppable as they won 4-1 at title rivals Waterloo.
Second-placed Rochdalians, the reigning champions, dropped eight points behind Range as they lost by the same score at High Lane.
Mellor had their best win of the season to date by 4-2 at Salford Vics and in the other game Abacus Media scored the only goal of the game at a hard-working Trafford United.
It's looking like a two-horse race in division one as the top two preserved their impressive 100 per cent records.
Top team Radclyffe won 4-0 at Moston Brook to take their goal difference to a huge 56.
AFC Oldham won a potentially tricky match against Chorltonians by 4-1 to stay six points behind with two games in hand over local rivals Radclyffe.
Urmston Town are enjoying a good run and they took on local derby rivals Old Stretfordians and stormed into a 4-0 lead with goals from Danny Charlesworth (two), Akine Pinder and Caleb Adale.
Mark Bradshaw reduced the arrears for Strets before Arrey Tabetho restored the Town four-goal advantage.
But Strets showed great spirit as the finished strongly with goals from club legend Alex Ritchie and Greg Hodson to have Town grateful for the final whistle with the win keeping them in third spot.
Bury Ams lifted themselves out of the bottom two with a gritty 3-2 win at Newton.
It's much closer at the top of division two and leaders Dukinfield Athletic moved four points clear of non-playing North Walkden with a useful and hard-earned 5-2 win at Bedians.
The teams below Athletic all have games in hand on the leaders and Stoconians are firmly in the promotion mix after a close 2-1 win over South Manchester reserves.
Hadfield are on hot form and they kept it up with a 5-1 cruise at Rochdalians reserves and they have four games in hand over the leaders.
Santos moved into the comfort of mid-table with a 2-1 win at Chorltonians reserves.
Division three leaders Chadderton Cott were without a game and Signol Athletic missed a chance to reduce their lead at the top as they were held to a 1-1 draw at Chadderton Park.
Village Manchester are in third spot as they kept up their consistent run with a 4-2 win at Abacus Media reserves and they have a game in hand over the top two.
The other game saw Aldermere pull off a much-needed 4-3 win in a thriller with Elton Lib Hargreaves.
It's as you were in division A as the top four teams all posted victories led by table-topping AFC Stockport with a 6-1 win at Dukinfield Athletic reserves.
Second-placed Old Strets reserves matched this score at Deans and Mellor thirds were not far behind with a 4-1 win hosting AFC Oldham reserves.
Wythenshawe Wanderers kept up their impressive start in the league with their seventh win of the season by 4-1 over Trafford United reserves after being given a flying start with early strikes from Craig Stone and Henry Freeman.
The other two games in the division ended with 3-0 score-lines in favour of Salford Storm over Moston Brook reserves and Waterloo reserves against Rochdale Galaxy.
Parrs Wood Celtic remain eight points clear in division B despite being held to a 1-1 draw by Old Strets thirds with Moston Brook thirds in second spot after a comfortable 4-1 win over Bury Ams reserves.
Chadderton Cott reserves stay in the mix after a 3-1 win at Stoconians thirds and the other game in the division was a close derby clash with Heaton Mersey winning by the odd goals in seven against Hillgate.
Irlam Tiger Rangers made it a good day for the club as they stay on top of division C by five points after keeping an immaculate clean sheet in a 3-0 win over Altrincham Hale.
Second placed Salford Storm reserves lost ground as they were held 2-2 by Oldham Vics reserves.
Whalley Range reserves recent good run was ended in emphatic style by Govan Athletic who cruised to a 5-1 win and Bury Ams thirds were also victors by 4-2 over Staly Lions.
The league will be enjoying a mid-season break over the festive period but on Saturday December 21 they will be playing their annual Inter League fixture with old friends and rivals from the Lancashire Amateur League.
It is at Hyde United – kick off 2pm and league players, officials and friends are welcome to come along and support the L and C.
Geoff Garnett