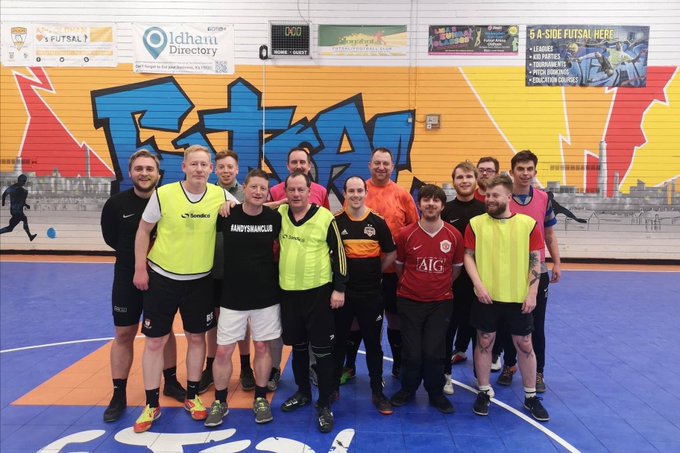 A mental health establishment set up in 2019 is trying to improve the lives of many through a friendly game of football.  
Mental Health Football was first founded by Ross Elliot and Andy Steel of AFC Oldham and offers a free and fun weekly game of football to promote the mental health benefits of physical activity.
"Anyone over the age of 18 of any ability is welcome to join in or watch". People are encouraged to 'come down for a chat' with no judgement, pressure or commitment needed.
The programme was relaunched a few weeks ago outside to meet with Covid guidelines. Unfortunately, they were only able to be open for three weeks before the new lockdown began. Ross and Andy were supported by the Latics Community Trust, especially Martin Vose, in starting up and helping to find a venue that was Covid secure.
Both men have completed mental health courses to help them in their venture. Between them they have achieved the Mind (Mental Heath awareness for Sport and Physical Activity) course, Suicide prevention training and Mental Health England's Mental Health First Aid course.
When asked about the ideas and beliefs behind Mental Health Football, they told us of the positives behind sport. "We've used football as an escapism and we've seen the positive affect it can have in so many aspects".
Sport has been drastically affected in the new lockdown, with many clubs forced to close. At a time when mental health is already at a potential low, closures of facilities can really take a toll on people. "It's impossible to ignore the links between the pressure of competition sport and mental health. With Mental Health Football, we are able to take competition and money out of the equation and give people something fun"
"Physical exercise is huge for us to stay healthy, for many it may also be their only other interaction besides work. We can't always see mental health issues, but they are damaging".
They are encouraging everyone to try and get out if possible, even a 'walk can do wonders' for mental and physical health. "Until we can get back to normal, it's up to all of us to try and do more to check up on people. We need to look after each other".
The group have recently started a new volunteer, Heidi Thompson. Heidi has decided to complete a virtual challenge of walking/running Route 66 to raise money for Tameside, Oldham and Glossop Mind. The journey is 2280 miles and she believes doing this is so important as the service has helped her in the past. Doing this will also keep her 'get through the winter' and help to 'relieve stress'.
Heidi is raising money through her JustGiving page and has so far raised £650 and her challenge will conclude on the 30th June 2021.