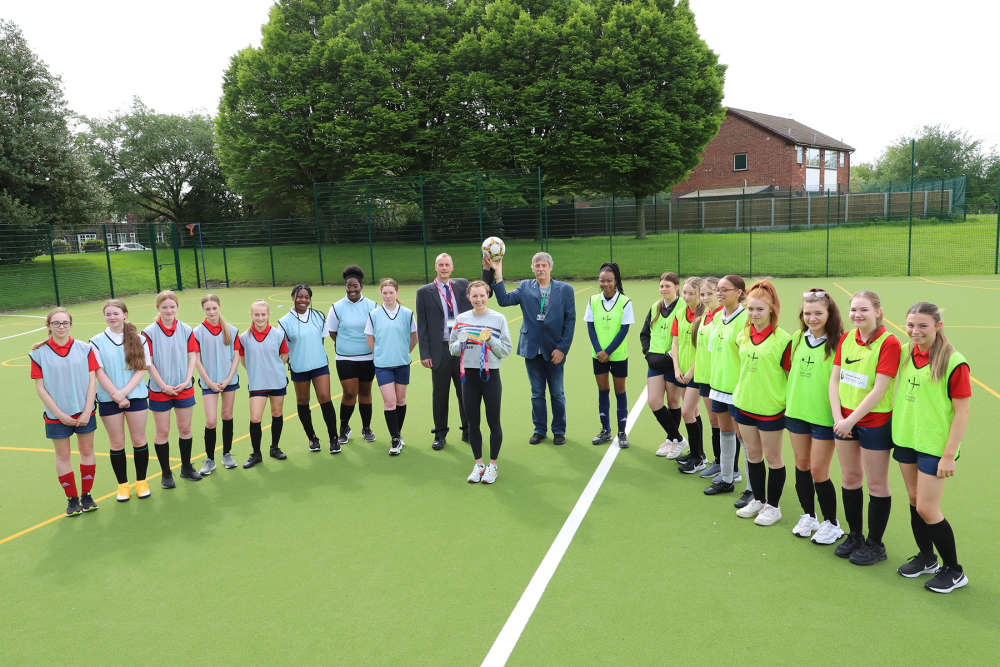 Inspiring young girls through sport!
Pupils at Fairfield High School for Girls beamed with pride when Olympic champion Georgia Taylor-Brown dropped into their school to open the new games area.
The P.E department at Fairfield has a long tradition of excellence across a range of sports and girls are given as many opportunities as possible to represent the school in sport.
So, when a generous gift from Fairfield Old Girl, Dr Joan Wilkinson, was announced to the school, it seemed only fitting to use it to fund the new multi-use games area.
In a grand unveiling of the exceptional new area, guests were invited down to the school, including Olympic gold medallist Georgia Taylor-Brown. She was joined by Mr Richard Nuttall, executor of Dr Joan's estate, members of the Fairfield Old Girls Association and School Trustees.
The momentous day was an enjoyable one for all, with Year 10 pupils given the opportunity to play an exhibition football match to mark the occasion.
As a former pupil of Fairfield High School, Georgia Taylor-Brown was beyond excited to return to the school and share her words of wisdom for the plethora of young, talented women at the school.
"There are so many obstacles for girls to jump over to get into sport and to reach the top levels. Then when you're at the top level there's differentiation between pay and maternity cover and there's still progress to be made in the world of women's sport.
"At a young age you should always try every sport to figure out the right one for you. I do think it's very important to give girls an opportunity and here at Fairfield they've always been amazing with so many different sports clubs going on," she said.
Finishing school and going on to complete her degree at Leeds Beckett University, Georgia stresses the importance of balancing education as well as sport. She says that 'anything can happen' and you must always be prepared with another option.
"Having the educational side also teaches you discipline and time management, it's better to balance them both.
"I knew that I had to get my degree and go through sixth form beforehand, then I could concentrate on my athletic career."
Check out our photo album here, images by Nigel Wood.
So, returning to her roots on a delightfully sunny day, Georgia was pleased to officially open The Dr Joan Wilkinson MUGA. This games area will provide countless opportunities to inspire girls to get involved in sport and develop a new skill.
Facilities like this are incredibly important for young women and may even create the Olympians of tomorrow.
Returning from Yokohama only a few days before, Georgia shared her experience of the World Triathlon Series, during which she earned a well-deserved victory.
"It was my second time at that event and in 2019 I was in the chase pack on the bike, so this year I came back with some vengeance to get the season going.
"The event was incredible and it's always amazing to go back to Japan because they're so enthusiastic and they just want you to enjoy yourself."
Returning to her old school, Georgia was greeted with many teachers telling her that they had stayed up to watch her performance during the Tokyo 2020 Olympics.
For her first Olympic games, Georgia says she had an 'incredible experience' and felt that she was part of something much bigger than triathlon.
"You're doing it for the whole country and the whole of Team GB. When those first medals start to come in you really want to jump on that and get a medal because you can imagine how great that feeling must be.
"It was the most nervous that I've ever been for a race, but it was amazing and hopefully I'll make the team for Paris," she said.
Tameside will soon rally around in support of Georgia again as she sets her sights on the Commonwealth Games in Birmingham. It is certain that pupils and staff at Fairfield will be tuning in and cheering her on.
Until then, they will embrace their sporting ability with the outstanding new facility at the school.
Want more local sport stories?
Head to https://www.questmedianetwork.co.uk/news/sport/ to see more of our coverage - from community and non-league football to local and county cricket, boxing, athletics, basketball, Esports and golf.