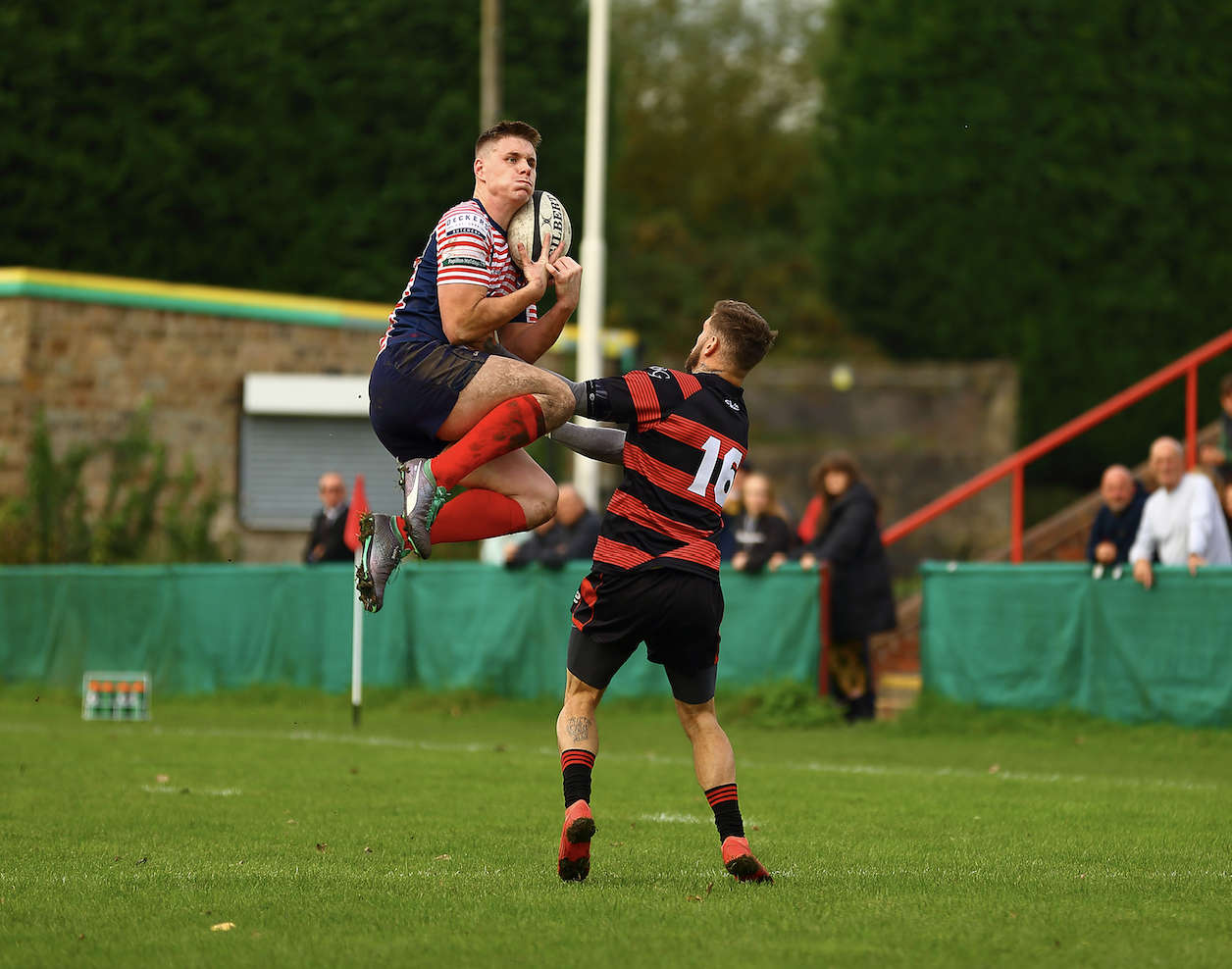 ADM Premier Division: Oldham 12-30 West Park St Helens
Following last week's makeshift and threadbare team heroics at West Park St Helens, Oldham hosted an excellent Widnes outfit this weekend. Widnes have been the standout team since the Lancashire league was established and have some seriously talented individuals as well as being a first-rate team.
It was evident from the get-go that this was going to be a challenging afternoon as the visitor's immediately unleashed precision, speed and aggression and the Oldham defence faced the very sternest of tests. Fortunately, they were organised and up for a challenge and somehow were able to keep this lively Widnes outlet at bay. However, they had to play for long periods without the ball which is tiring and affects concentration levels.
It was no surprise therefore when a few chinks started to appear in the defence, but Oldham covered and scrambled well with Lewis Townsend, Owen Hewson, Jay Taylor, Phil Whitham and Jamie Dalloway making notable contributions, and they managed to keep the scoreboard level. However, Widnes made a break down the middle and with Oldham finally running out of defenders, Rob Froggatt instinctively stuck out an arm that caught a smaller Widnes player on the borderline. He got 10 minutes in the bin and Widnes kicked a penalty to lead 0-3. You did fear the worst at this point, but Oldham's defensive heroics continued and as the 10 minutes ended, Widnes had added only a further penalty and when Froggatt returned Oldham were remarkably in the ascendency. It was Widnes who were having to defend now, and they conceded four consecutive penalties in the red zone in short succession. Froggatt was deemed to have been held up when he appeared to have touched the ball down. However, Oldham continued to pound the line and eventually Tom Hannon crashed over by the posts from short range and Froggatt's conversion gave Oldham a 7-6 lead.
Unfortunately, Oldham made a real pig's ear of the re-start, The Widnes forwards reacted quickly, regathering the ball in space and only seconds later scored by the posts to immediately regain the lead. The conversion made the score 7-13. Despite this set back, Oldham remained full of confidence and self-belief with Jordan McEwan, Nick Hackman and Ryan Pickles regularly making ground in midfield alongside Froggatt and Hannon. As Oldham attacked close to halftime, Louis Fitton's cross field kick was superbly gathered by Dalloway on the left wing. He was tackled tantalisingly short but off-loaded to Ryan North who covered lots of ground to be in support. He was held up by an excellent last-ditch cover tackle, but Fitton was on hand to score in the corner and make the halftime score 12-13.
To reach half time only one point down, and to have scored two tries to one, was quite an achievement by Oldham bearing in mind how Widnes had started the game and they played a quarter of the period with only 14 men. The pack had parity in the scrum and lineout and Jack Taylor and Adam Takila provided energy all over the pitch. The backs were organised in defence but the Widnes midfield was packed with powerful runners, and they had their hands full.
Oldham made a fast start to the second half but a series of errors prevented them from retaking the lead and a massive clearance kick put Widnes back on the offensive. Oldham struggled to get out of their half for a long period and the Widnes pressure eventually told and they increased the lead to 12-20. Oldham had some tiring bodies now with a large number of players not being match fit following injuries and they brought on Paul Wardle, Nick Wright, Adam Kurkiewicz and Rhys Jones. With 20 minutes to go, tempers frayed and a bit of a melee ensued which resulted in three players being shown a red card, two from Oldham and one from Widnes. The referee can only give what he sees but with incidents of this nature which involve a lot of players, with some running in from some distance away, it is difficult to identify the real culprits.
Anyhow, Oldham faced a difficult final 20 minutes with 13 players against 14 and despite their very best efforts they conceded two late unconverted tries and the final score was 12-30.