A football coach from Dukinfield is currently halfway through a gruelling challenge to raise funds for the junior teams at Hyde United.
Michael Wareham, who coaches the Under 7s, is attempting to run the equivalent distance from Ewen Fields, home of Hyde United, to Wembley Stadium in the month of June.
Having reached his initial target of £2,000, Michael is now hoping to generate further funds and give the junior sides at Ewen Fields the best chance of survival once football returns after lockdown, with the funds being directed into new equipment and better facilities for players from the soccer school right through to the under 17s.
At the time of publication, the 29-year-old had completed 166.3km since June 1 - meaning he still has 145.7km to go.
Speaking to Reporter Sport about the challenge, Michael said: "As we're going through these hard times, the junior secretary has asked the parents to continue paying their subs, so money is still coming into the club, even though we're not training at the moment. However, we can't keep asking the parents for money, so I've decided to take on this challenge and raise funds myself.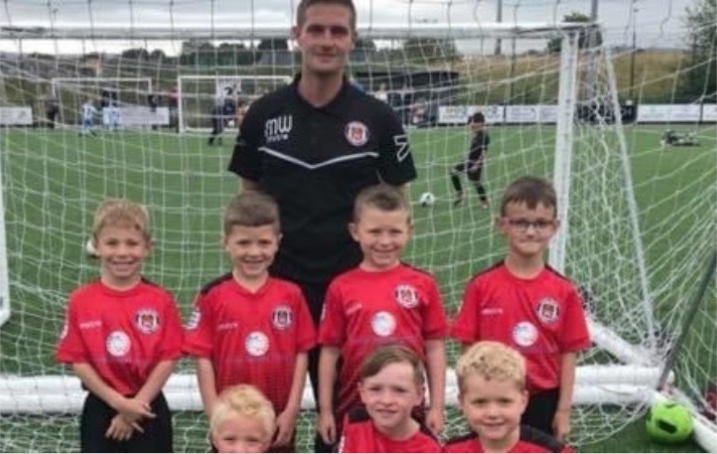 "In a way I feel like I'm paying Hyde United back, as they paid for my Level One coaching badge, so I felt obliged to do it in a way."
Due to the ongoing situation and with the annual summer tournament being cancelled, the club has lost out on a significant amount of money.
However, Michael hopes his efforts will compensate for the loss of money and inspire others to raise funds in the process.
And whilst the challenge is mentally and physically taxing, Michael, who previously attended All Saints Catholc College in Dukinfield, knows the pain will be well worth it when he crosses the finish line for the final time. "During the first few days I was doubting myself and asking if I could actually do it. I've taken a few knocks, have shin splints, and my right hip is starting to hurt.
"The donations I've received so far have helped me through it, and to have already reached my target of £2,000, despite being just over halfway through, is really encouraging.
"Hopefully it will start to get easier as well."
Michael, who works for Coolair Services in Dukinfield, is relishing the chance to coach his side when restrictions are further lifted.
He says grassroots football is a massive part of children's lives - especially for his step son Brody Martin, who also plays for his team.
"It helps with their all-round development" said Michael.
"My step son, Brody Martin, plays for my Under 7s side, and football is a huge part of his life and also his team mates.
"We can't wait to get back to it, although given the current circumstances, we don't know when that will be.
"We've talked about coming back, but with schools not returning we don't think it's appropriate for training to re-start - especially knowing how diffiult it would be for seven year olds to socially distance.
"We're now just awaiting further guidance from the Football Association and the Government as to what to do next. It's all just a waiting game really."
Those wishing to donate to Michael's cause can do so via the following link:https://www.justgiving.com/crowdfunding/michael-wareham