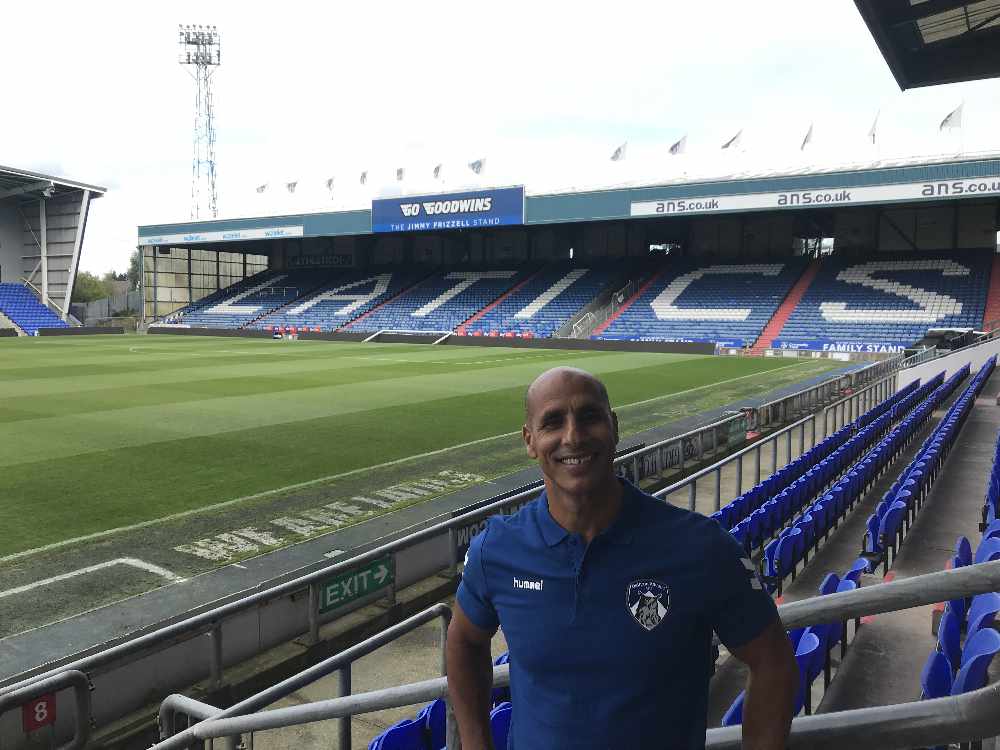 Oldham Athletics new manager Dino Maamria faced the media today for his first press conference since being announced.
He replaced outgoing boss Laurent Banide after he lasted just 11 games. Maamria tasted success in his first game as Oldham beat Morecambe 3-1 at Boundary Park on Saturday.
The Tunisian manager seemed to be in an optimistic whilst speaking to the press as he proclaimed that it is possible to get Oldham to the Championship in "Two or three years".
When asked about his feelings on taking the job he replied, "I'm delighted to be here at this great football club, a club that has been underachieving for the last two years and it's my job to take it back to where it should be."
Dino was dismissed recently from his position at Stevenage and he was disappointed he was only given seven games this season stating "I think it was really disappointing to leave after seven games, you get judged over 46 games and we finished on 70 points last season just one point outside of the play-offs. But you learn and we are in the business of winning, we have to win football matches and we will get that right here."
Maamria was questioned on the high-profile departure of Paul Scholes who implied that the club's owner Abdallah Lemsagm was too involved with team affairs. The Tunisian defended the owner by stating "I've been in football management for 11 years and let me tell you not many managers are in total control, the era of Sir Alex Fergurson at Manchester United is gone. The manager's job now is to win football matches and if they don't do that quickly they are going to be out.
"So how much can I control? I can control my players and the matches and rest is what I call influence, I think the chairman here has been harshly treated.
"I had a conversation with the chairman and I said do you want to see a successful football team because I can bring that but have to do certain things the right way"
When asked on his ambitions for Oldham during his tenure he replied, "Can you take Oldham to the championship in two or three years yes you can, can we win promotion yes, have we got a big beautiful stadium yes, have we got the fan base yes, have we got the infrastructure yes, have we got the history yes and so Oldham ticks a lot of boxes and we need to get the fans back in tune with the club and the easiest way to do that is by winning football matches which I'm going to make sure we do."
When he was finally asked about the fans and what his message would be to the Latics faithful he replied "I think we need to do this together and we all care about Oldham Football Club.
"We've got a fantastic journey ahead of us and my job is to give them attractive football whilst winning games and I will do my very best to do so.
"Their backing has been fantastic for the past couple of days, I'd love to see a thousand more through the gate next game but let's enjoy this fantastic journey and I'm sure we will have some great days coming for Oldham Athletic."
You can watch the full press conference here.