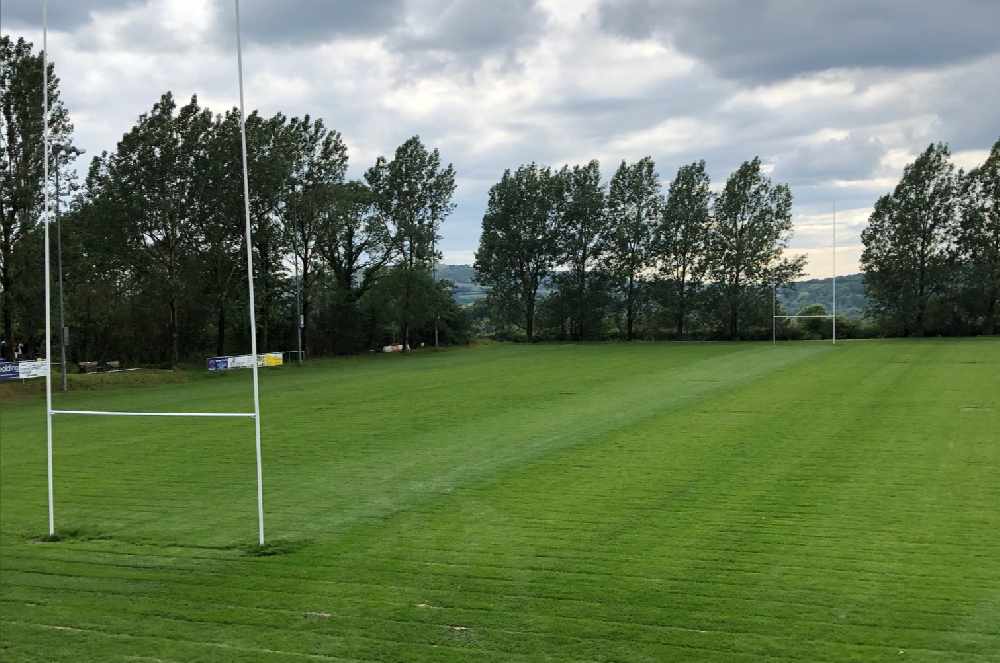 During these pandemic times, pubs, restaurants and clubs such as Glossop Rugby Club have no money coming through the door, so they are all finding it tough.
Bills still need to be paid and in Glossop Rugby Club's case, the pitches need their annual maintenance, so survival is paramount.
When lockdown hit us, Glossop were in the middle of a great season, possibly their best, they were riding high at the top of the table, with Manchester sitting just behind them who had a game in hand. That very weekend, Glossop were due to play Manchester at home and having already beaten them at their place, Glossop looked set to clinch the top spot and make it theirs for the season. Manchester had called Glossop to inform them they intended to bring a couple of coach loads of fans. So the stage was set for a huge, busy weekend of real rivalry rugby, with a lot of beer drinking and fun by both teams.
Well, we all know the outcome, Covid-19 turned up and brought everything to a halt. Reality checked in and we had to do the sensible thing to beat this awful virus. The RFU declared the season over, resorting to the drawing board and calculator to determine the league positions. Glossop were given second spot and Manchester was given league championship status. Damp squid ending to Glossop celebratory 50th season was not a strong enough analysis. Nevertheless, as it is the top two teams get promoted, Glossop were promoted to "North 1 West" league together with Manchester. Level 6 in the National RFU league system which is the highest Glossop have ever reached since the league system was introduced.
We are now in the middle of a pandemic lockdown, unprecedented times where survival is the new objective. Glossop had a Grand Gala Dinner planned for 200 people to attend to celebrate a 50th season. On cancelling the Gala Dinner it was decided to continue with the Grand Raffle as many tickets had been sold and we could draw it virtually. This took place in May and so the Grand Raffle was a good source of income. Since then the club has been selling beer remotely to members in an effort to keep some income and pay the bills.
It has been decided that once the lockdown is over and we are back to normal (whatever that will be) the Club will put on a free lunch for the NHS and Key workers that live locally. On the same day the first team will play a preseason training game, to entertain the NHS guests. This would be a way of saying a big thank you to the NHS and Key Workers that have not only in some cases, put their lives on hold, they have all literally put their very lives at risk to save us. This seems the least we can do and can't wait for that day to come.
Some of the members have been raising funds in order to pay for the NHS lunch, for example, one member has sold plants at the end of their drive for passing walkers to purchase, raising up to £150 so far.
As for when the rugby will start again, the RFU have published adapted community competition plans for adult and age grade rugby in the 2020/21 season. They have released a "Return to Rugby Roadmap" which can be viewed on the RFU website.
As can be seen below, we are presently at Stage B which means we can train with up to six people using minimum equipment such as a ball.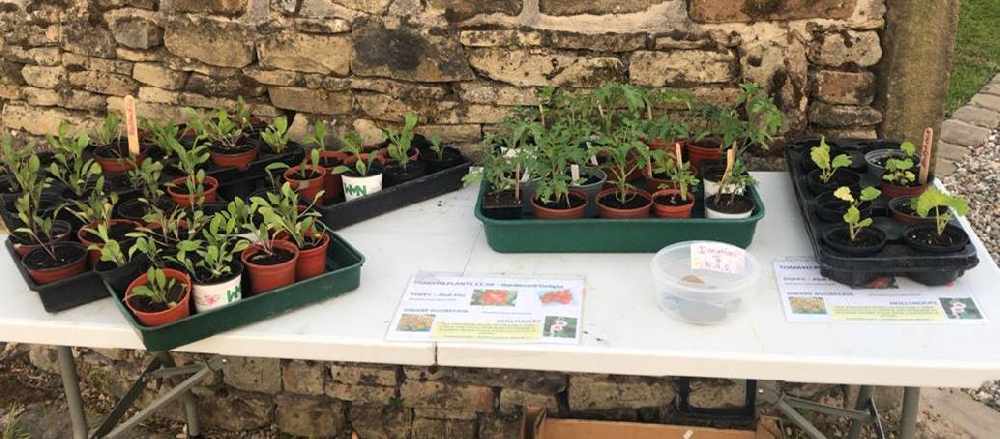 There are a range of 2020/21 competition models that can be applied at different season start dates as and when it is deemed safe to return to play i.e. when we reach Phase F on the RFU Return to Rugby roadmap. The models allow for any potential interruption in the season as a result of Covid-19, while providing clubs, schools, colleges, universities and players with a framework for meaningful competitive rugby with greater flexibility to enable games to be played.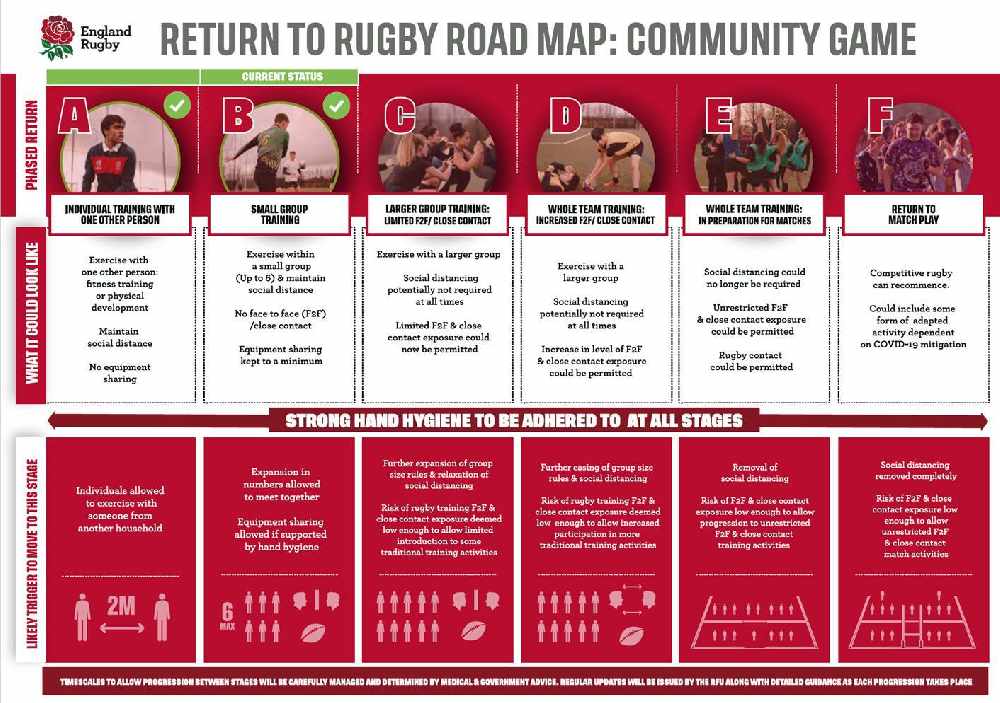 In the adult male and female game, the competition models are based on three potential start windows depending on when it becomes safe to return to play.
The models vary according to league size and offer flexibility to manage any potential Covid-19 interruptions, with the season able to be extended to the end of May if it helps support delivery of a meaningful competition. To further support clubs with flexibility, league rugby will be prioritised over Cup and County Championships.
To best manage the uncertainties around a start date, leagues will be split into conferences from the start of the season i.e. a 14 team league will be split into two groups of seven teams. In most cases the conferences will be organised geographically to keep travel down to a minimum in the early part of the season. Further details on exact start date windows and how the models will work for different league sizes will be available early next week.
The start of the Age Grade rugby season will be dictated by reaching stage F in the Return to Rugby Roadmap. The aim is to maximise participation and retain as many current age grade players of all ages and levels as possible. As with the adult game, in the event of a delayed start to the season, the season is able to be extended to the end of May as a one off to support delivery of meaningful activity.
In all the scenarios, player welfare and safety is a priority. Players should complete a staged progression aligned with Return to Rugby Roadmap Stage E to be fully contact-ready before playing contact matches.
The Age Grade Playing Calendar 2020-21 and associated regulation remains as scheduled for the season including Player Pathway (DPP, CB and Academy) activity.
So, when the next season is due to start – nobody knows yet but one thing is certain, there are many Glossopians that are looking forward to the new season and looking forward to one game in particular, they are anxiously awaiting that next time encounter with Manchester.