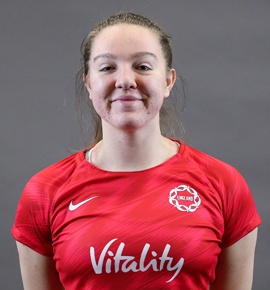 Loughborough Lightning have secured the talents of England U21 mid-courter and Tameside player  Hannah Williams for the upcoming 2021 Vitality Netball Superleague (VNSL) season.
Williams returns to the squad for a second spell aftr impressing during the 2020 campaign.
Speaking to England Netball's official website, Hannah said: "I enjoyed my time with Lightning last year, it was a bit of a no brainer as to whether I wanted to come back," explained Williams.
"The team, the dynamic, the pathway, everything about the set up here was what brought me back – it was just a really good season, despite the early ending."
"I just want to pick up from last season and carry on. I don't want a dip, I just want it to all run as smoothly as possible, which is the highest aim as I know it won't always be like that, but just want to push myself each week and aim to get the best out of myself and the team at all times."
Williams previously played for Manchester Thunder having impressed while on court representing Tameside over the years.
She believes playing alongside new players has freshened things up for her. "It was a new squad; it was new and exciting and not really something I'd experienced before. Playing with people I'd never played with before, having new coaches, the whole system was just fun and exciting."
You can follow Hannah on Twitter @Hanwilliamsx_.