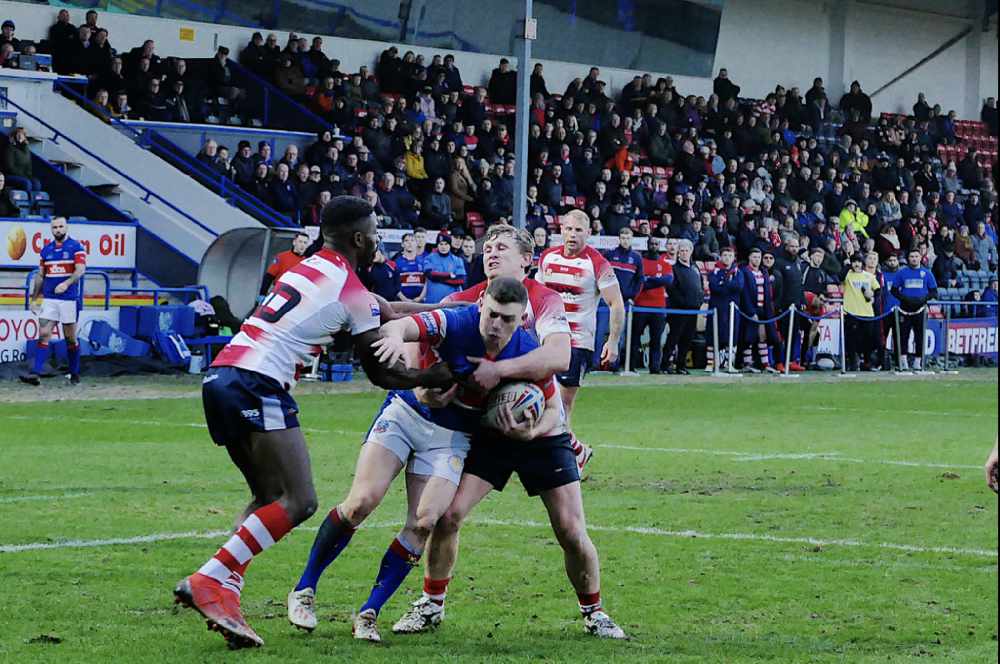 Law Cup: Rochdale 18-12 Oldham
Poorly though they played overall, Oldham were stunned in Sunday's Law Cup clash at Rochdale because they were 'old-headed' by a cute veteran of the wing called Shaun Ainscough.
The 30-year-old former Wigan Warriors and Bradford Bulls back was instrumental in laying on three of Rochdale's four tries to carry off the Marriott Trophy as Rochdale's man of the match.
Oldham's defensive endeavour left much to be desired, as Ainscough proved when cutting them open down the middle to set up the first of Rochdale's three first-half tries for stand-off Lewis Sheridan.
But it was the combination of his quick-witted thought process and his sleight of hand that knocked Oldham for six when he laid on tries for Sam Freeman late in the first half and sub forward Luke Fowden near the end of the game.
In both instances he was being pushed into touch near the corner flag and there looked little danger.
But he somehow smuggled a pass out of the back of his hand before he crossed the touchline, the first time sending Freeman scurrying over in the corner and the second time creating the final and decisive try for Fowden.
Ainscough was key, but it was typical of Rochdale's performance that both Freeman and Fowden were eagerly supporting him and showing a general enthusiasm that Oldham rarely matched.
Clearly shell-shocked by Hornets' eagerness and enthusiasm on both defence and attack, Oldham rarely looked like scoring or creating openings in the first half, but they came back briefly between the 50th and 55th minutes when they scored converted tries by Dave Hewitt and Dan Abram to slash the home lead to 14-12.
Danny Langtree, who won the Oldham RL Heritage Trust as Oldham's best player on the day, thundered into life to break Hornets down the middle and hand on to Matty Wilkinson, who sent Hewitt racing for the line. Abram goaled.
A few minutes later Oldham were in again. This time Wilkinson made the running from dummy half and Langtree got with him to take his pass and put in Abram.
At that stage most people in the ground would have expected Roughyeds to go on and win it, but Declan Kay was denied in one corner and Dan Abram held on in the other with Kyran Johnson and Harry Aaronson inmarked on his left.
Hornets regrouped, refused to capitulate and got their reward when Fowden's late try halted Oldham's charge and earned them their first Law Cup win since 2017.
Oldham didn't help themselves. In their frustration they conceded a lot of penalties. Of the game's 20 penalised infringements, Roughyeds were guilty of 13 -- a statistic that provided the home side with massive territorial advantages.
Scorers: Hornets - goal, Freeman 1/4; tries, L Sheridan, Freeman, Lea, Fowden; Oldham -- goals, Abram 2; tries, Hewitt, Abram.
HORNETS: Freeman; Ainscough, Tala, Calland, Bloomfield; L Sheridan, Jackson; Hesketh, Penkywicz, Carr, Forster, Syme, Lea. Subs: Nixon, Marriott, D Sheridan, Fowden, Hartley, Whitehead, Aspin.
OLDHAM: Abram; Kay, Worthington, Hutchings, Johnson; Charnock, Hewitt; Joy, Owen, Spencer, Langtree, Bridge, Bent. Subs: Brook, Wilkinson, Aaronson, Igbinedion.
Att: 802
By Roger Halstead