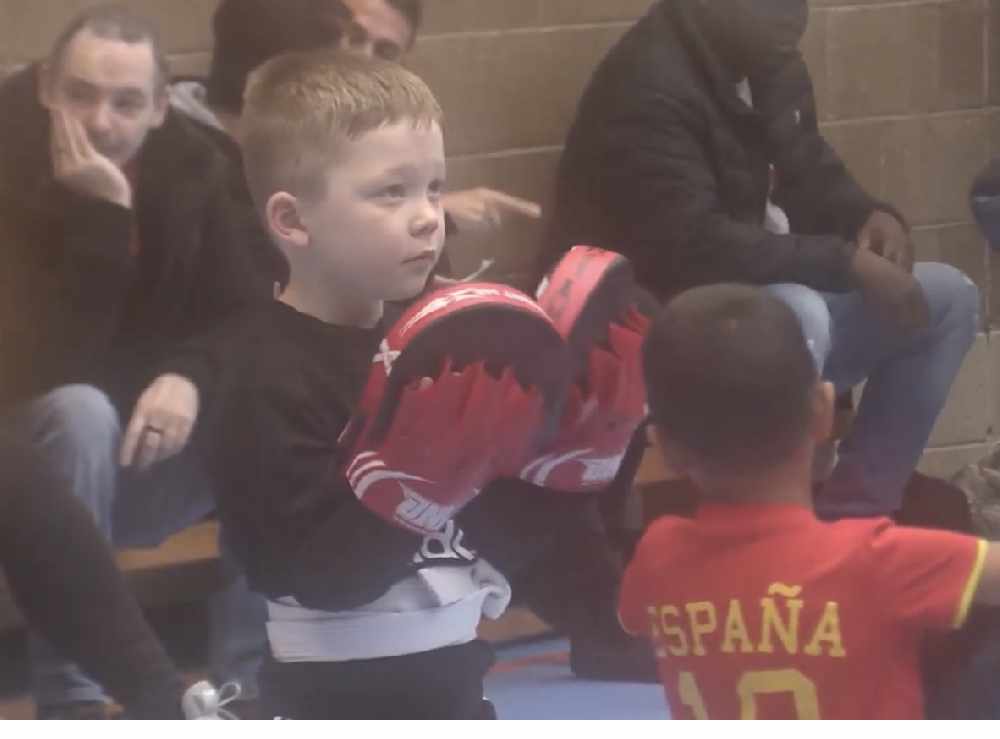 Tameside Junior Kick Boxing Academy has grown from strength-to-strength since forming in January.
The family-run club has enjoyed great success over the past nine months and, as a reward for doing so, scooped third place in the Club of the Year category at the Pride of Tameside Sports Awards in September.
The club hold sessions exclusively for children as a way of getting fit and learning new skills in a fun environment.
Held at Copley Leisure Centre every Sunday, there are two classes split into two sections; One for children aged between three and six and one for older children aged between seven and 15.
Reflecting on a memorable nine months, senior instructor Lee Harding has been left delighted with the response and was happy to be acknowledged at the Pride of Tameside Sports Awards. : "We got asked by Tameside Leisure if we would like to take part in the nominations, so we just filled in the forms and thought we would just apply and see what happens" he said.
"We got invited to the official evening, lo and behold we ended up coming third."
Lee is an experienced kick-boxer, who has competed at a high level, winning British Gold in 2016. Now, he has turned to teaching children through the club: "We decided to get another little club going for the juniors, just so we can concentrate on the little ones and bring them through.
"There is plenty of scope for them to go through the ranks to the adults."
Lee believes the club has found the right balance between having fun and learning the importance of self-defence."It brings all the kids together; they can have fun in a safe environment.
"It's all inclusive, parents are free to come sit down and watch, ask any questions and give us feedback. We're just trying to create a nice family environment.
"The underlying message is, teaching them discipline, self-respect, self-confidence and a little bit of self-defence thrown in. It's all rolled into one fun package."
The club is open to everyone, no matter if you are an expert or beginner, able-bodied or suffer with autism. "Nobody's ever got turned away from us", Lee added.
"Some of the kids are on the autistic spectrum, some have physical disabilities.
"If they want to come and give it a go, they are more than welcome.
"The kids don't judge anybody, neither do we. Everybody can turn up, have a good workout and a good training exercise."
With the advances in technology, Lee feels children are spending more time in front of the TV and less time exercising. In a bid to combat this societal problem, he places a big focus on fitness during training sessions. "It's about putting them (electrical devices) down for a couple of hours. We teach a lot of basic stuff - skipping, hopping, jumping - and lot of things kids don't do these days.
"At the end of that we add on some boxing skills and martial arts. It's a whole spectrum really, we're not just dedicated to teaching them martial arts, we want to teach them fun through games, activities, but everything we do includes martial arts moves."
The Amateur Boxing Association are currently trying to bring boxing into the school curriculum, something Lee agrees with: "I honestly think, hand on heart, boxing is a brilliant exercise. It's not all about physical stuff, it's about the mental attitude, the discipline, the hard work, once all the kids put on that and realise there is a reward at the end of it, it sort of sells itself.
"I am a big believer that something like that should be brought into the curriculum at schools."