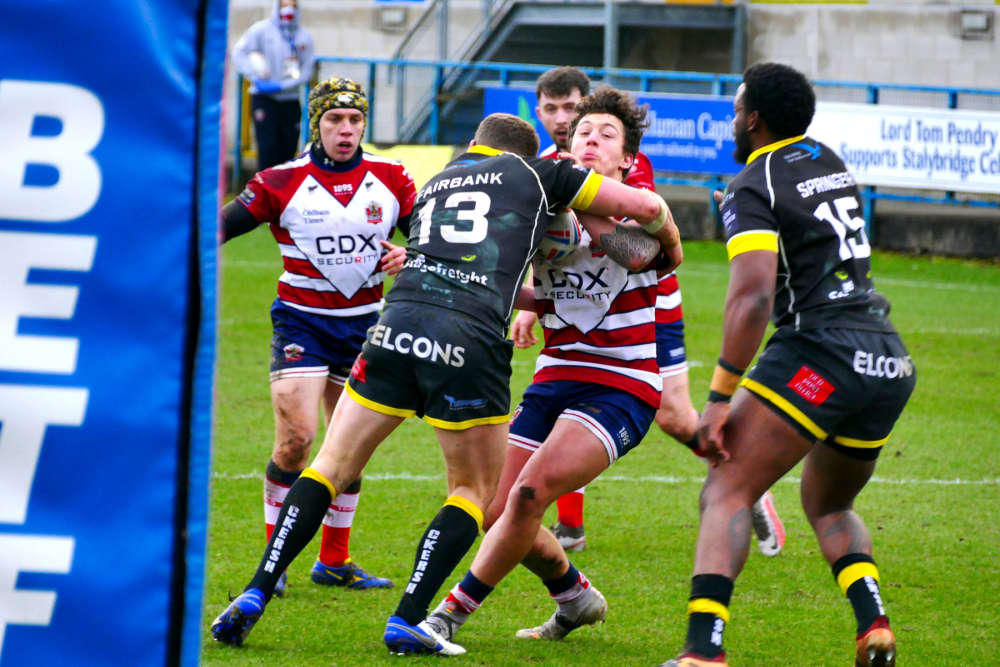 After a debut season as a professional in Oldham Rugby League Club's 2021 Championship campaign, local lad Joe Hartley is no longer a "fresher".
He intends to make a serious impact on team selection next year in League One.
The 23-year-old former St Anne's centre played six games last season in his first taste of rugby at this level, but he'll be striving for a larger slice of the selection cake next season now that he's already had professional experience.
The former England Colleges full-back, who has switched to centre and insists it is his best and favourite position, is the first player to put pen to paper on a new one-year contract for 2022.
Said Joe: "It will be a new challenge with a new head coach and with new players in the squad and I'm really looking forward to it and to playing under Stuart Littler.
"In his playing days he was a great centre, so I'm looking forward to being coached by a specialist centre, who made a name for himself in that position. If anyone can tell me and show me how to play centre, who better than Stuart Littler ?"
His most impressive performance last season was against the all-powerful Featherstone Rovers side at Bower Fold in August when he showed lots of promise, scored a try and threatened the well-organised Rovers defence on numerous occasions.
Fans' favourite Liam Bent, meanwhile, celebrates his 24th birthday today (Mon), with a message to the Oldham club and its fans ahead of his move to Widnes Vikings after four years and 93 games with the Roughyeds.
As Supporters' Player of the Year in 2018 and 2019, the tackling-machine forward has been involved in two relegations and a promotion since making his debut in 2017.
He said: "It's been a hell of a ride and I've loved every minute of my time at this great club.
"Thanks to the dedicated fans for their huge support for us each week and to all the staff over the years I've been there.
"I've learned from the best in terms of fellow players and staff. It means a great deal to me."
Picture taken from Oldham RLFC